Second Impressions of Prague
The grey clouds had followed us up from Bratislava to Prague, not helping my already tainted view of the city. I'd slept most of the journey up, trying to shake the fever I'd had on and off the past couple of days. My first experience of Czech Republic the previous year hadn't been entirely positive and whilst I was entirely determined to enjoy my last day and night Prague, I couldn't quite shake the niggle in the back of my mind that this city wasn't for me.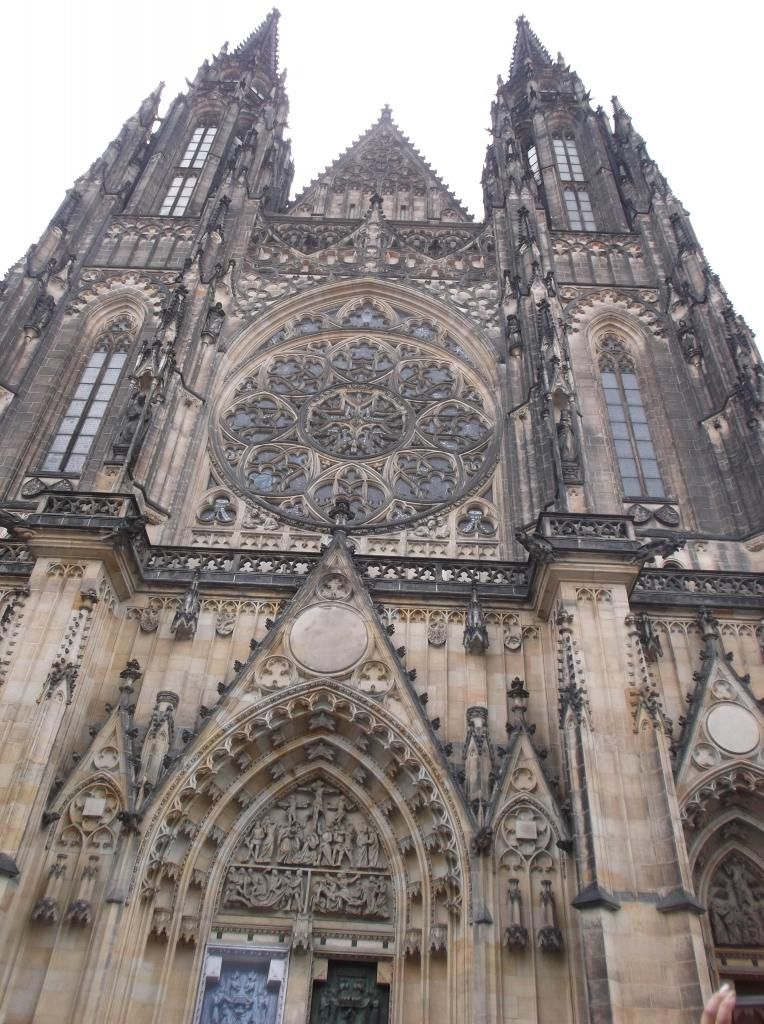 Attempting to get good photo's is futile (even this one has a hand in the corner)!
The feeling was exacerbated when we got off the coach, Nick guided us towards the entrance to the castle warning us about pick-pockets and making sure our possessions were safe. I've long used a wristy to attach my camera to, so I don't have to think about where it is, but with the battery nearly flat I was going to have to use my phone as well. That and approaching what appeared to be a human wall did not make that niggle in the back of my mind go away. We tiptoed, and zig-zagged through people taking photos of part of the castle. Trying to keep all 11 of us together, we edged through a crowd, another tour group, trying not to disturb their guided tour.
It turned out that was the quieter part of Prague, and the masses of people seemed to get thicker and thicker. We attempted walking across the Charles Bridge, and I continuously checked around me to see where my friends were, and how close we were. I was growling at people who walked into me, elbowed me, or stepped on my foot. As well as saying some very firm "No's" to the touts with leaflets for attractions or restaurants or even the Pub Crawl we were already booked onto that evening. Some of our group stopped occasionally to take photos of things I could barely see through the backs of heads in front of me. I could barely see the bridge, somewhere that is world renowned for being beautiful, I just felt I'd been crammed in, on a conveyor belt of people who also felt like they had to be there. There were market stalls on the edges of the bridge, people selling photos of the bridge, some a beautiful misty sepia and some in wintery black and white's, I felt I saw more from those photo's than what was going on around me.
I tried to miss out all these heads, this was the best I could do!
And still the crowds became denser! The sun had broken through the clouds and I didn't need my jacket I had tied so elegantly to my handbag, in fact I was so hot that I wanted to be wearing a lot less than I was. We approached the Astronomical Clock ten minutes before it was due to do it's astronomically (get it? Ha… ha) disappointing thing. Nick pointed to, what was in comparison, a relatively spacious spot for the 11 of us to stand without being pushed or elbowed, for a second or two at least. Thankfully Nick was a bloody good guide, and always seemed to know where we all were! Continuing through the city- a walk that took us 2hrs to get through the main sights of purely because of the amount of people that are gathering in Prague- we saw tons of things not uncommon in other areas of Western Europe. Starbucks (four of them), a Hooter's, a TGI Friday's, a MacDonalds and a KFC. Not to sound like a travel snob, and it's definitely not the way I mean it, but it didn't feel like Eastern Europe anymore. At least not the East I'd been travelling through for the past two and a half weeks (and even that is often referred to as "central Europe"). Whilst I was told that Prague would have a different feeling, Western Europe wasn't exactly what I'd been expecting.
The closest I could get to the Astronomical Clock on day one!
It feels like Prague has become the "safe" part of Eastern Europe to come and see, the part that since coming out of the Iron Curtain had flourished. A city coming into its own that so many people fall in love with. And I get it, aside from the warnings about pick pockets and the chain- brands you get in absolutely every city anywhere else in the world. There were some parts of the city that I absolutely fell in love with (but that's for another post). I think for cautious people it could be a good view into what The East looked like, but I implore you to delve further into this part of the world, because there is so much more out there.
Have you been to Prague, what was your experience?