A Guide to Mljet
Mljet island is the most south easterly of the islands in the Adriatic sea. Visited for it's National park, entrance is 90kn, it's bordered by 2 salt water lakes and stretches for about 4 kilometre's. Each day there are ferry's from Dubrovnik, and trips can also be arranged from Makarska and Korcula.

Where the lakes meet the sea
There are quite a lot of activities on offer in Mljet National Park. For example, in the middle of the largest lake is a small island, with an old Benedictine monastery on. The monastery is now a cafe and ferry's run to the island from each side of the lake, or you could hire a kayak and visit. As well as kayaking there are plenty of hiking trails around the hills.
For our day at Mljet the majority of our group hired bikes to cycle, costing 50kn for a day, around the lake to where the lake meets the sea and go for our daily swim. Jordi had been reminding us that we needed to take water with us because the day was so warm, and there wouldn't be any stops, once we started cycling, where we could buy water. It had been ages since I'd gotten on a bike (I recently acquired one and so far it's trips have included from my house to the shop in our village which is about half a mile round trip), but they say you never forget to ride a bike.
And it wasn't too bad! Swimming aside, I'm not really into exercise, so a day where I had to cycle and swim sounded a bit more than I was used to. After sailing, and a swim stop we'd arrived to Mljet mid- afternoon, so the trails were pretty empty. It's a really good trail for non-cycler's, too, it's mostly flat and takes around half an hour. The views on the ride were stunning, the trail follows around the edge of the lake, so you can see people swimming, kayak's out on the water, the ferry crossing to the island with the Benedictine monastery- turned- café, and of course the monastery itself. There's nowhere you can get lost, and everything is sign posted. The trail just sort of ends at some tree's where you can dump your bicycle and go for a swim.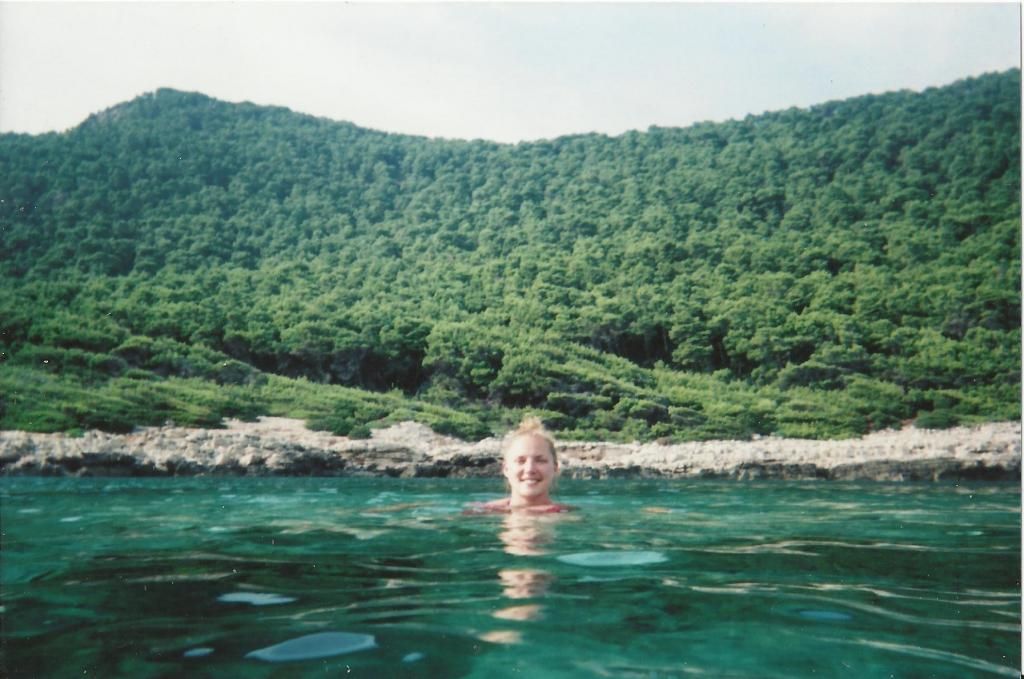 taking a dip (why yes, this is a film- camera photo)
The water was crystal clear and incredibly warm. We all stopped short of jumping in, it's so clear it looks a lot less shallow than it is & it takes an effort to touch the bottom. We could see the sea urchin's below us clearly. Eventually, all of us were in the sea swimming out and looking back at the stunning scenery into the lakes of the park and out to the open water.
You can easily have a lazy day sunbathing at Mljet, too. There are tons of 'beaches' around each of the lakes to relax at. It was pretty busy when we were there, with families on vacation. On my way back I was so busy checking out the beautiful scenery that I walked on much further than I should have. I met a Russian family, who kindly pointed me in the right direction, but not before showing me a beautiful view point high up for a photo opportunity.
A view worth getting lost for
Have you visited any National Park's in Croatia? Which was your favourite?