The Wheels on the Bus Go Round & Round
Hiii!
In case you hadn't guessed from the last two posts, I'm home! It is not a good feeling. I spent the last 3 weeks travelling almost entirely with
Busabout
(the title of this post, by the way, has almost no relevance. I just sang it every time I saw our
bus
coach, yes, I am
that girl
). As always, I cannot recommend Busabout highly enough. I had the best time and I miss the feeling of travel, and being with people who want to see EVERYTHING!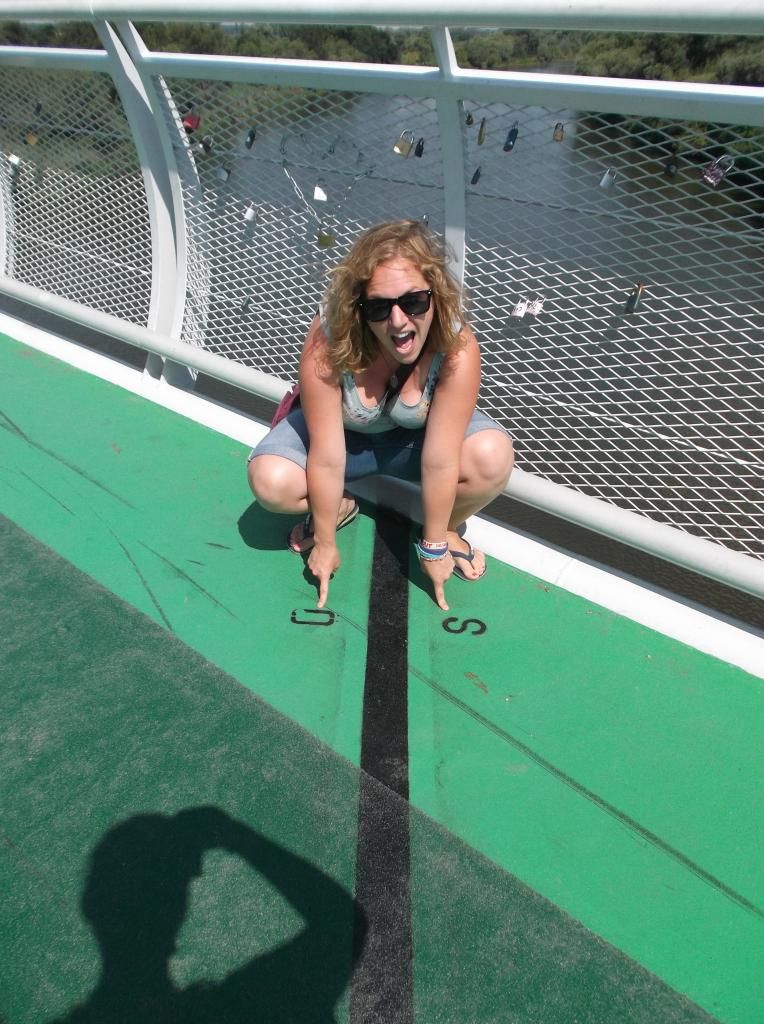 Two countries at once, I've got this travel lark down
I miss jumping off of boats, swimming in the most beautiful places, drinking until the sun comes up, laying on a boat deck watching the stars, searching for satellites and shooting stars. And that was just on
Croatia Sail
.
I miss the intensity of the four minute (is that really how short it is?) bull run early each morning. The nerves that build up in you when some of your new friends are
Out There
Running with the Bulls
, and the relief when you've spotted them in the crowd after the run (luckily, other than a few cuts and bruises no one from our group got hurt). I miss pintxos and kalimotxos and too much sangria. I miss the gorgeous La Concha beach in San Sebastian.
I miss my
Bohemian
buddies, such a small group (a mere 15 of us) made us a pretty close-knit bunch for the week we spent together. I miss the beauty of Bled, and magical stories we were told. I miss fairy story's (I will never truly grow up where fairy's are concerned). I miss early morning dips in the Lake. I miss mismatched cuddles. I miss falling asleep on the bus in one country and waking up in another. I miss Eastern European wine. And beer.
I do not miss
Pete's Chicken.
I always feel like I come home slightly different after a trip, whether it's learning that I don't really need to spend time drying my hair in the morning, or worrying too much about the wrong things. I feel like I forget all the important things after too long in the same place that only travelling can remind me. I feel like this is the time to make decisions and changes that will make me happy.