There's Something About Split
When we hit the tarmac at
Split
, the ground was wet. In spite of
Mrs. Chasing the Donkey's
insistence that the weather had been crap this summer, I refused to believe it until I saw it. After all, Croatia is all about endless summer, right? So I peered through the window hoping that in the direction of the sea there would be sunlight. There was not...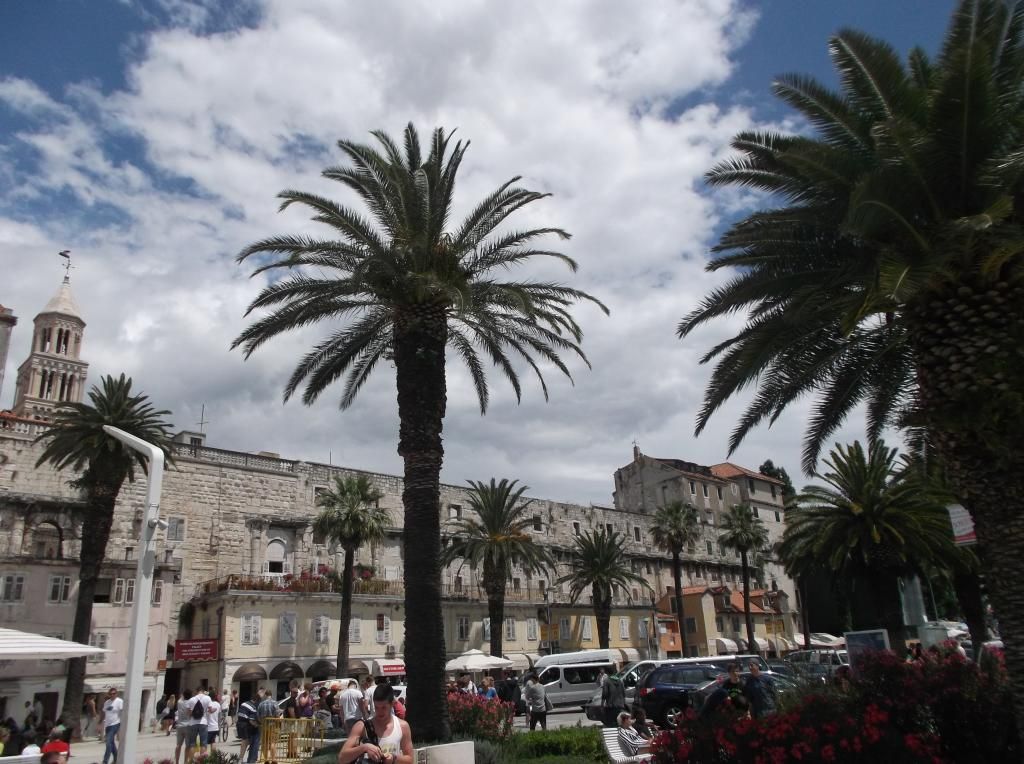 Diocletian's Palace
Split airport is unlike any other I've been through, it's more like a large marquee with bus's on one side and aeroplane's on the other. I was expecting it's smallness to mean a long wait, but with only three other people with European passports in the queue (with literally tons of Australian's/ Kiwi's on our flight arriving for either
Ultra
or
Croatia Sail
), it was a breeze & I sailed through to the first nearly full bus to Split.
Like many other's on that flight, I had arrived in Split to join up with my Croatia Sail tour. I had two full days in the city, & my only plan was catching up with my best friend. We attempt to meet up whenever we're in the same country, and missed each other by an hour in
Berlin
in May, so I was extra- super- excited to catch up with her. Plus we would be going back to my favourite bar ever, Inbox. My other plan got crushed, visiting
Krka National Park
, which fell through when even the Tourist Office couldn't work out an easy way to get there on public transport (including 2 bus changes and a ferry, at last count), I gave up on that idea.
Narodni Trg on a moody morning
I was excited to be back in
Split
it's a city that is beautiful in it's own way. It was amazing wandering around
Diocletian's Palace
in much cooler weather than last year with the moody clouds hanging around it was a much better day for walking aimlessly. At least I thought I was, until I landed up at the bloody Sphinx- last summer I spent a very hot day walking around the palace & no matter which way I turned I landed up by that bloody Sphinx. Again. I continued through the palace and ended up in Narodni Trg, the main square. I followed my nose and took a wander through the fish market, checking out the fish, and squid for sale wishing that my (otherwise lovely) hostel had a functioning kitchen.
That Bloody Sphinx
In spite of the threatening clouds, I made my way up Marjan Hill. Marjan has become a symbol of Split in more recent times with locals using the hill for picnics and as a jogging area. Diocletian arranged for some of the area's of Marjan Hill to be made into parks for the palace. Marjan Hill was a park for Diocletian's Palace, with 8,000- 10,000 people living there, they needed some recreational space. There is also a small rustic church from the 13th Century on the hill dedicated to St. Nicholas- a favourite saint amongst fisherman, of which there are many in Split. Marjan Hill has a collection of churches on it, as well as a Jewish cemetery on the eastern slopes.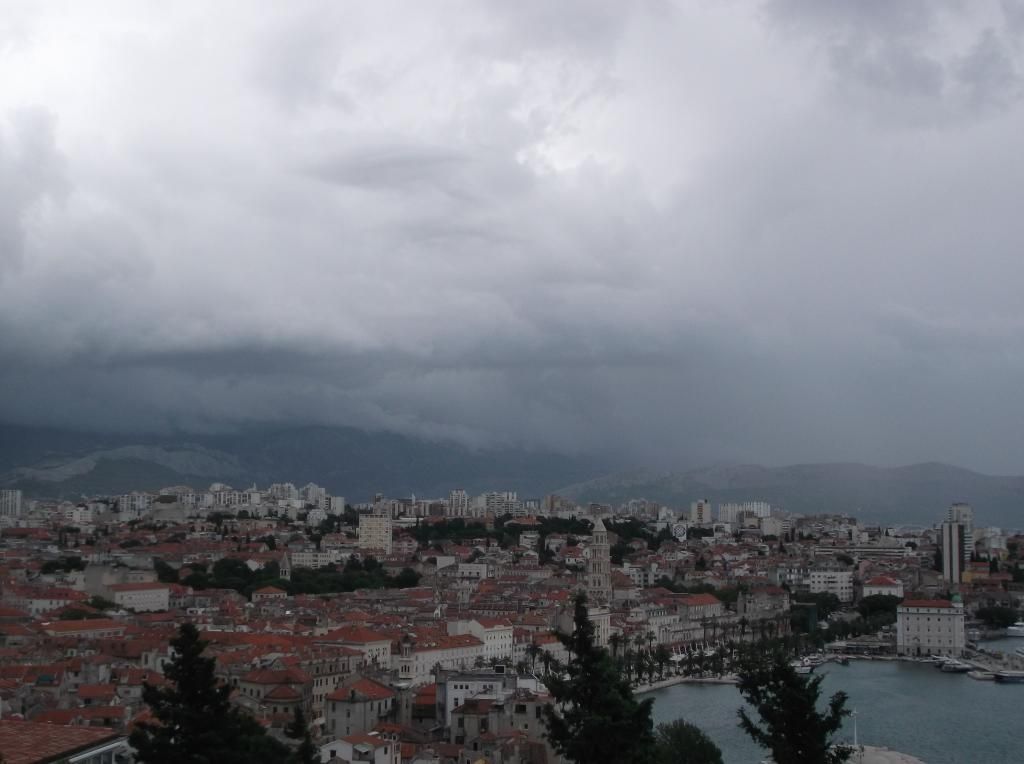 Looking over Split from Marjan Hill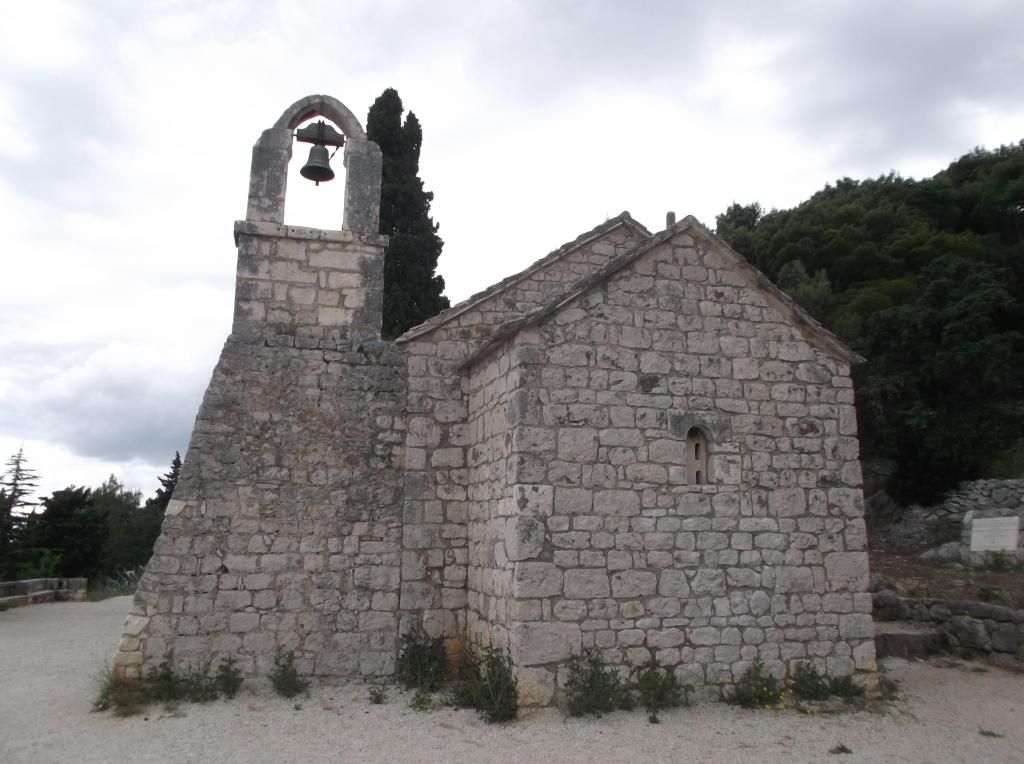 One of the church's on Marjan Hill
When the sun finally decided to break through the clouds early in the afternoon & I decided that, after a lunch of
Burek
, the best thing to do would be head to Bacvice beach. Bacvice is beach is probably the ugliest, dirtiest and most cram packed beach I have ever laid my eyes on. It gave every reason to be hated, cigarette ends floating in the water, dirty coloured sea and totally cram-packed. Absolutely not what you expect to see on a beach in Croatia, where are the pebbles and the clear waters? In spite of all this, I really liked it! It was full of people like me, backpackers making friends with anyone willing to put sun lotion on their back & all with their feet in the water and a beer in their hand. I even made friend with a British girl who had missed her flight(!) that day & didn't know Split at all. On the surface, it might be an ugly beach, but it's got a real fun and friendly atmosphere- and if you
really need
pebbles, just follow the beach around, you'll find them!
Bacvice beach early in the morning
It's the same with the rest of the city, in spite of Diocletian's Palace most people love Dubrovnik more for it's city walls. I'm not saying that I don't like Dubrovnik, but Split is my favourite out of everywhere I went in Croatia. It might have taken me two visits to really get into the city, but I love it & undoubtedly will end up back there sometime soon. It's mixture of history with present day, with tiny bars crammed into the walls of the palace, free rock concerts on the Riva. I even love it's ugly beach full of backpackers, and pop music. It's a city that is so underrated by tourists.
Have you been to Split, how did you enjoy it?
Liked this post? Follow me on social media!