Bled the Beautiful
"Bled is the most beautiful place you're ever going to see," Nick claimed as we pulled out of
Ljubljana
.
Of all the places we were visiting,
Bled
was the one at the top of my list. It was the one place I was already
secretly in love with
. I'd built it up so high in my head I thought I was bound to be disappointed (ever the pessimist) but as we got closer and closer to town we were surrounded by gorgeous snow capped mountains. It was beautiful before we even got there.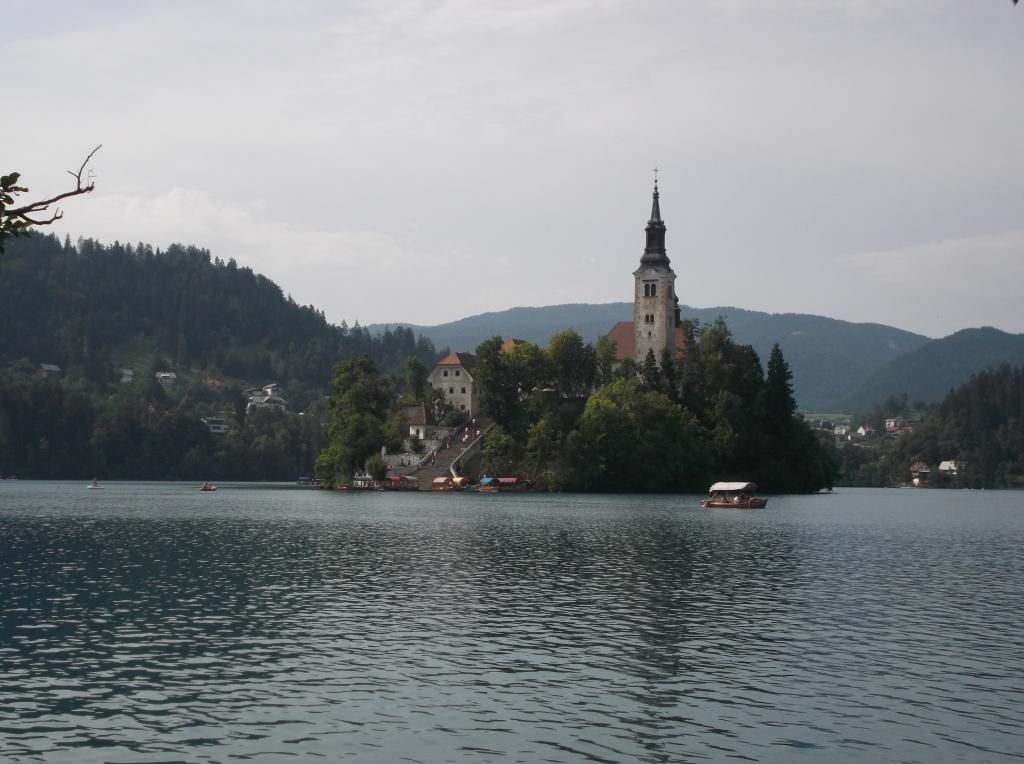 The famous church on the island
Everyone was craning their necks to look at the alpine style houses as we pulled into Bled.
Jazz Hostel
was at the back of the town, a five minute walk to everything. We were greeted by Jani, the ever energetic owner, with a shot of home made Blueberry liquor & an introduction to Slovenia. Jani and his wife Urška are easily the most hospitable people I've ever met. Jani never stops smiling, he'll bend over backwards to help you and his wife will cook you the most incredibly breakfast (seriously, scrambled eggs with bacon, sausages stuffed with cheese, delicious)!
Bled is kind of the exact opposite of what most people come looking for, it's unlike
Barcelona
or
Amsterdam
, you haven't got any of your big city amenities. Everyone, locals and tourists alike, can be found in one small bar at the back of town. It's all about nature, the gorgeous lake, the snow capped mountains. The church on Slovenia's only natural island in the middle of the lake, and the castle nestled into the hilltop above looking like a scene from a fairytale. The land around the lake is largely undeveloped and retains its natural beauty.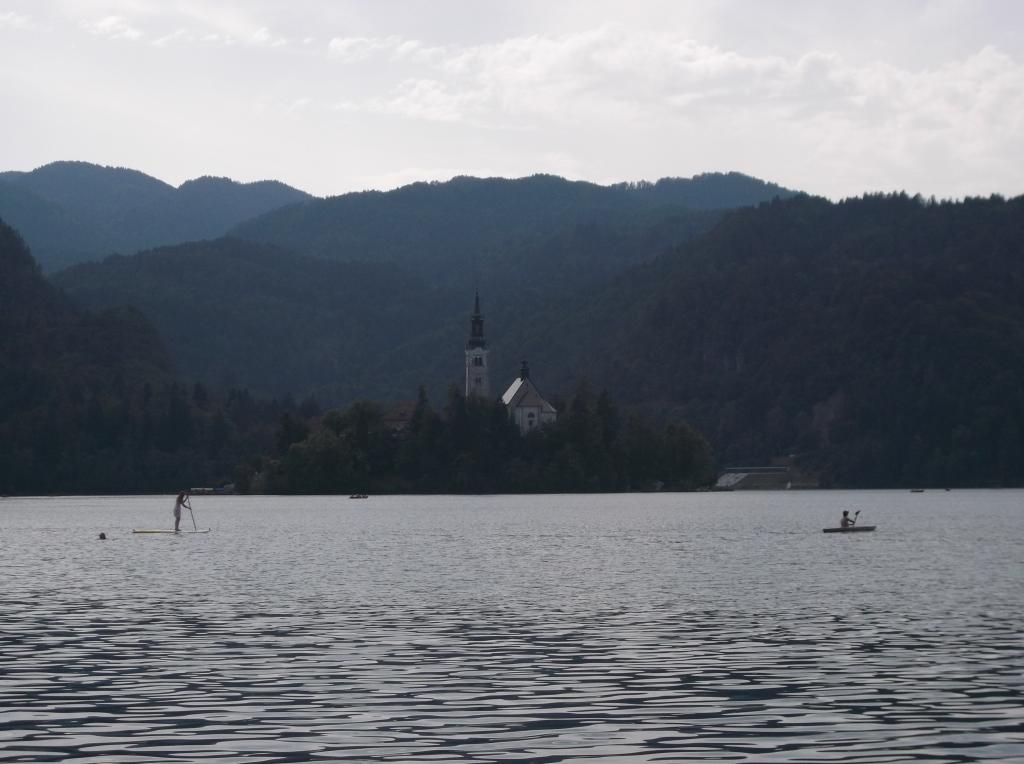 I regret is not SUP-ing here
It took us nearly 45 minutes to walk from our hostel to the lake, we were stopping every couple of steps to take another photo. Even Nick coaxing us with the word "Cake" wasn't getting us to move any quicker. We wanted to absorb everything, and we'd got here at the right time, too. It was Bled Festival when we arrived, the place was alive with people in traditional dress, and traditional music being played by various bands who seemed to be in competition with each other. Stalls set up selling everything from yummy looking dry-cured hams, and cheeses to jewellery.
Eventually we parked ourselves down outside a hotel serving Bled cake. Other places are famous for street food, or tapas, but not Bled, it's got an elegant creme cake unbeaten by any other. There are a few variety's you could try, but you've got to stick with the original. A layer of cream, a layer of vanilla custard sandwiched between delicate slices of puff pastry. It was delicious.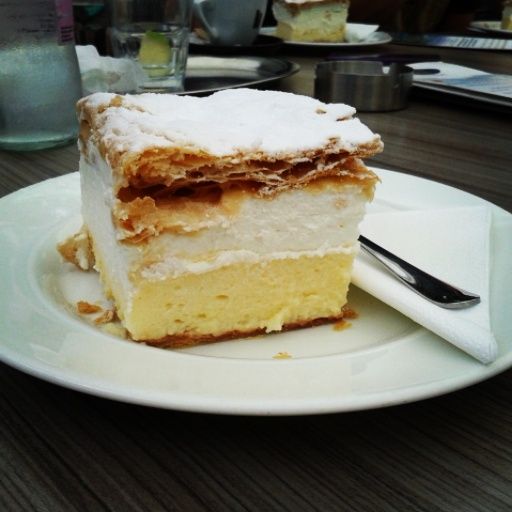 Bled cake, nom nom!
Yeah, sure, like everything else in Eastern Europe it isn't exactly healthy, but you can easily remedy that by taking a dip in the lake. A must when you're in Bled. After our cake stop some of us walked around the lake to Bled's rowing club. Along the way there were many different places people were using to go swimming, or hire rowing boats to go out to the island. It's one of the most successful rowing clubs in the world in terms of champions, it boasts six Olympic medals and has hosted the World Championships no less than 4 times. At the club there are three jetty's which on a summer's day, almost everyone jumps into the lake from. The water is surprisingly warm, and a refreshing dip was exactly what we needed!
There are many debates amongst traveller's about whether or not a destination is worth visiting. For example so many people absolutely adore Prague, whilst after 2 visits I'm still not convinced. Yet Bled is different, it is somewhere everyone is united about. The first time I heard about it was when my friend Joel changed his facebook cover photo to one overlooking the lake. I knew instantly I wanted to visit. Bled is beautiful, idyllic, and like nowhere else you'll visit. It'll weave its magic into your heart and leave you wanting more.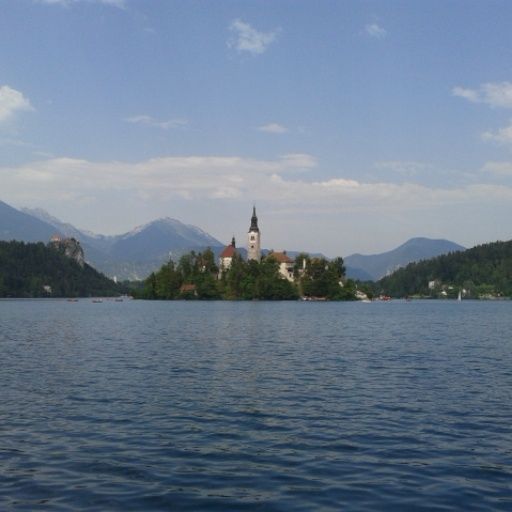 taken with my phone, but still gorgeous!
You'll have a love affair with Bled like nowhere else you'll visit.










Liked this post? Follow me on social media!