Some White Water, a Raft & a Bunch of Beginners
People I know call me 'brave' an awful lot, they use the word 'adventurous' around me a fair bit. I go travelling regularly, either by myself or with a group, and apparently that is a brave and adventurous thing to do. Although, not really, to me it's just my way of getting through. Adventurous, to me, are people who go all out camping in the wilderness, trying extreme sports like
throwing themselves down mountain's on bike's
or
bungee jumping
, or
white water rafting
.
The group and our two rafts
It was smack bang in the middle of our
Emerald River Adventure
that we went white water rafting, it was something I'd never done before- and neither had most of the group I was travelling with. I was excited about it to begin with, but as the day went on I got more nervous about it. I wanted to do it, but I didn't want to die, and as we rocked up to do it I looked at the calm emerald coloured water thinking it wouldn't be so bad.
We were split into two groups (essentially the groups we were in for our minivans) and our instructor was Fabio, a gorgeous Argentinian who had probably landed the Dunce group. He talked us through safety, checked our helmets were tight enough and got us into the raft's putting us through our paces- it's amazing how someone shouting right side forward would make 8 twenty-something's stare dumbfounded at each other whilst trying to work out their left from their right. He told us how to sit, and how to tuck out feet under so we'd stay in the raft in the rapids, and that in some cases we'd need to duck inside the boat rather than staying on the edge of it.
Don't I look nervous?
Next up he was chucking us OUT of the raft, still in the calm waters. We had to let ourselves float before he told us to swim back towards the raft and help each other up. The first people in the raft had to grab the rest by their life jackets and tuck them out of the water! It was tough work, but in spite of a lot of gasping because of the cold water and giggling we managed it.
"Great, no one is dead, let's head up to the first set of rapids" Fabio shouted.
We floated along paddling gently with Fabio correcting us slightly from the back and went into an ebb where he told us that we'd get wetter and the raft would duck in and out of the water. The first rapids were winding and the waters splashed over our faces as we passed through them, we were all excited not to have hit any rocks on our way through!
We stopped twice as we went along, the first time at a rock where we got out the raft's and turned them over to slide down into the water. The rock face was pretty steep and entirely smooth, I had a bit of trouble climbing up and, of all the times to have done it, really hurt my arm getting up! So I didn't slide down the raft, but watched on as everyone else did. Including a couple of people who were scared going down together.
The next set of rapids were more complicated and we bounced off a couple of rocks on our way through. Even although this course is very much for beginners and you had time to rest and float between rapids, when you're in them you are really working your oars to do what you want them to. The deeper you dig the better your steering, but at the same time it is harder to move the oar through the water. We had just got out of one rapid's when Fabio announced that we were going surfing! He turned us around and plunged us back into the centre of the rapids ordering us to work our oar's in the opposite direction so we stayed in the rapids. Our raft was practically bent in half, I was up to my shoulders in the icy water, getting splashed in the face, and unable to breathe- not because I was panicking, but because I was laughing! It was amazing!
Our second stop, where we met up with the other boats to climb up a little waterfall where we could get a drink of mountain water whilst we rested. I say rested, I spent that time being wrestled into the water by Pete whilst he was telling me it wasn't that cold once you were in! It was such a beautiful setting with a lot of laughter and everyone seemed to be enjoying it. Talking to the other group, they were also convinced they were the dunce's on the river, which was reassuring (tho' I'm pretty sure it was really us).
Our last rapids were the one's below (thanks
Mrs. Chasing the Donkey
for showing me how to make this gif, I love it, it's like reliving it). We'd been on the water for an hour and it was exhilarating, and amazing. Honestly the rapids aren't particularly tough, tho' you can do higher grades further along the river. If you want a taste of white water rafting, and you're a beginner, I recommend this, I'd love to do it again!
High fiiiive
Would you try white water rafting or have you already been?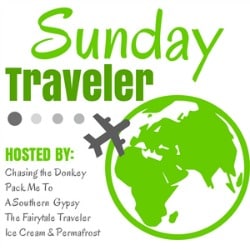 Liked this post? Follow me on social media!