Trails, and Tales, of Triglav
The thing about Slovenia is, whether you've just arrived in
Ljubljana
or
Bled
, or you've taken a day trip out to a National Park you've never heard of until now, the place is full of surprising beauty. No matter which corner you turn, it's there.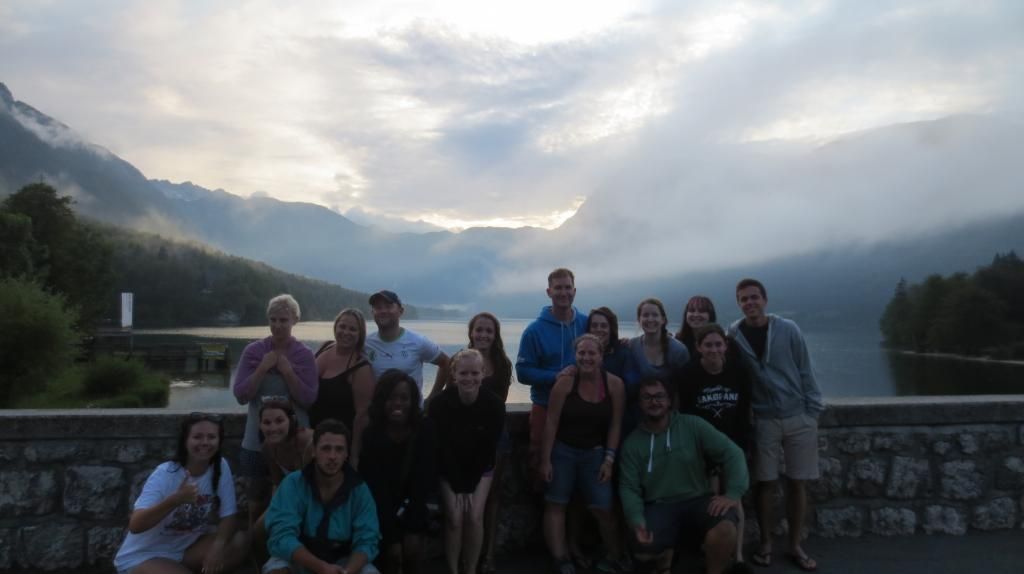 Group shot at Lake Bohinj including our guides Jaka, and Timotej
Triglav
was no exception to the rule,
Triglav Adventures
picked us up early, and falling back to sleep quickly in the minibus, Timotej told us if we didn't wake up soon he was going to take us across the border to Italy to get some coffee. I don't know why I couldn't keep my eyes open (aside from 19 days of almost no sleep at all) because this was the day I had most been looking forward to. That said, I had a tiny bit of self doubt, as you can probably see from photo's I'm not exactly the type of person who is into exercise in a big way, and
Emerald River Adventure
is all about hiking, swimming and white water rafting. Triglav National Park is nestled between the Austrian and Italian borders encompassing the south eastern Alps, it's highest point roughly in the centre is Triglav mountain. The Slovenian's absolutely love Triglav, so much so that it is the emblem on their flag.
Our first stop of the day was at Jasna Lake, where Jaka- the guide driving the other minibus- told us all about
Goldenhorn
, the mascot of
Triglav National Park
. I was almost instantly awake and excited by more fairytale's, and the setting was gorgeous. It is lucky for you to touch the mascot's horns, or in our case ride Goldenhorn!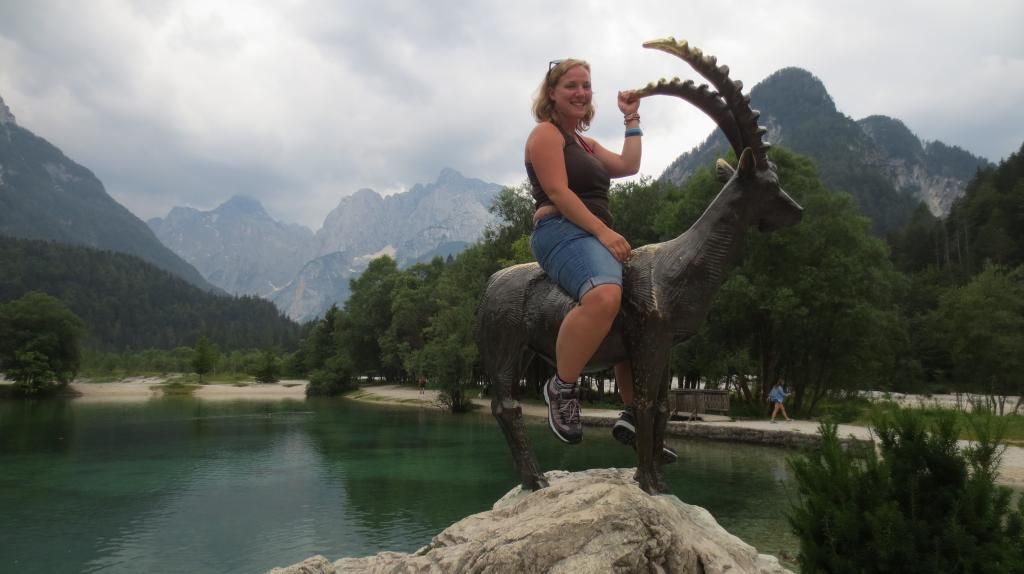 Oh yeah I am holding his horns
From there we climbed, up and up, the road was built by the Russian's during WWI, as one of the biggest frontlines in the war went right through Slovenia, it's insane to think that almost a million people lost their lives here. We took a short, cool hike (even in July in Slovenia the days can be cloudy) up the Vrsic Mountain Pass. All across the mountains are bunkers left behind after the war. At the top sat at the edge of one of the Buker's Jaka pointed across to another mountain, "Can you see the face? That is the fairy that predicted the fate of Goldenhorn", he told us. I was so excited, how many people can see they've actually seen a fairy?!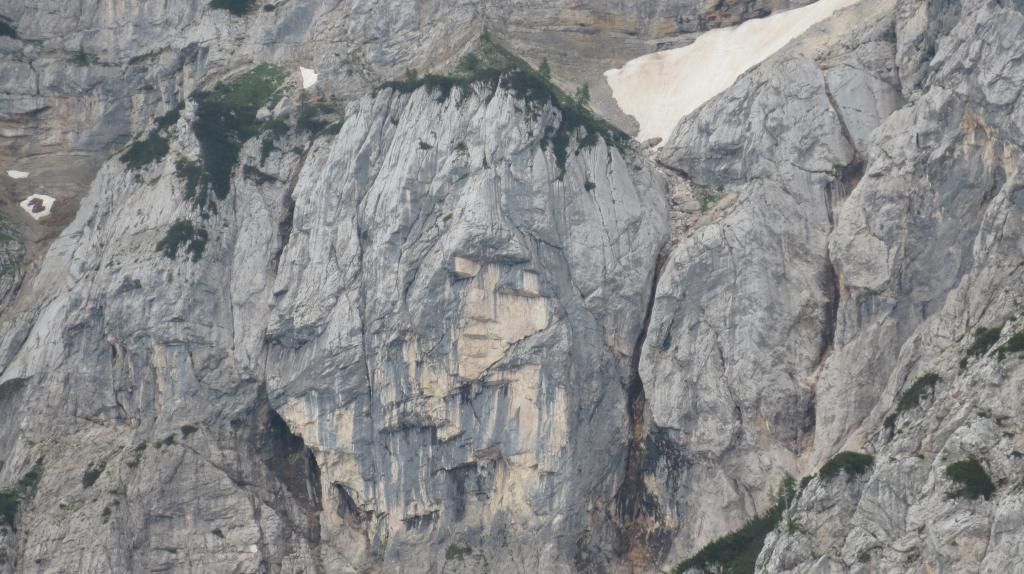 The fairy frozen into the rocks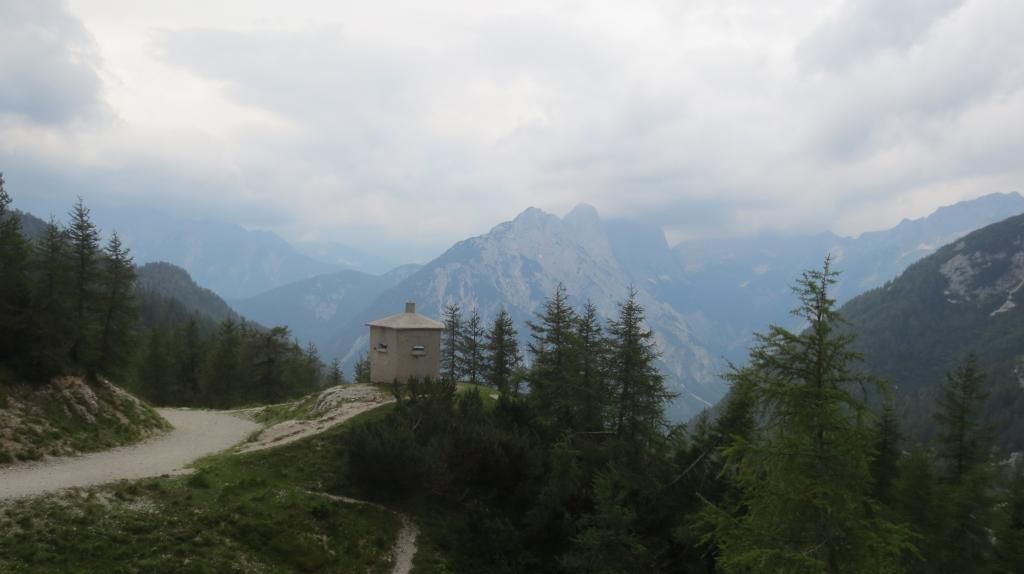 The view from the highest point of the Vrsic Mountain Pass
We drove back down, the dizzy turns back down the pass were almost motion sickness inducing, but we were heading towards another hike. This one supposedly more difficult than the first, it was more rocky underfoot, but I was enjoying the day and utterly determined that I was going to clamber the rocks alone in spite of Jaka, Pete & Timotej offering to help me on more difficult bits (particularly where I looked too small to get up to the next rock). Our destination was the source of the Soca, where we filled our water bottles with icy mountain water, causing condensation on the outside. Jaka laughed at us when he pointed out that the cold water would be what we'd be rafting in later in the day!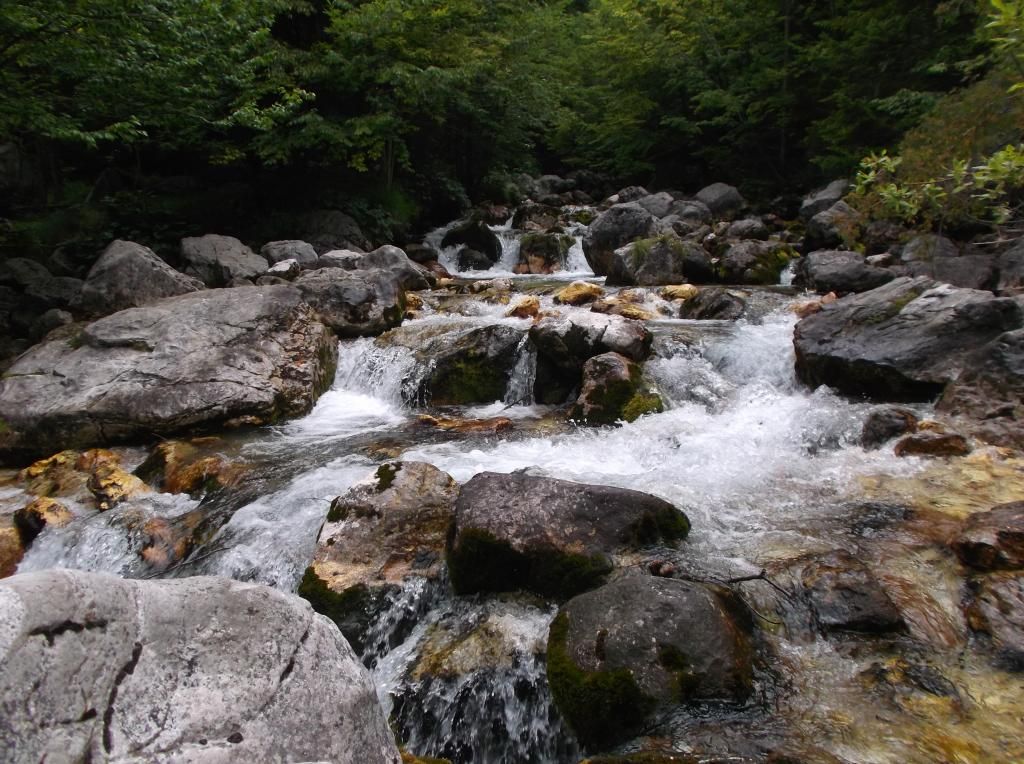 How beautiful is this?
We headed off for lunch shortly after this, stopping via view point where you could climb some rocks slightly above the Soca. It's probably the most gorgeous view of the river, the place you can really see why it's nicknamed "Emerald River". Unfortunately we hit a traffic jam, yep, in the Slovenian Alps, and we ended up running so late for lunch that we got sent to a bakery instead of stopping in a café, but that was fine, we all managed to get something before we headed off to go white water rafting.
I was super nervous about this, I'm not adventurous, not in an athletic way at least (though I want to try base jumping one day). I'm a good swimmer, but I don't like feeling like I'm not in control & when you're rafting you're relying on everyone pulling together. Look out for more about it tomorrow, suffice to say I survived!
Wooosh!
Our last hike of the day took us to Kozjak waterfall. It was yet another different challenge to the earlier hikes. I jumped along the rope bridge like a child, making everyone scared to fall into the water below if the bridge broke. We clambered over high bridges, I was nervous being scared of heights and having nothing but a thin wire to cling onto, on low damp moss covered rocks, through small fords along the paths. The waterfall was hidden, and the day was dull so our group chickened out of swimming. I'd done the hike in wet bather's covered only with a pink sarong (I looked
good
in that sarong with my hiking trainers, I'll tell ya) & wasn't willing to get cold and wet yet again!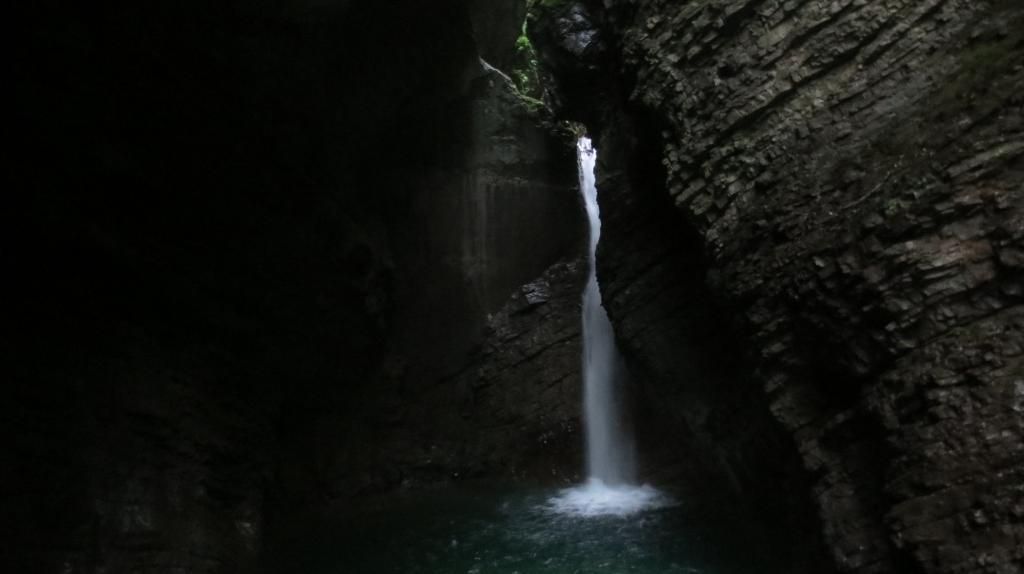 Kozjak Waterfall
Vaguely dry, we ran back to our minibus. The rain had started to come down, heavily, and a lot of the Aussy's were spent and the rain was exactly what they didn't want. It didn't bother me too much. The colours stayed vivid blue in the river below the rope bridge, and we were passing by a campsite where children were running and screaming in the rain- it reminded me of that scene from The Parent Trap (the Lindsay Lohan one) just before they discover they're twins. I didn't care about the rain and strolled back to the van's with Pete and [boy] Sam. Our next stop was Most na So
č
i, a ten metre high bridge above the freezing river. The rain had barely stopped when we got out, only my brave friend Genevieve dared the jump. We all looked on as a little girl of only 12, who had been doing a similar day trip, jumped after Genevieve, slightly embarrassed that none of us were brave enough to follow!
We avoided back tracking by taking what I can only describe as the Harry Potter car- train back towards Bled. The track cuts through a large mountain plunging you into darkness- and if you've got a cool driver they'll have a disco using all the lights of their car- for eight minutes. There is no road for this route, just the train track. You drink celebratory beers on the car train to celebrate an incredible day, whilst taking in the stunning views on the way back to Bled.
Hogwarts here we come!
Our very last stop was the gorgeous Lake Bohinj.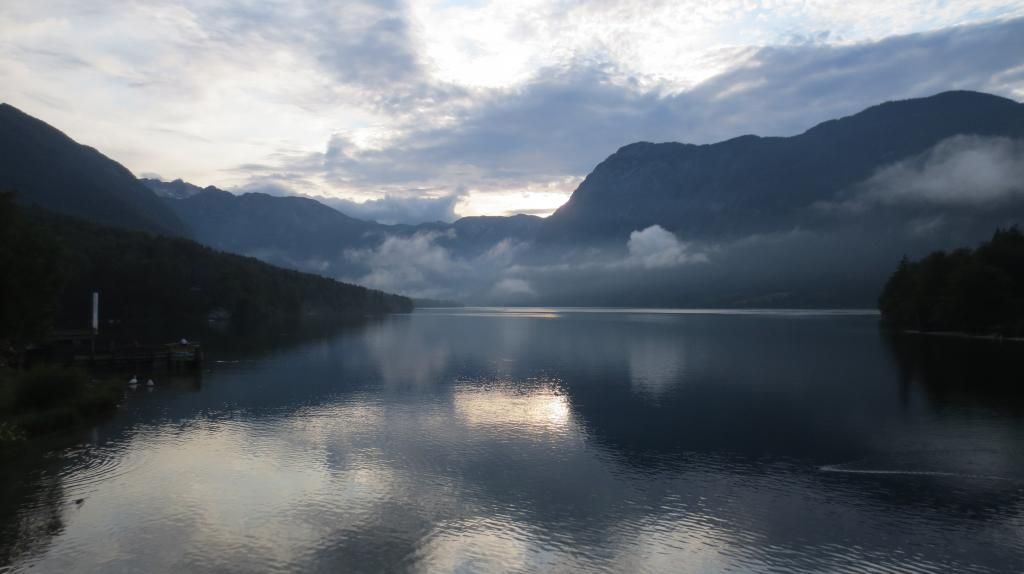 Beautiful
Writing about Slovenia, and especially writing this post makes me realise how much I miss the country. It's definitely weaved it's way into my heart, and I hope to go back sometime very soon. I can't thank 3glav Adventure's enough for the incredible day we had, I'd definitely recommend doing this trip with them, and hope to get back and do it all again. Emerald River Adventure is a 12 hour long adventure day trip costing 100€, or 65€ without white water rafting, it is worth every cent.
The magic of Slovenia has stayed firmly in my heart, refusing to budge for anything else. All I can say is, you've got to go, you've got to see this amazing country. And if you go, make sure you book this trip.









Liked this post? Follow me on social media!