Discovering the Golden Circle with Time Tours Iceland
"Did you see the red sunrise?" Rúnar asked us as we clambered into the minibus.
There was to be no
off- road- never- before- driven- mountain- tracks
today (sorry to disappoint you all). Three of us, plus Rúnar, reuniting from our
Northern Lights
tour two nights before (the night we'd been unsuccessful). We had a quick stop to pick up Áslaug, also from
Time Tours
, before we headed on our way for our day exploring the
Golden Circle
. The sun rises later in the North, and at 8,30am it was still climbing in the sky as we drove away from Reykjavik. We'd missed the red as we swung around to leave
Reykjavik
, Rúnar told us it had been caused by the pollution from the Bardabunga volcano.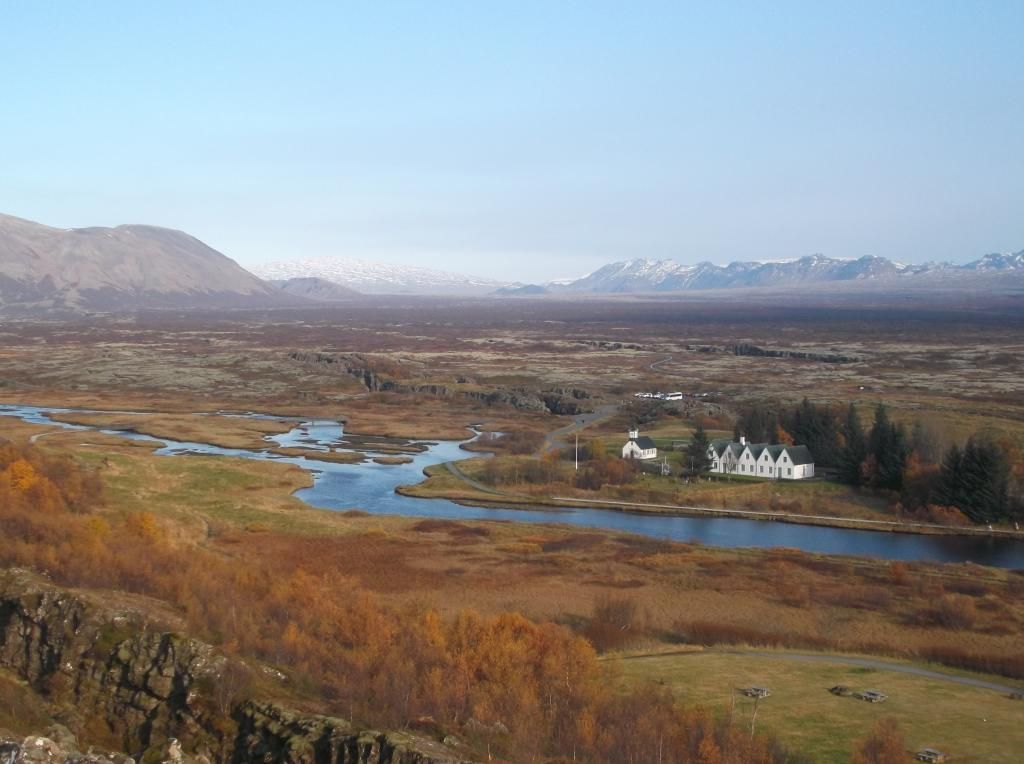 Such a beautiful place
With it's geothermal, and volcanic activity, Iceland is unlike any other country. As we drove out to our first stop of the day we passed geothermal power plants, which pretty much power the entire country. Tap water in Iceland is probably the most clean, drinkable water worldwide, with it's abundance of spring water, nothing needs to be added to it & no one (except me- but only because I lost my bottle, OK?!) needs to buy bottled water in Iceland as it's essentially exactly the same as that which comes out of the tap.
The first stop on our
Golden Circle tour
was at
Hveragerði Quake 2008 exhibit where you can see the crack of the land below the shopping centre caused by the quake. This is the most densely populated area in Iceland, and whilst there were no human fatalities, farms and livestock were affected.
Hveragerði, a name derived from the Icelandic word for hot springs, known for said waters, also had holes open up under people's homes where the waters were trying to reach the surface. Whilst it might be fun to visit the pools for a couple of hours, it's not so much fun to have one below your home!
Most people on the Golden Circle tour also stop at Keri
ð crater lake, which is a pretty interesting place, but we didn't having been there exploring two nights before. The lake looks like any other extinct volcanic eruption, or at least that's what scientists thought to begin with. Until they realised there was no evidence for such an explosion at
Keri
ð. Now it's believed it was a cone volcano, and in fact imploded. When the magma had depleted, the weight of the cone collapsed causing the crater we see today.
Faxí waterfall
We made a quick stop at the Faxí waterfall, faxí meaning "horse mane". At the side of it there are steps set up by fishermen to help the salmon climb up the river. This waterfall is a great prequel to the one everyone wants to see; Gullfoss.
Do you know how lucky we even are to be able to see Gullfoss?
If it wasn't for
Sigríður Tómasdóttir we might not be able to see it at all. She, like so many of us who go to see it, believe Gullfoss to be the most beautiful sight in Iceland, and was horrified to find that the people her father had rented it to were considering destroying it. They wanted to use it to harness electricity, foreign investors wanted to build a hydro power plant there.
Sigríður herself protested strongly against it, even going so far as to walk the 120 kilometres from Gullfoss to Reykjavik. Arriving with bleeding feet and in a bad way, she threatened that if the plans would go ahead she would throw herself in Gullfoss and kill herself. It took much digging, and many contractual loopholes, and eventually the waterfall was saved and sold to the state of Iceland to only be enjoyed by viewing it & never be destroyed.
When we arrived, the sun had yet to break through the clouds, and we stepped along the slippery silt- ridden path with care, holding on to the wire rope along the side. The spray was hitting us in the face, and we could barely see as we squinted at the path. Áslaug, turned around wanting to photograph me, but my scarf came above my nose, and my hat below my eyebrows- I can only imagine how I looked, but it clearly wasn't pretty from her howls of laughter! Either way I was making my way to the opposite side of the spray hitting my face to take in that massive waterfall.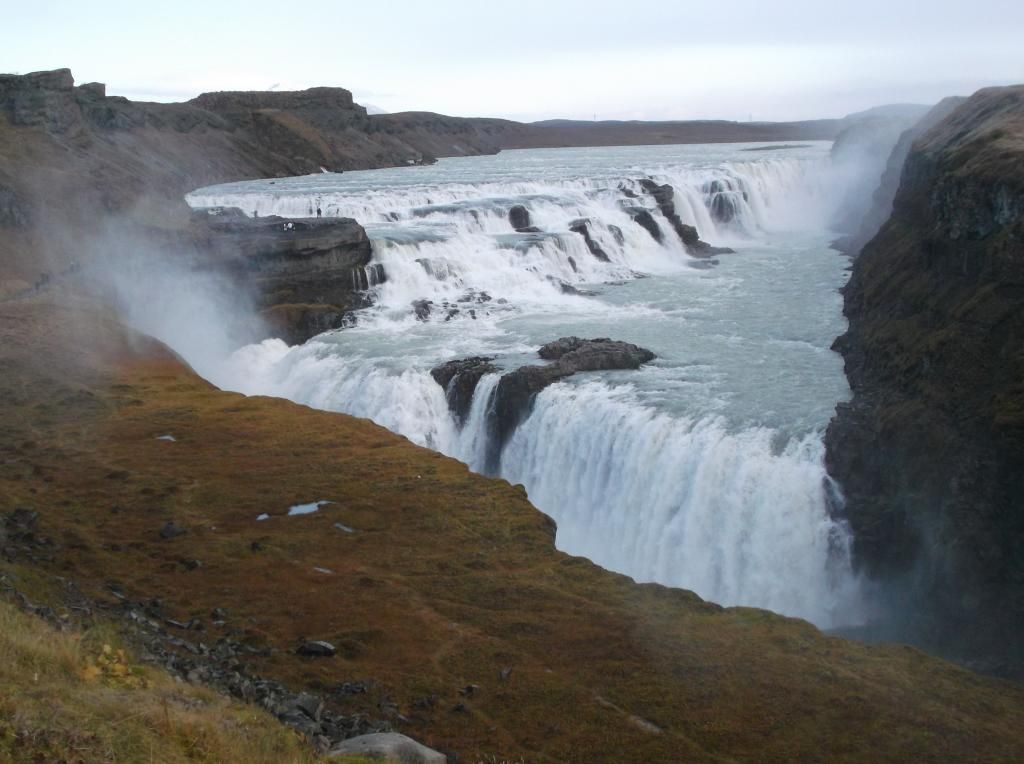 Gulfoss
We hopped back on the minibus and headed just up the road to the Geyser's, I have to admit, this was the part of the day I was least looking forward to. Having lived on volcanic islands (Canary Islands), and seen the crappy one tourists visit there, I wasn't expecting much. Strokkur, erupts every 4-7 minutes, it's one of the most reliable naturally exploding geyser's in the world and tourists flock to it. After standing for about 20 minutes and watching it explode, I can honestly say now I understand why. It's pretty spectacular! The water gushes high in the air, if you're lucky. The area is full of geyser's with a larger one (which almost never explodes, but when it does you hear a thudding sound on ground, & can usually be related to volcanic activity), and a much smaller one in the same area, and the activity of these geyser's is strongly related to earthquake activity.
I even made a GIF to show you how cool it is!
Once our fascination with the geysers was over we were heading to þingvellir; before we got too far, Rúnar swung the bus into a lay-by next to some Icelandic horses. Icelandic horses are, by most standards pony- sized, but are still referred to as horses. They are hardy, living outside year round & owing to living on an island, have few diseases. Horses cannot be imported, and those exported may not come back. They are unlike other horses, displaying two extra gaits as well as walking, trotting & cantering/ galloping. We stopped to stroke, and feed the horses, with not one, but two horse lovers on board there was much excitement about this. The horses came quickly once they realised we had food, and kept nudging at my hands to find more even once I'd run out.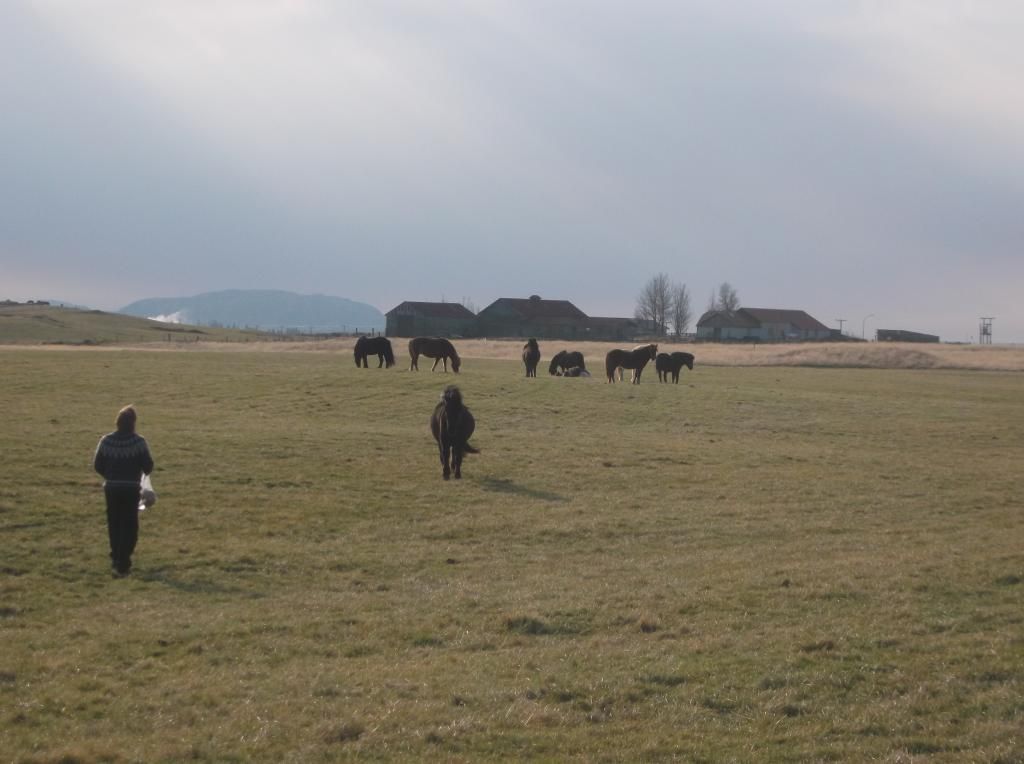 Rúnar coaxing horses towards us
feeding the horses
Our last stop of the day was at þingvellir, the national park was the place I was most looking forward to visiting. The National Park is home to the oldest parliament in the world- it was all outside, you know? Not only that, the mid Atlantic Ridge. It kind of fascinates me that you can see the plates separating, it's the Eurasian Plate and the American plate. Don't ask me what I was expecting, because I don't know, but it's a mighty big gap there in no man's land! I could hardly believe when Rúnar pointed out as we drove over the edge of the Eurasian plate and headed towards the altogether Larger and More Mighty American plate (it is the geographical version of "Would you like me to Supersize that?" I swear). Before heading off to climb the American Plate, we stopped at the lake, watched the spring water bubble to the surface and stuck cups in to drink the fresh water coming out.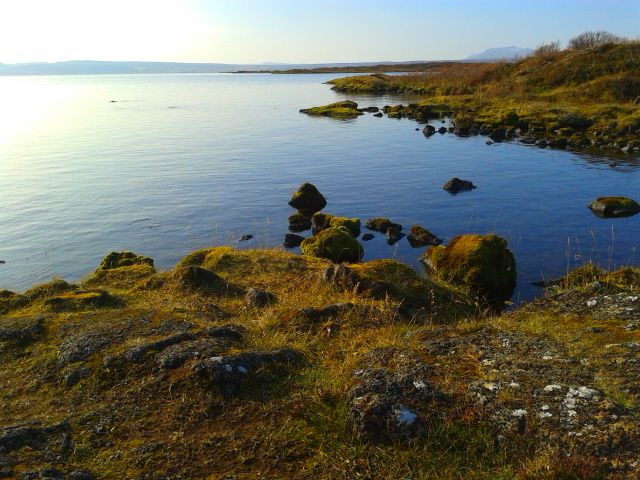 What a stunning view
Standing on top of the American Plate, looking as far as my eye could see. Snow on the mountains, a glacier behind them, a gorgeous blue sky above us now the sun had broken through for the day. It fills you with a calmness, a happiness that can only be felt when you realise that you're in such an incredible place created by such volatile forces of nature, and yet everything seems so calm. Looking out over it all, its no wonder there is talk about the Hidden Folk, Elves and Trolls in this area of the world. It really was the grand finale of the Golden Circle.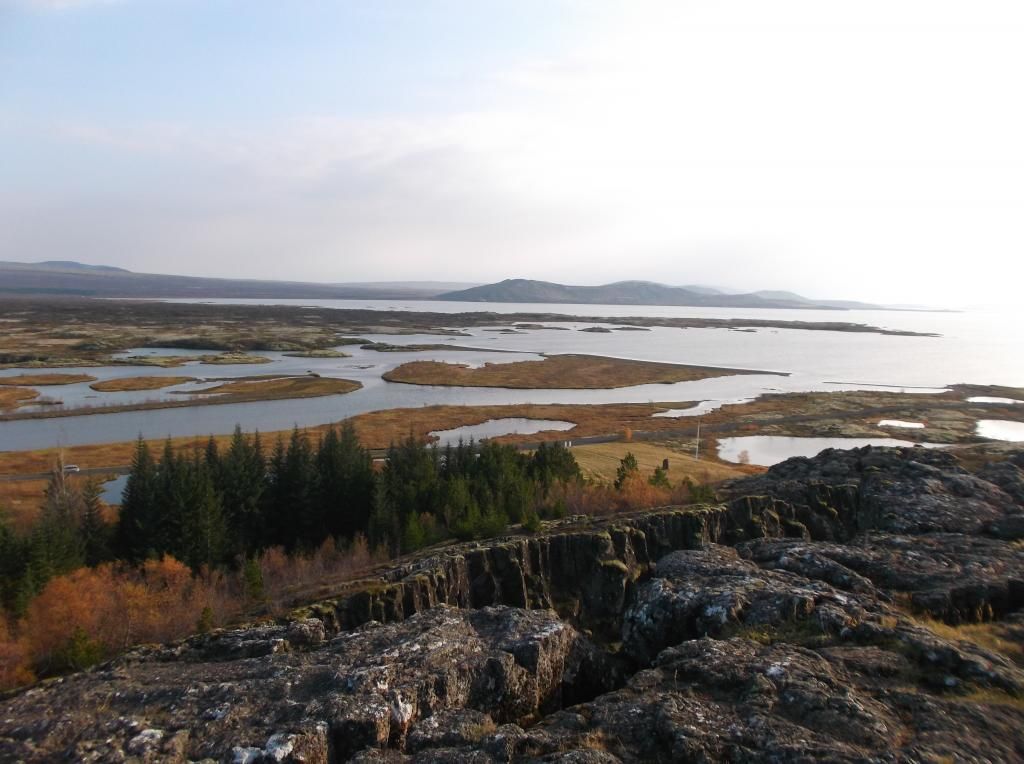 The Golden Circle
is one of the most popular tourist routes in Iceland and with its stunning waterfalls, tectonic plates, and the world's oldest parliament, its not difficult to see why. I spent a day with
Time Tours
exploring this area of Iceland and discovering the utterly gorgeous landscapes outside Reykjavik.The tour costs 8,900ISK (just shy of £45) & departs from most hostels/ hotels/ guest houses in Reykjavik from 08,30am. As I mentioned yesterday,
Time Tours
day trips are on minibuses, smaller numbers means a more personal service.
I was, again, a guest of Time Tours & absolutely loved the day out in the Golden Circle with them. I can't thank them enough for my time with them. As always, all opinions are my own.
Liked this post? Follow me on social media!