Hunting the Northern Lights with Time Tours, Iceland
My bag slid off the seat, as I clutched to the edges of it in spite of having a seatbelt on. I wasn't far from the front of the minibus, but couldn't see in the darkness where we were headed. I was almost convinced, at the angle the bus sat as we stopped, that we were going to topple over, die and never be found. In the darkness, half way up a mountain. Or maybe it was a volcano. The bottom of the minibus had scraped along the rocks below on the "track" we were climbing. The bus had stopped at a rather uncomfortable angle when Rúnar looked around with a smile on his face and announced,
"I've never driven up this track before."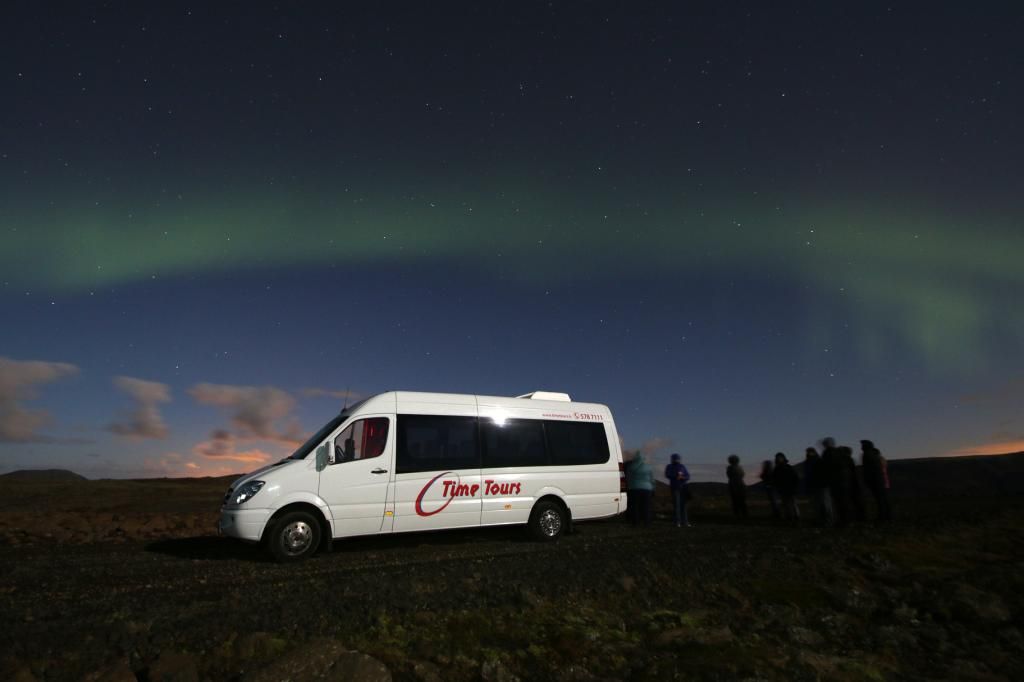 On top of the mountain with The Arch above us
All credit to him, Rúnar, manager and guide for
Time Tours Iceland
, was driving us somewhere he thought we'd view the lights better. Unlike other companies,
Time Tours
will drive to different locations where you can view the lights, instead of keeping you stood freezing in one place- particularly if your view isn't the best, or you can't really see anything from where you are.
Time Tours minibuses
mean you get a more personal experience, any questions you want to ask get answered, and everyone gets a chance to be heard. The cost of this tour is 7,500ISK (around £37,50). We were above the pollution of city lights, and away from the Big Company's coaches where other people would be photographing, and watching
The Lights
that had appeared along side the bus half an hour before.
It was my second night out hunting for
The Lights
after an unsuccessful first trip- a privilege allowed to everyone who books a
Northern Lights tour with Time Tours
. The second night had started much more promising with The Lights appearing by the time we'd got out of Reykjavik's city limits. Rúnar had spun us around to view them, before making the decision to drive to the top of a mountain so we could see them better.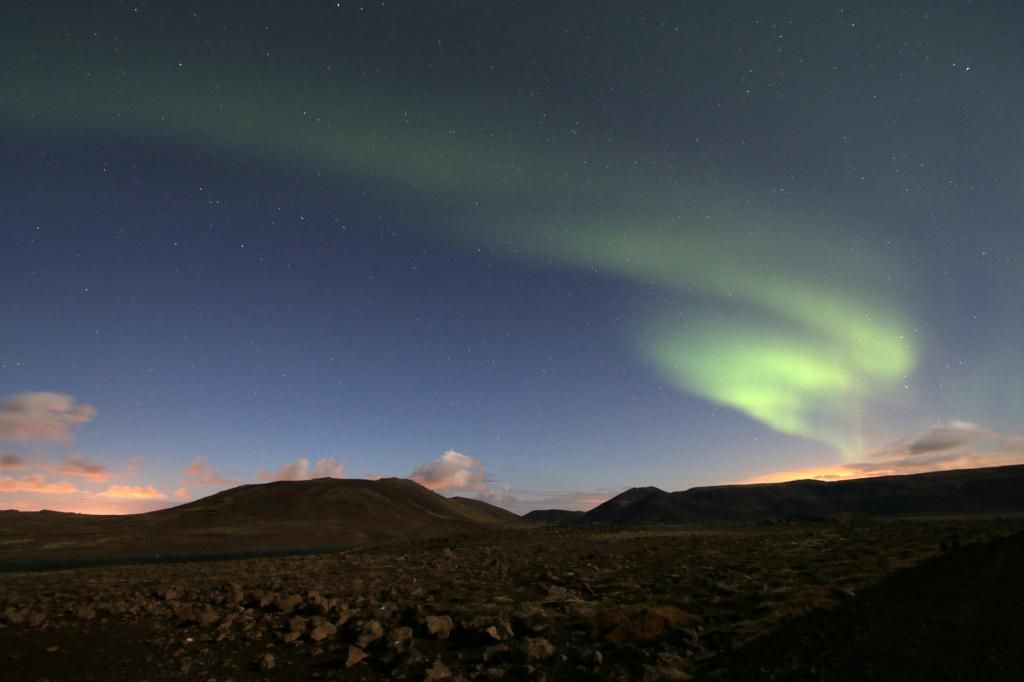 The Northern Lights
are caused by the sun's particles hitting solar winds which energise them. When there is magnetic field contact, this is what causes the lights to dance. Rúnar explained that around the earth there is a magnetic field, and where the lights appear, both in the north and south are like butterfly's wings. The wings edges are the magnetic fields and they can stretch further as they flutter, hence why occasionally you can see them as far south as Scotland, or even Newcastle earlier this year.
There are a few things you need to see
The Lights
, first up is clear skies. In fact one of the first e-mails I received from Rúnar ended with him requesting I brought clear skies with me! I had my fingers crossed for months running up to this trip for at least clear skies- like it was something I could control. Rúnar checks the aurora forecast, and whilst Iceland university have their own, it is in fact Alaska University Rúnar finds to be most accurate. Their forecast, along with the Space forecast gives Rúnar an idea of whether or not we're likely to see the
Northern Lights
. For about a week before I went the particles in the forecast were hovering between 350 and 450 per cubic centimetre. A low forecast is around 200, so anything above 350 is a good forecast to see the lights.
As well as that, we are living in lucky times, as this year is Solar Maximum, which means
The Lights
display more regularly. This happens around every 10/11 years for 3 or 4 years, and we are into the third year. It means there are currently more spots on the sun, and solar flares. When I visited Iceland, there had only been one day this year without any sun spots! The rotation of the earth means that Iceland is on the darkest side, and therefore you're most likely to see The Lights, between 11pm-1am.
When you visit the Aurora forecast website, it tells you the scale for the lights is 0-9, and that 2 or 3 is low. Numerically this is the case, yes, but it has been known for The Lights to affect things here on earth, for example just over a month ago in
Canada there were warnings that electricity could be affected by solar storms
. The scale is quite different than you'd expect.
0. We had this on our first night, at around 11,30pm, you can just about make it out with a camera
1. You can just about see with the naked eye, though it's particularly difficult for the untrained eye. There would be no movement, and it could just fade away
2. Some movement in arch, yellowish/ green colour. It will be wide, with some vertical lines, and lift itself more
3. Clear movement, with multiple arches. It'll curve, and instead of going from west to east one may split away, and work north to south.
4. More, more, more! You'll see other colours, or brighter colours.
5. A crown style arch above you, it'll fire up and act as if it's raining on top of you
5.5 (now, I don't know if this really is part of the scale, but it's the way Rúnar described it) Rúnar said this is the highest he'd ever seen, and that it was in August at dinner time, whilst he was washing the bus. The sky was blue, with no stars, and there was a huge display. It was a daylight aurora.
Rúnar stops his explanations here, as he hasn't seen anything higher than this, and says he wouldn't want to because if it were to get higher it could do serious damage to the earth(!). This was being explained to us, as we shook from side to side,
the Time Tours minibus
leaning at a 90 degree angle climbing up an uneven mountain track. When we tumbled out into the freezing night at the top of the mountain, the arch was above us, and it was magnificent.
My reasons for wanting to see the Northern Lights (unsurprisingly, if you know me at all) lie with Philip Pullman, and the magnificent Northern Lights story of Lyra Silvertongue (I am one of those fans still hoping for The Book of Dust). The green mystical pathway, that the story tells us connects us with other worlds. Seeing The Lights makes it quite believable, too. As we got out of the bus, there in the darkness was the hint of yellow/green snaking between the clouds. You see the volatile relationship between the sun and the earth, solar flares hitting the atmosphere. It's like watching the sun flirt with the earth, but getting tangled in the clouds.
Before I went out the first night, someone described the lights to me as seeing Casper The Ghost with no face snaking through the sky. The green wisps disappear as quickly as they appear. It's not what you see in photo's, a camera lens being that much more sensitive than our own eyes. Similar to Casper, and cloud like with an ethereal light that distinguishes it from clouds around. I can't explain how my eyes see it, except to say that I could catch it out of the corner of my eye and know I was looking at The Lights. Tumbling out of the minibus at the top of the mountain and seeing the arch above our heads was like being stood on another planet watching these ethereal clouds play their games above us.
Seeing it in the sky in front of me and above my head was an incredible experience that I will never forget.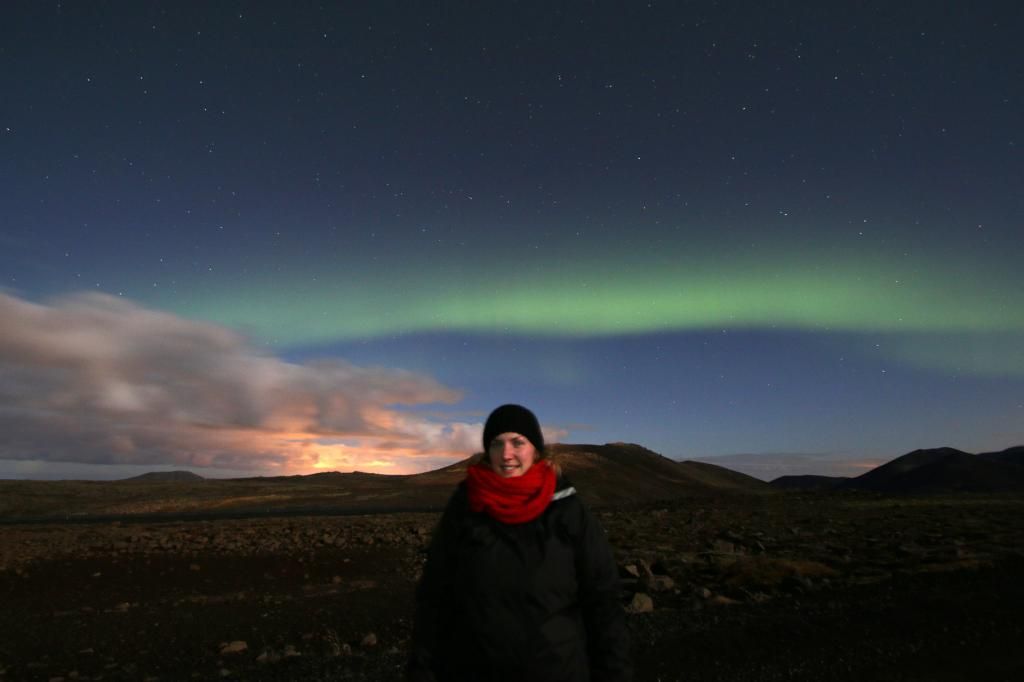 I was a guest of Time Tours Iceland, and had a fabulous couple of nights hunting for The Lights with them. All photos are credit to
Rúnar Þór Jóhannsson

As always, all opinions are my own.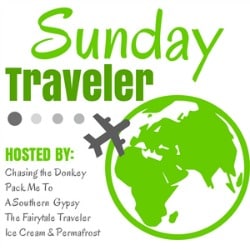 Liked this post? Follow me on social media!