Reykjavik Rules!
Reykjavik is one of the most beautiful cities I've ever seen, with it's colourful Nordic style buildings and the sea right behind the city centre, and mountains gazing over the water. The most northern city in Europe, and one of the smallest, everything is more or less within walking distance. It makes for a great day to explore and visit famous sights around the city, and end the day in the perfect relaxing way all Icelander's do. Here's how I spent a day in Reykjavik.
Looking over the gorgeous Reykjavík
After a late breakfast I walked away from my city centre hostel, taking a route past Tjörnin- the city's pond. Even during these cold months, Icelandic people were sat on benches with friends talking away. It's definitely a nice bit of serenity in the city, although it's just a small space.
Visit the National Museum
If, like me, it turns out you're pretty ignorant to the history of Iceland, this is a must. Of course we all know about the Viking settler's, but what happens after that? You even learn about the lives of the settlers once they got here, and how Icelandic people lived. Their switch from worshipping god's like
Þor to Christianity.
Did you know that Iceland only gained independence from Denmark in 1944? I had no idea. Don't forget to visit their collection of photograph's and prints before you leave, too.
Grab lunch at

Sægreifinn
The Sea Baron, in English, is an old fishing hut owned by Kjartan Halldórsson, painted a spectacular cyan colour, it's unmissable by the old harbour. Halldórsson is a retired fisherman and coast guard turned chef. His lobster soup is widely renounced as the best in the world, but the recipe is a closely guarded secret. Halldórsson accidentally became a restaurant owner, originally a fishmonger's, the place became a restaurant after one group of tourists had asked him to prepare their fish for them. The word spread quickly, and Halldórsson's shop became a restaurant, and shortly after his delicious lobster soup was invented. The restaurant these days is very spit and sawdust, with three long benches at the front, and a counter for ordering. The soup cost more than I'd usually pay for soup, but you've got to splash out occasionally, and it was delicious and perfect for the cold autumnal day I was spending in Reykjavik.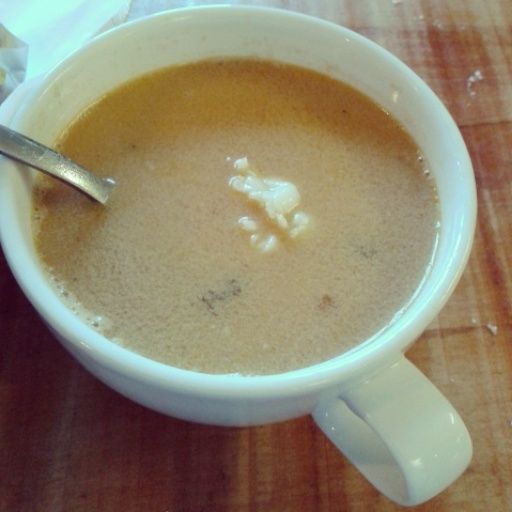 world famous lobster soup
Take a Walk to See...
Harpa
The new concert hall in Reykjavik, that nearly never was. Building on the hall had barely started when the financial crisis hit. Originally the area was part of a redevelopment that would include a hotel, car park, retail units, restaurants, and the new headquarters of the Icelandic bank Landsbanki. It's future was uncertain until the government decided in 2008 to fully fund the rest of the construction costs. Harpa was designed by Henning Larsen architects in co-operation with Olafur Eliasson. The structure consists of a steel framework with different coloured geometric shaped, glass panels, which looks spectacular as the sun hits it throughout the day. The opening concert was held on May 4th 2011, and is home to the Iceland Symphony Orchestra.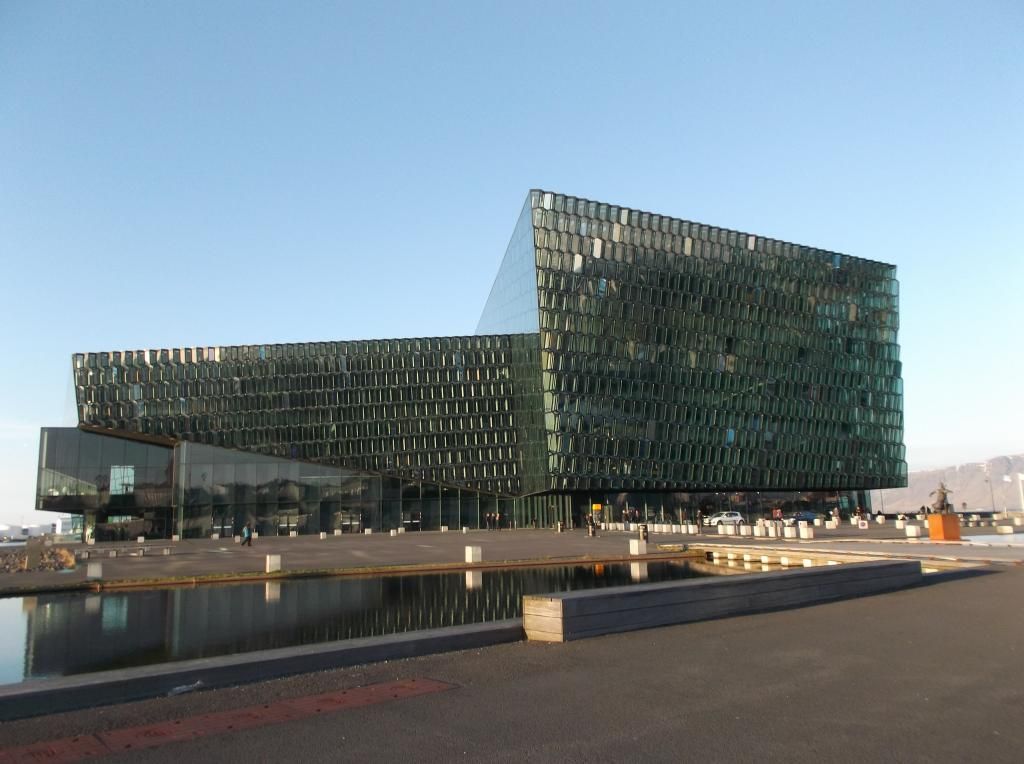 Sólfar
The Sun Voyager, designed by Jón Gunnar, is a dreamboat, an ode to the sun. In spite of many tourists believing that it is Viking's vessel, it is not. The work is constructed from quality stainless steel and stands on a circle of granite slabs. Perfect for traveller's to visit as it is supposed to represent the promise of undiscovered territory, the dream of hope, progress and freedom.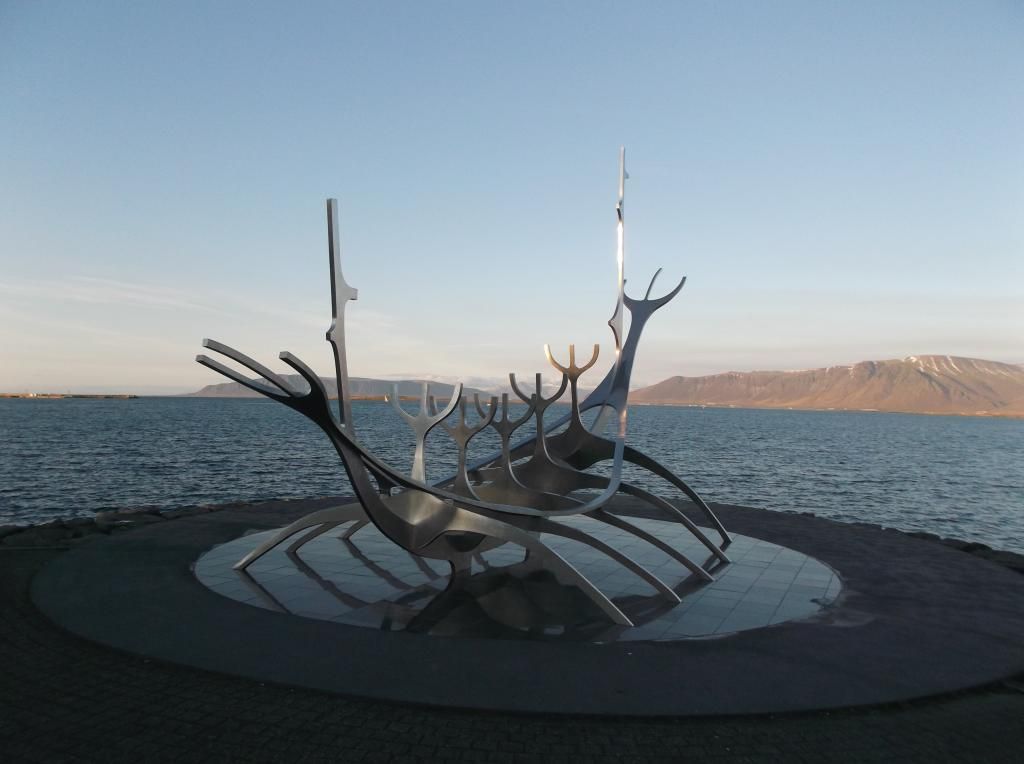 Hallgrímskirkja
The church is a Lutheran denomination church. It was designed by
Guðjón Samúelsson, the church took 38 years to build, with construction ending in 1986, it's the tallest church in the country. The design is supposed to represent the basalt lava flows common in Iceland. Famously tourists pay 700ISK (around £3,50) to climb the bell tower to see the views across Reykjavik. At the front of church is a statue of Leif Eriksson, which pre-dates the church. The statue was a gift from the United States in 1930 when Iceland was commemorating the Millenia of the Alþingi parliament at þingvellir.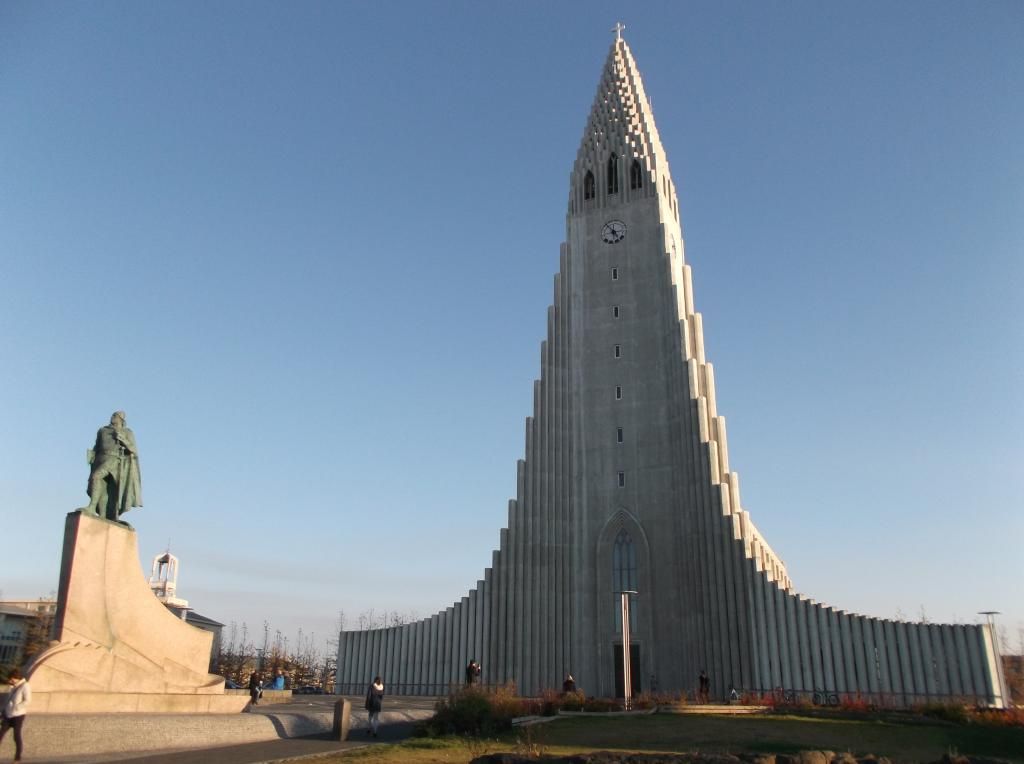 Relax at...
Vesturbæjarlaug, one of the seven thermal pools within Reykjavik city centre. It took me around 20 minutes to walk from my hostel to this pool, and there are other more popular ones that I'd have visited had I more time at my disposal. I am convinced I could spend a week in Reykjavik and visit a different pool each day of the week. You know Icelander's have got life right when they spend a chunk of their time soaking in hot waters. It really is the perfect way to relax, even if you have to make a mad dash through the freezing air before you get in the pool! Unlike the Blue Lagoon, pools in the city are pretty cheap to visit costing around 600ISK to get in (or included in the Reykjavik Welcome card, if you've purchased one).
Eat at...
yummy spinach chicken, look at all that food!
GLÓ. I know that working in the food industry (my day job) is going to get me killed for recommending this place, but it's a Health/ Vegetarian/ Vegan/ Raw juice bar come restaurant just off the main strip of Reykjavik. I tend to try to eat more healthily whilst travelling because you never know where your next portion of fruit or veg is coming from. Meals cost around 2000ISK (around £10), the menu changes daily & you get the choice of three salads to go with your main course. I had the spinach chicken on the first night, and the nut patty on the second night, both of which were delicious! Don't forget to get a green juice, too!
Have you visited Reykjavik? What would you add to this itinerary?









Liked this post? Follow me on social media!