Gorgeous Gran Canaria
Before I moved back to the UK permanently I spent a while living in Gran Canaria. Far more than when I lived in Fuerteventura, I found it hard to find work living in one of the biggest tourist areas on the island. It was noisy and my dog and I moved to the UK pretty swiftly. Before moving there, I had visited Gran Canaria at the weekends. It's super easy to get from Fuerteventura with flights every hour during the day. Most of the tourist areas are in the south of the island, but that doesn't mean you shouldn't check out it's capital, as well. The island is often called a "Miniature Continent" due to its diverse landscapes and climates on the island. A mixture of white sandy beaches, and picturesque villages further inland. Like Fuerteventura, a third of the island is a UNESCO protected biosphere reserve, there is even jungle on part of the island.
Looking across to Little Venice, Puerto Mogan
Nearly half the island is protected by Red Canaria de Espacios Naturales Protegidos (Canary Island Network for Protected Natural Areas), 33 of the 146 sites protected by this network are on Gran Canaria. These include 6 nature reserves, two integral nature reserves, two natural parks, two rural parks, ten natural monuments, seven protected landscapes and four sites of scientific interest.
Puerto Rico
My favourite place to visit as a teenager. We used to go here to really party. Whilst in Fuerteventura you could stay out all night, there wasn't really anywhere to dance, but in Puerto Rico you were spoilt for choice. Always coming out of Jokers as the sun was coming up! There were two main beaches, one was busier than the other, but they had great atmosphere's. I loved it there. Aside from partying and sunbathing, there's not a great deal to do in Puerto Rico, but the island is super small and it takes barely half an hour to drive from Las Palmas to Puerto Rico, so getting to other resorts to visit is pretty quick and easy.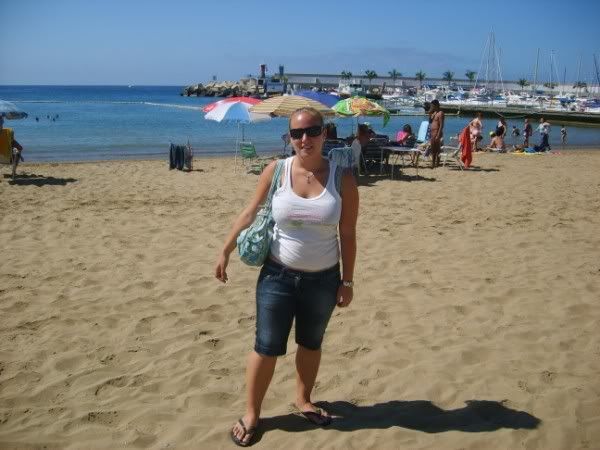 Puerto Rico beach
Maspalomas/ Playa del Ingles
It's possible to walk between these two resorts, Maspalomas being the quieter, more relaxed half of the resort. Famous for it's lighthouse and beautiful sand dunes. This part of the island is also known for being the gay capital of the Canary Islands, with Playa del Ingles boasting the Yumbo centre which comes alive at night time with a large LGBT community, but everyone is welcoming- it was actually the place I felt safest in Playa del Ingles. Unfortunately, at night time, I'd say the rest of the resort is slightly seedy and it wasn't my favourite place to visit. Getting out on a day trip you can visit
Palmitos Park
, a 49 acre botanical garden and aviary. Back in 2007 the park was burnt essentially to the ground, losing 65% of its vegetation due to a fire started by a Forest Ranger who's contract was about to come to an end. We'd only been to Gran Canaria the weekend before, and were devastated to hear about the fires. It took a year for the park to rebuild and regrow, before it was re-opened in August 2008.
On the sand dunes at Maspalomas
The capital city, and absolute pig to drive in. Cristobal Colon (Christopher Colombus) stopped here first on his expedition to the America's. Expats love the place because it boasts a Marks & Spencer's and I believe there is a Primark on the outskirts now, too. It has a city beach, which is a protected diving zone. The city also boasts Museo Canario, an important Canarian Museum containing things of archaeological importance from the archipelago. Las Palmas is also famous for its yearly Carnaval, which we enjoy and it attracts some famous Spanish names, too.
Known as little Venice for it's canals and beautiful (but tiny, seriously, 50sqm) apartments. This is one place you should visit. The tiny town is in the mouth of a steep sided valley and is totally picturesque. If you're staying somewhere else (like Puerto Rico) there is a taxi boat that goes across, as well as other trips across if you don't want to drive. It's a bit hairy, as you drive up the side of a cliff and then it veers around a corner where the road is narrow, and you can't see anything. It's also a bus route, so you have to hope you don't hear any hooting, because if you do you'll have to wait for it to come around the corner. It is absolutely worth it (edit: I've just found out they extended the GC1- the motorway- and it now arrives in just north of the town). It is definitely somewhere to go if you want to chill out. I love chilling out there, it's gorgeous. It also has a market on a Friday worth checking out- just make sure to haggle! I got a beautiful D&G watch from there for 5€ with a gorgeous leather strap, and it still works to this day (I bought it at least 6 years ago), and a Gucci handbag for 10€ which lasted right up until last year.
Me at Puerto Mogan, with market swag (said Gucci bag is the one next to me).
Have you visited Gran Canaria? Where did you stay?
Liked this post? Follow me on social media!