Getting Acclimatised to Life in Lapland
Walking to lunch today, my hair froze. I didn't realise I had much of it sticking out from my scarf, but clearly I must've to have it freeze, in spite of knowing it was 13 degrees below it wasn't something I was expecting. It was the first day I felt cold (I've yet to wear any thermals).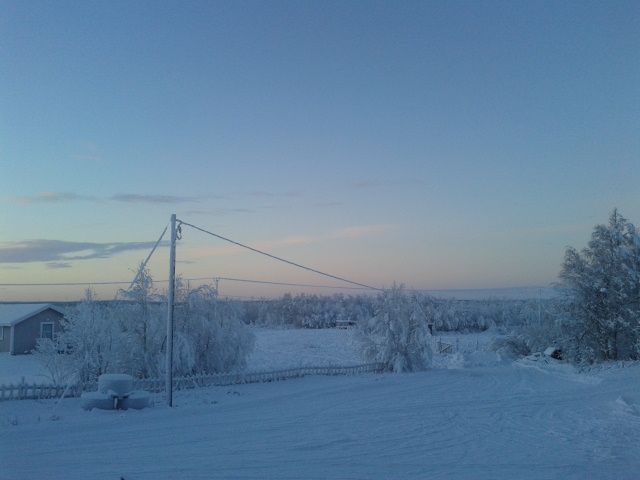 We're here almost a week before the season starts so along with training we've been doing things to help get ready for the customers including moving snowsuits and boots from one location to another, wrapping presents and making reindeer dust. Those of us who came out together are all working with the day trip guests, most of us are group guides, but some of us are elves too. Mostly we've been getting to know our surroundings and planning our days around meals. It's been awesome seeing igloo's and ice café's being built.
I told you that I was going to Finnish Lapland, and that is partly true; I work in Karesuando, Finland. I live 2kms away from my work in Swedish Lapland- the village is across two countries. I love where we live. It's a little red one storey semi- detached bungalow. We live with two of the waiting staff from the hotel literally across the road, and there's four of us guide's living there, too. The walk is really nice, we pass a couple of shops and we almost always feel the need for a bit of chocolate. We'd never make it to work on time in the mornings so they provide transport for us to get in and, once it gets colder, we'll use that to get home. The best part about our little red bungalow is that my bed is right by the back door, which is where I lay with the curtain tucked into the bed pole watching the Northern Lights. We'd only been here 3 nights when I spotted them in the sky on the way home one night. They're still as magical to me as ever.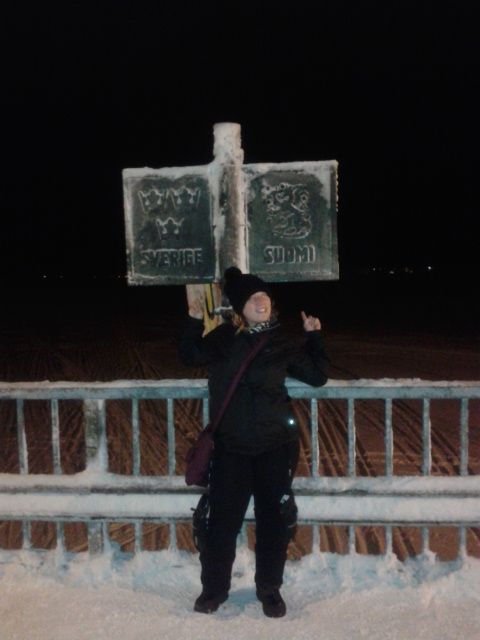 On the Swedish/ Finnish border
Daylight, like WiFi, is sparse. It makes for really long days because you get up in the morning in the dark, and in the evening you walk home in the dark. I know, some of you will say when you get up its dark and when you go home it's dark, but we get around 3hrs of daylight a day. It's more like sunrise with an hour of decent light before the sun drops back again. The lack of light, plus the white of the snow makes for some odd, long days. You constantly feel the need for a watch to know what the time is.
The cold is also entirely different here, so many people said it to me before I left but how can the cold be different? I don't really know the answer to that question yet, but all I know is that when it was -13, I still hadn't pulled out my thermals. I've got a lovely comfy pair of trousers from 66 North when I was in Iceland that I've worn every day that keep my legs warm, and my thermal socks have made sure my toes don't feel the cold. My boots suck, somewhat, in that I slip around on the ice regularly, but I've got my work provided ones (as well as my snowsuit) for days I work so I don't fall! When I leave anywhere I wear a neck buffer, scarf, hat, 2 in 1 jacket, and snow boots as well as my actual clothes. You don't feel the cold with all that on- in fact walking across the river knee deep in snow, I had no idea how cold it was until I realised the outside of my trousers had iced up.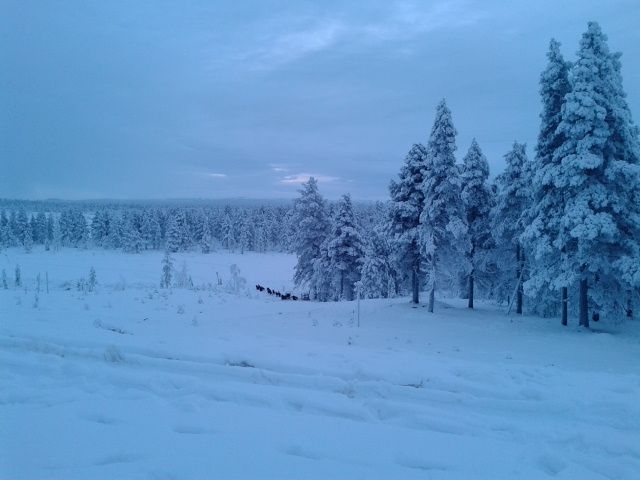 Lapland itself is a sparse, weird kind of beautiful. Kind of an alien landscape, with the frozen river that we cross on the way home- the locals use it for snowmobiles. Everything is white constantly, and the snow glistens like it does in the movies, it's incredible out here, and I highly recommend you visit someday.