The Life of a Day Break Tour Guide
I was really vague about my job when I wrote about coming to Lapland, the main reason being that the company hadn't really dished out job descriptions, so we didn't know a whole lot about what was going on until we got here. Plus since I last wrote, I've taken three day breaks around our day break resort, as well as worked two days at another resort of ours that short break guests (those staying 2-4 nights) use.
Mr and Mrs Claus ice sculpture
On a standard day break there will be anything between 50 and 62 customers in your group. At the beginning of the season these are just weekends and as the season goes on, once schools break up, we'll have day breaks during the week. Right now tho' the weekends are enough, especially since we've done three in a row and were absolutely dying after two 14hr and one 12hr day. Not that I'm moaning. Day trips at the resorts are incredible. The day trips I take mostly are guests staying for just the one day and they tend to run like this.
Airport run in the morning to collect the guests, and then head either to suits and boots to suit them up and keep them warm or head to the restaurant for lunch. With a minimum of three buses (and a maximum of, hopefully, 6, but it could possibly be 9), we rotate the day for people so there aren't too many people trying to do the same things at the same time.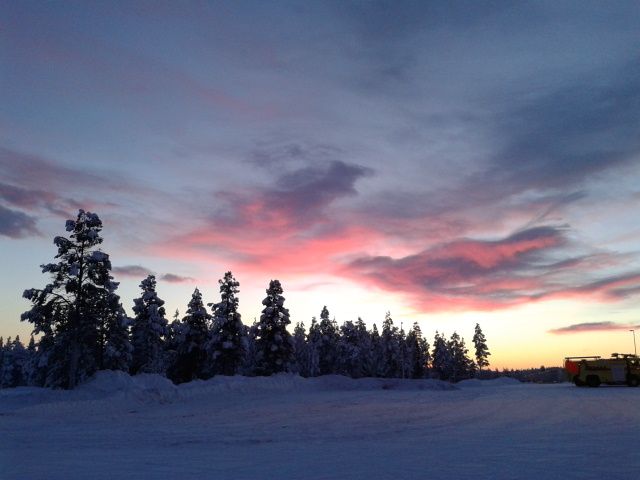 The first view they see, arriving at Enontekio Airport
Once those are over we rotate between two places, one being the activity area. The activity area has a few things going on it, the first one is the sledding slope, which kids can seriously play on for hours and hours at a time. We spent a good 9 hr day building walls for an ice hockey rink, which is now up and running, tho' some of the walls need replacing since already some children have been jumping into and running over them. There is also a reindeer sleigh ride, too, it's pretty cool even if sometimes you feel that the reindeer's antlers are right next to your head- but the herder's are right there, so nothing will happen.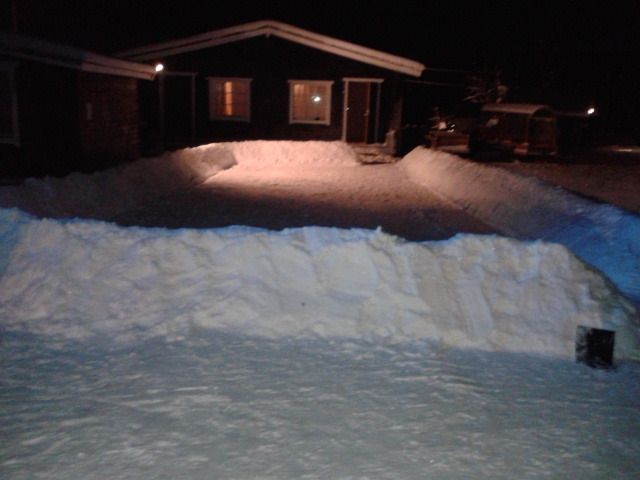 Our beautiful hockey rink just after we finished it (excuse the quality of this picture, phones and darkness and snow)
Our other stop is the Santa stop! Basically the groups get split 60/40 and the larger half go off to ride husky's. It also surprises people that the husky's actually enjoy their job- you know when no one is around to ride them because they howl and bark and cry out of sheer boredom. We also have snowmobiles out there, which adults can drive and children can sit in a sleigh on the back of the instructors, they're a lot of fun. I finally got to drive one the other day, it was just like being on my bike back home.
The trip to Santa is pretty awesome because the kids get to go on a sleigh pulled by a snowmobile across a frozen river, which takes you to Santa's cabin in Sweden. The children then visit Santa, who of course, already knows the presents they want for Christmas. They get a small present from Santa there and then, made by his elves named Snowflake.
It's a really full on, exciting day. I think seeing Santa really perks up everyone, too. It's a lot of fun, especially when you have really happy groups out to really enjoy the day. I do understand, tho' that it is a super long day for everyone involved- especially the kids. Even us, we start at around 9,30am and aren't finished until 11pm on an average day- and later on a non- average day! Those are the best days, tho' when we're guiding. It's so much fun seeing people's faces after meeting Santa.
Have you taken a day trip to Lapland, where did you visit?