Traveller Tuesday with Agness from eTramping
Each Tuesday from now on I'll be hosting interviews with other travel bloggers, to help you discover more blogs and even more inspiration to travel. If you want to be part of this series please contact me.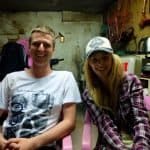 Today I'm introducing the eTramping crew - Agness and Cez – best friends and travel companions from Poland. These two are sharing their budget travel tips on how to
travel the world with $25 in your pocket
. Since 2011, they have been travelling the world while teaching English in different Asian countries such as China, Thailand or Cambodia. They are both photography passionate obsessed with Chinese cuisine and culture.
1. For those who don't know you, introduce yourself and your blog.
Howdy, we're Agness and Cez – best friends, travel companions and founders of eTramping.com where we are sharing our incredible photography and tips for budget travel ($25 a day or less).
eTramping aims to provide valuable information to its avid viewers about budget travelling which will definitely appeal to anyone who doesn't have much financial resources to travel.
Jumping at the Great Wall of China
2. Are you a light packer or an overpacker, what one thing won't you leave the house without?
I try to live by the rules "Pack light, travel far and live long", but I often pack way too many things with me. If I had to say whether I'm a light packer or an overpacker, I would definitely say I'm somewhere in between. I try to keep balance when it comes to packing. Once our
backpacks were only 5 kg heavy
and we travelled across the Philippines, Indonesia and Singapore for more than a month.
3. Do you plan your trips, or just go with the flow?
We used to go with the flow, but then we've noticed it costed us much more money. Again, we are somewhere in between. We usually try to stick to the plan we make a few days before our journey takes place, but when we feel like being more adventurous, we go with the flow!
4. Where has been your favourite place to visit (or live) to date?
Definitely China! It brings back way too many wonderful memories not to be forgotten. Cez and I are big fans of Chinese cuisine (totally addicted to baozi, which are traditional Chinese dumplings), the landscape and locals, who are extremely friendly and hospitable. I often crave a lot of Chinese food especially baozi which are
the best breakfast option on the cheap in China
.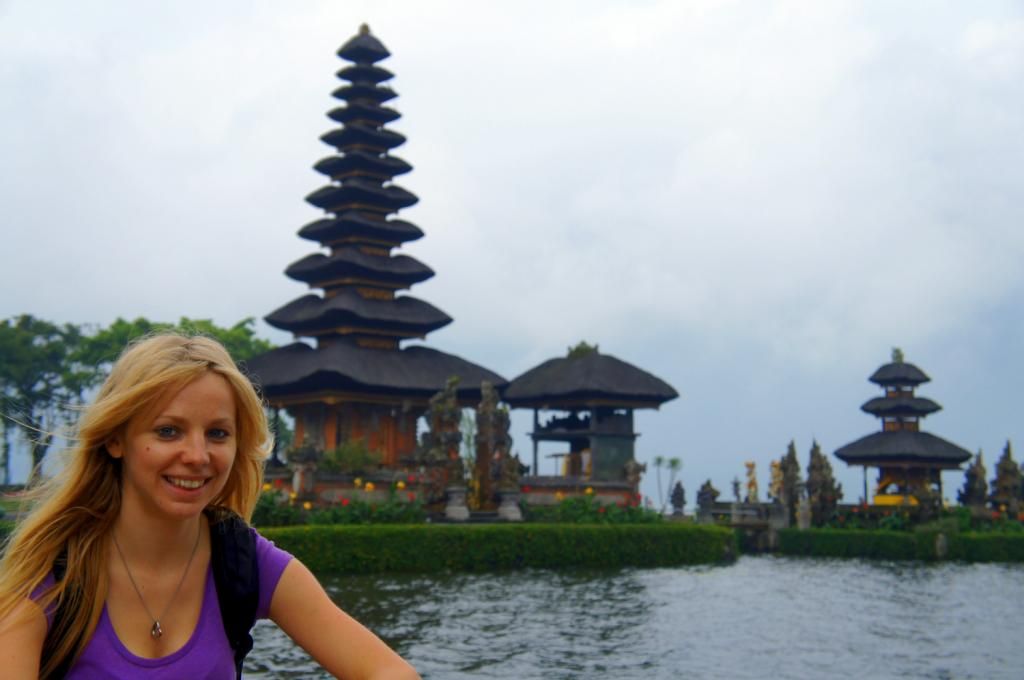 Ulun Danu Temple in Bali
5. Where is currently at the top of your list to visit?
Peru. My dream is to go there next year and climb up the Machu Picchu.
6. What is the best experience you've had whilst travelling?
Playing with tigers in Thailand, elephant riding in Sri Lanka and snorkelling in Egypt.
7. What tip would you give to other travellers?
I always say that we should try to travel freely and independently and travelling is not that expensive. You can always get a job while being on the road (like me) if you need some money and don't spend too much on things you don't need. Where there is a will, there is a way and if the plan A fails, stay cool the alphabet has another 25 letters!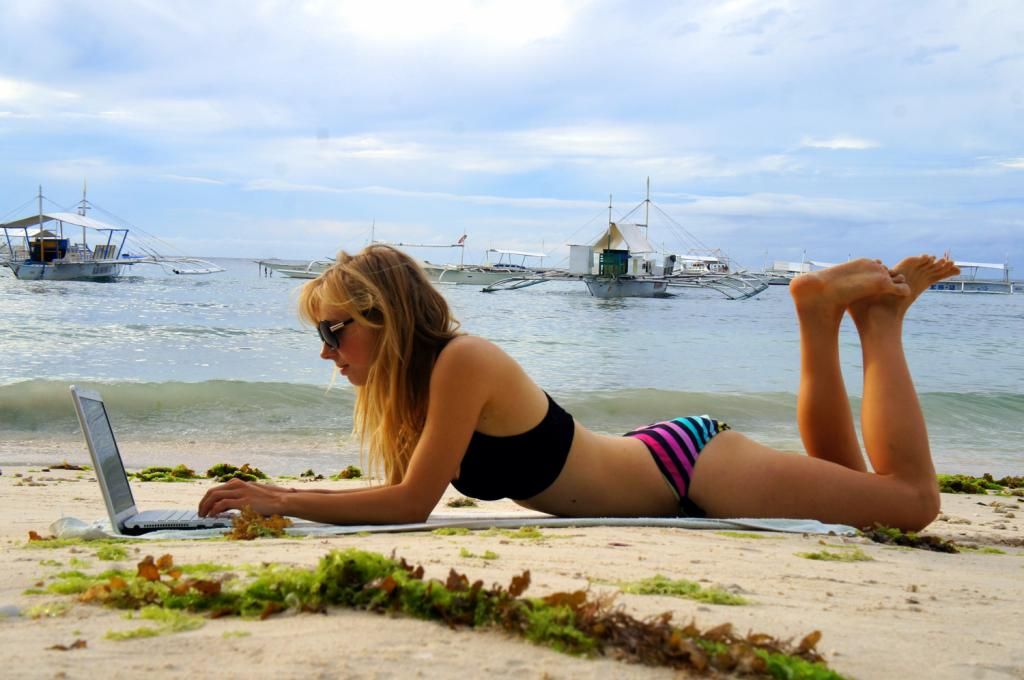 Agness blogging at Alone Beach, the Philippines
8. On your website you call yourself a "Tramp", can you tell us why? And how easy/ difficult have you found living on just 25$ a day?
The reason being, we left our comfort zones behind in 2011, gave away our possessions and travel without permanent home for under 25 bucks a day! Is it easy or difficult? It all depends on the country we travel to. For example, Laos was very affordable as hostel prices started from $1 a night, and food was extremely affordable. In fact, we were able to live there for around $10 a day. Nevertheless, the most expensive was Oslo. Paying over 5 euros for a small breakfast bun and yogurt was shocking!
9. Aside from travel and adventure, what is your passion?
I love to cook, bake and workout a lot. A week without jogging is a wasted week. I even share my baking and cooking on one of my latest Instagram accounts called
Run Agness Run
so make sure you check it out if you are planning on living a healthy lifestyle.
10. You recently taught yourself Dutch, how many languages do you speak? Which is your favourite to speak, and which was the most difficult to learn?
I speak Polish as it's my mother tongue, English, basic Chinese, studied Spanish ages ago and now I'm trying to pick up some more Dutch. Chinese was definitely the hardest one. Different tones and writing were just a nightmare, but I enjoyed it a lot anyways!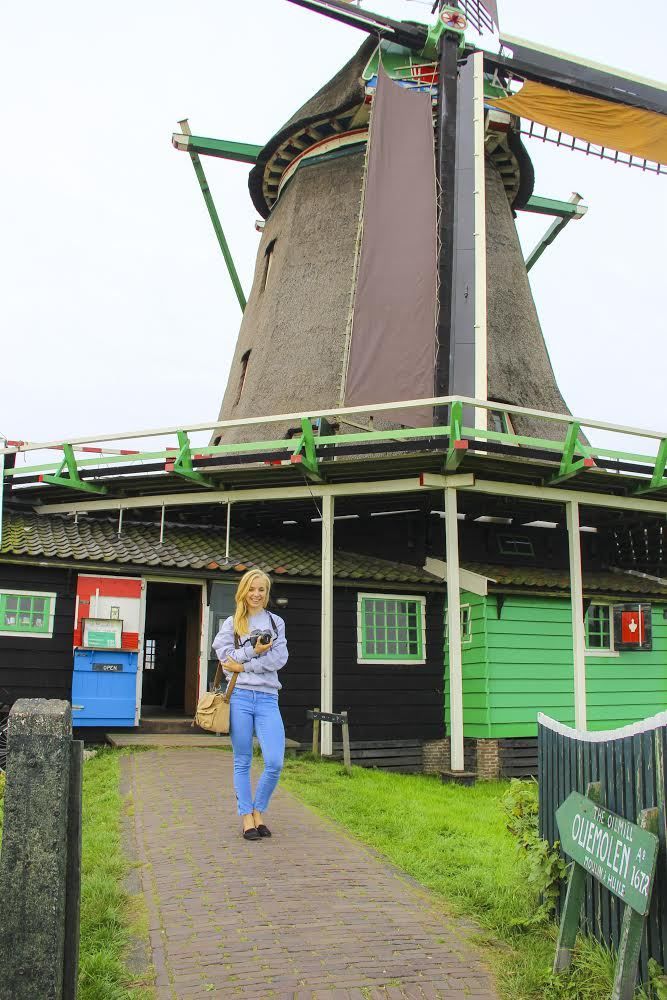 Zaanse Schans, Holland
You can find Agness at:
Blog: eTramping
Facebook: eTramping.com
Twitter: @AgnessTramp