A Fairytale Start to the Year in Tallinn
I felt like the only English person on the ferry between Helsinki and Tallinn, and definitely was the only person excited enough by the city's skyline to brave the elements and stand on the inappropriately named 'sun' deck to watch as the city got closer. All I knew about Tallinn, and the rest of the Baltics was to expect castle's and fairytale type architecture, and Tallinn was not disappointing. The view of the old town from the water made me excited to get out exploring.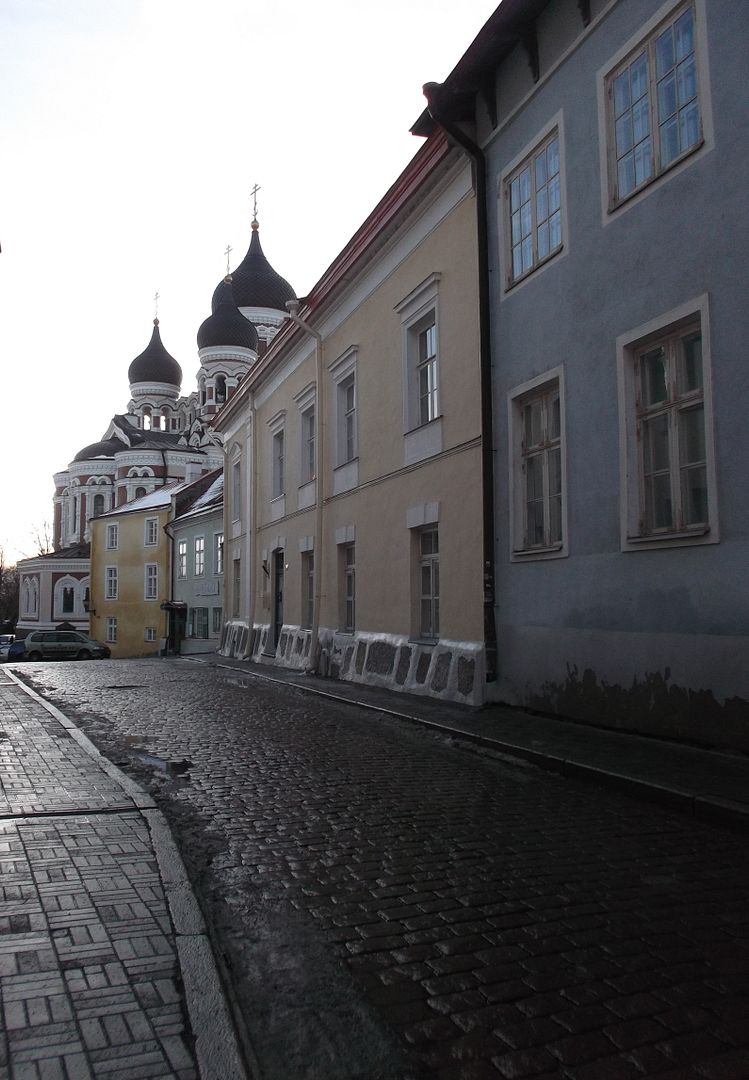 How's that for a street view?
I arrived early afternoon on New Year's Eve, I was staying at the fabulous Tallinn Backpacker's Hostel in the old town, which I highly recommend, & the lovely guys staying there talked me through the town with a map and sent me off exploring. My first stop, the Christmas market in the Old Town Square- it runs through until January 10th. It was just about the only thing I really missed about Christmas in Lapland, not getting to a Christmas market. Christmas music- which you would have thought I'd have had enough of working with Santa for the preceding 6 weeks- playing, all the usual Christmas decorations next to traditional Estonian gifts, and Glogi or alcoholic hot wine. Yes it was 2 in the afternoon, and yes I partook in that tradition and meandered through the alleys, and tiny confusing streets of the old town clutching mine.
Christmas Market in the Old Town Square
I sought out the one place I was dying to see, the Alexander Nevsky Cathedral. Alexander Nevsky was famed for winning the Battle of Ice in the territorial waters of Estonia back 1242. Or the Russian Orthodox church, built in the 19th century many Estonian's disliked it as it was a result of Russification of the country. In fact they disliked it so much that in 1924 it was up to be destroyed (luckily they lacked the money to do so and eventually saw sense and decided, once they got their independence in 1991, to restore it)! It's the largest, grandest cupola cathedral in Tallinn and is built in a typical Russian Revival style. I think it's stunning. I've been obsessed with architecture like this since I saw Anastasia (literally the whole reason I want to visit St. Petersberg) & was so excited to see it, I spent ages taking photo's of it & wandering around it- in fact when I was at a loss for things to do, I went back to gawk at it some more. The inside is more deliriously beautiful than the outside, too, decorated intricately and has 11 bells all cast in St. Petersberg, the largest of which weighs more than the rest combined. Inside the five onion domes there are gilded iron crosses.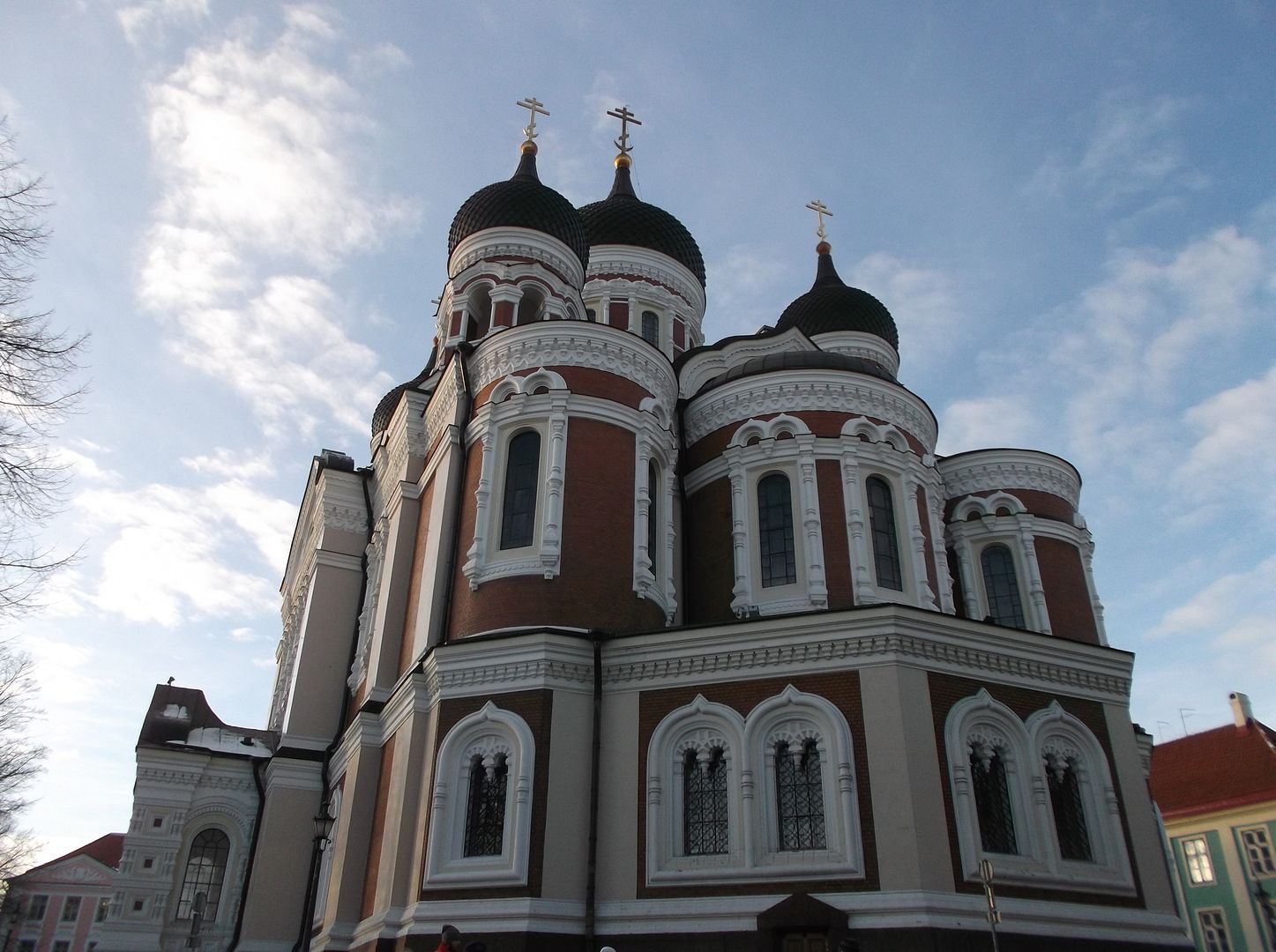 What a gorgeous church
Right behind the gorgeous cathedral, is parliament. Yes, you are looking in the right place, that pink building there is parliament. It's an unusual system they have in Estonia. There's a president, who doesn't have a great deal of power, except signing bills through- if he doesn't agree he can only turn them away three times. There is also the Prime Minister, who is kind of in charge of parliament and things. If you're really lucky on your walking tour (which goes at midday everyday from tourist info just behind the old town square) you'll even get to see them coming back from their lunch breaks.
From Toompea, where the cathedral stands I made my way along the cobblestone streets to view points where you can take your picture postcards of the city. I don't need to tell you more about this, just look at the pictures: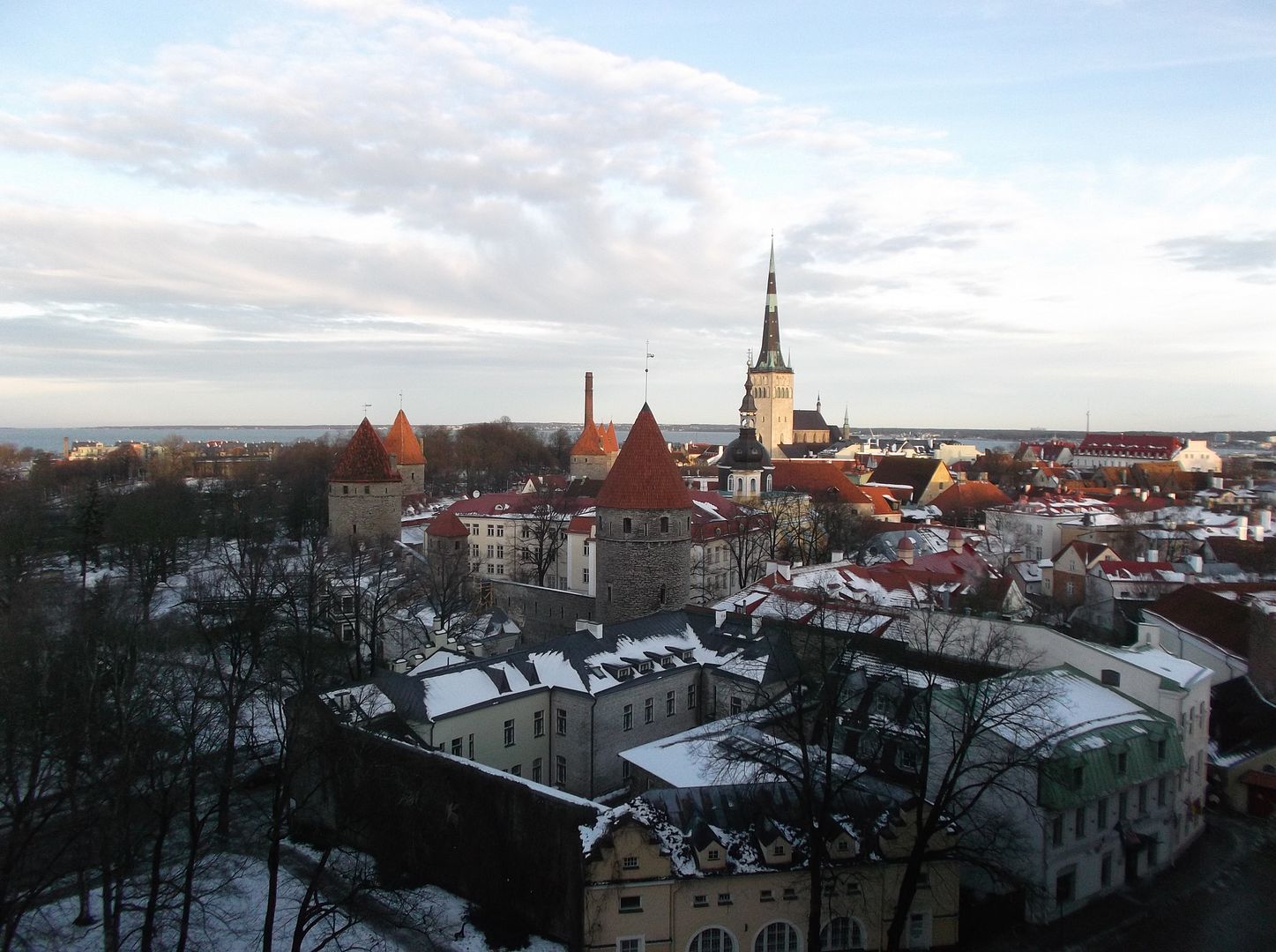 How can anyone not love this stunning city
Getting out of the Old Town, if you really feel the need, there are a ton of really cool Soviet related things you can do. Firstly you can visit the Linnahall, which was built by the Soviets for the 1980's Olympic regatta. We chose to do this at dusk, walking up snowed under steps, with no torch, we declared that this was why the movie Taken was written and perhaps we should have chosen a better time to go. However, it was perfectly safe, there were other people milling around up there doing the exact same as us- wondering how anyone could think a structure like this was pretty.
Another was Patarei Prison, an old prison decommissioned just 11 years ago. Originally commissioned by tsar Nicolas I as fortification against sea-borne attacks on the city. Here you can see Soviet prison life in all its dreariness. If you visit in the winter you need to go on a tour, which unfortunately wasn't running when I went as it was New Year's Day (& we were dying). It's been left pretty untouched since it was decommissioned but you can see the hallways, cells and exercise yard.
You can also venture to
Maarjamae War Memorial
, tho' this will involve public transport (buses 1A, 8, 34A or 38 should get you to Pirita). This is where the Soviet Union came to die. It's pretty hard to miss the pointed obelisk by the beach road. It was erected in the 60's in memory of the Russians who died in 1918. The surrounding concrete and iron figures were added later to honour Soviet soldier's killed by Nazi's. Ironically, behind it is a German war cemetery.
It being New Year's Eve, I treated myself to dinner and took myself to a place called
Porgu
, Estonian for Hell. The food was fancy- pants, and pretty cheap considering (13€ for my main course of duck). They also have the most insane beer list, bottled beer spans across four pages, and they have 9 beers/ lagers/ stouts on. Hell by name, but it was heaven to me, I recommend trying the farm ale Pihtla. It was goood stuff!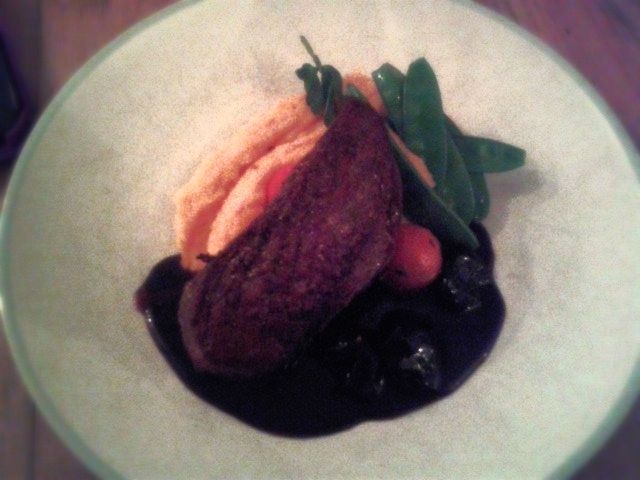 That duck dish from Porgu (apologies for the quality)


Walking around the Old Town on New Year's Eve, when everyone- even the slightly introverted Estonian's- was in a good mood, when the town was still full of white, fluffy snow was like walking around a fairytale and I loved Tallinn more than I can put into words. It's Old Town is so old fashioned you feel like you're walking through another period of time. Yet Estonia is actually the King of WiFi, every establishment has it. Estonian's will also proudly tell you that they are the real inventor's of Skype, a fact they are oh so proud of.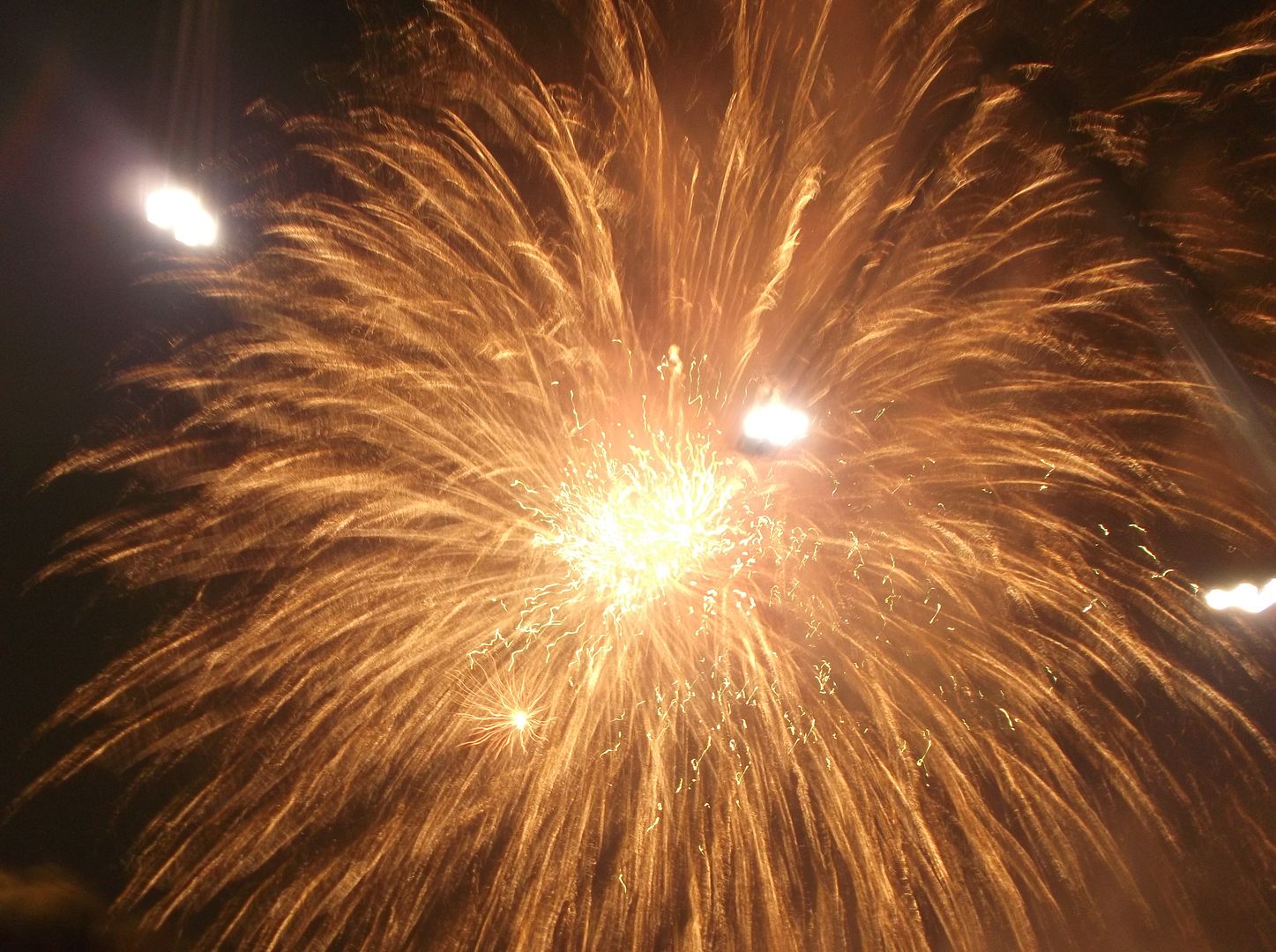 I saw the New Year in stood with new friends from my hostel in Freedom Square watching the stunningly beautiful fireworks, drinking prosecco straight from the bottle, and later drinking Old Fashioned's in a café, it was incredible. The only thing that would have made it better, if my boyfriend had been there, otherwise I couldn't have had a better start to 2015.