A Winter Wander through Warsaw
I had been dying to get back to Poland ever since I visited
Krakow
and
Zakopane
back in Summer 2013, it's such an underrated country, especially amongst Brits. When I went the first time, I got to see the gorgeous town square in Krakow and discover the beautiful mountains in Zakopane, this time I decided to visit the countries capital, Warsaw.
I'd taken the bus from Vilnius to Warsaw over night, my first ever night bus & despite wrapping myself into the warmest clothes I owned and taking a ton of water on the bus, I knew I was getting sick. It always happens to me, around 11 days into a trip, the coughing starts. It'll only last a few days (when I'm lucky) but I know the fever and tiredness is going to set in shortly after. Since I was only in Warsaw for 36hrs, I was determined that whether or not I'd picked up yet another strain of hostel flu, I was going to get out & see as much as possible.
I arrived to Warsaw at 05,40AM, and did the sensible thing and got a taxi to my accommodation, it wasn't far, but it was early hours, I didn't particularly want to walk around an unknown city at that hour. That and the city already appeared to be tons bigger than I'd imagined. I essentially collapsed onto a sofa in the common room for several hours before making the decision to change my booking, I'd originally chosen to stay in a dorm but with my coughing and snivelling, I decided a private room would be better for everyone. Once I was settled I wandered to the Castle Square for a walking tour to see all the famous sites of Warsaw I'd heard so much about.
The meeting spot is under the statue of King Sigismund III in the Castle Square and the tour runs from 11am & is, of course, free! The guides rely on tips to make their money. We wandered in and out of the cathedral, rebuilt just 40 years ago, having been almost entirely destroyed during WWII. Most of Warsaw is rebuilt to look as it did before the war. Almost entirely in its original style, its kind of surreal to walk around these old buildings knowing they're not so old. We were shown pictures of the areas destroyed, including the old town square. The place looked gorgeous with its food stalls set up around an ice rink I wasn't brave enough to try. We also wandered around a lucky bell several times- the bigger the wish, the more times you walk around it.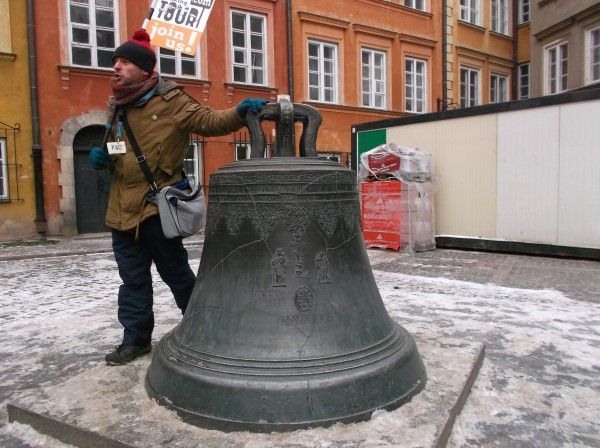 A well mistaken fact around the world today is about the city's resident Nobel prize winner. Who? Marie Curie, whilst she studied in France she was in fact Polish! Her house in the city is decorated with a mural and the chemical symbols for Radium which she discovered and used to help cure people of cancer. In fact another awesome fact I hadn't realised was that her husband and one of her daughters had also won Nobel prizes, too. What an intellectual family!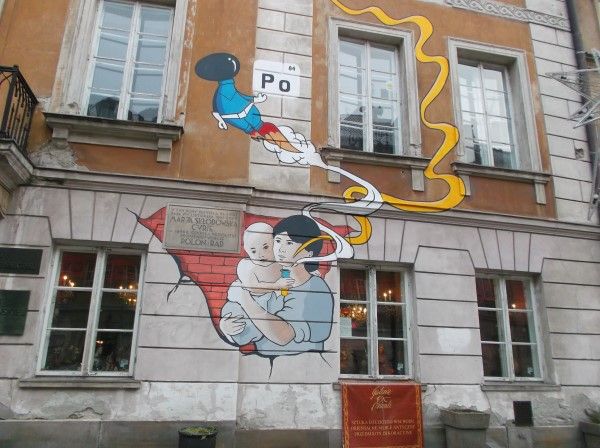 Impressed by the Old Town Tour and after having had lunch with some of the folks from our walking tour, I decided to venture on to their Jewish tour. This tour incorporates the old and new in the city. You meet in the same place as for the Old Town tour, and then get taken along to the the Jewish district of the city. The old parts, where thousands of Jews were forced to live, and you see what's left of the Ghetto- some walls are still up, if you know where to spot them. It was really crazy to be stood on a street and see where the Warsaw Uprising happened, and the memorial to them. It's a long tour, and made me realise all over again that this city is much huger than I was expecting!
With just one night in the city, and a raging fever, I was so glad to get out and do these walking tours. I was sick and they took up all my energy. There is so much more I'd have liked to have seen in Warsaw! For example I never made it across to the other side of the city, Praga. I had hoped to get across to the Neon Museum, alas, no. Even with a teensy amount of time, I managed to get a good capture of the Old Town, and a decent amount of walking around. Warsaw and Krakow often get compared, as they're the two main Polish cities, with Krakow having been capital at one point, too. Honestly, whilst the Old Town is pretty, I think Krakow's is prettier. That said, the only thing I'd say Krakow and Warsaw have in common is the river running through them. Definitely don't make the mistake I did and allow yourself just a night in Poland, you definitely need longer.
Poland is a country I adore visiting, and I can't wait until the next time I go back and explore, again. Have you visited Poland, what did you think?