For the Love of Pierogi
I have a confession to make.
I stopped in Poland to get my Pierogi fix.
Or at least, when I realised I was pretty close to Poland, I was excited to cross the border and get some (lots) of Pierogi in my belly. In fact I may have had it several times, yes in 36hrs! I mean I love food, really love it. Like, I may have perhaps planned to spend a day in Poland just to get my Pierogi fix.
My first experience of Pierogi
Pierogi, for those who don't know are little dumplings, kind of somewhere between large ravioli and Japanese style dumplings. They can be filled with pretty much anything, and come in sweet and savoury, too. Popular Pierogi fillings are Ruskie, which is potato, cheese and onion, meat and onion, sauerkraut, and mushroom. Tho' my favourite are the cheese and spinach which a dollop of sour cream. For the sweet ones you can get blueberry, strawberry, or white curds, tho' I've never really been in the mood to try sweet ones. Especially since the savoury ones are super filling!
There are whole restaurants dedicated to Pierogi in Poland, you can get other dishes, too, but the menu will be pages and pages of different combinations of fillings. Or you can go to a milk bar and try all sorts of Polish food and favourites in there. Often tho' the menu will solely be in Polish, so you'll have to muddle your way through.
Pierogi is so filling, and so perfect on a cold winter day. In fact before I took my second walking tour in Warsaw, I went and filled my belly with these yummy little dumplings. In fact that time I took the meat ones, they were delicious, I'm never disappointed by Pieorgi, they were as good as I remembered from the first time.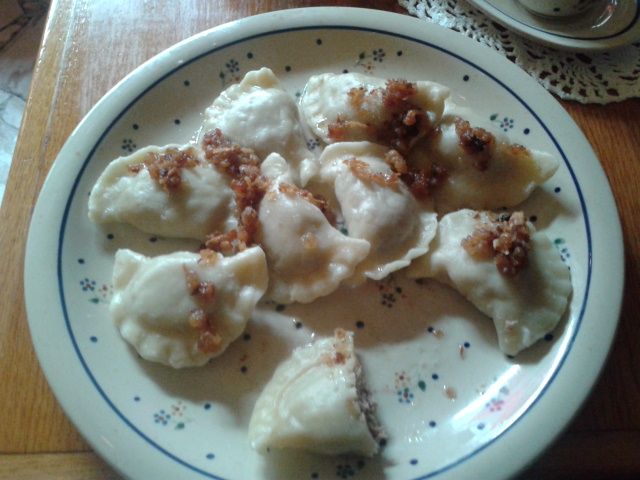 I love them so much, I couldn't even wait to take a bite before taking a photo
Look at the cute plate it came on, too.
Oh Pierogi, I don't know when I'll get my next fix, but I sure am looking forward to it.
What food have you fallen in love with whilst travelling?