Rediscovering Civilisation in Helsinki
As soon as I left the train station, I could see it. Even in the train station I was shocked by what greeted me. People and lights and a well needed ATM. The temperature was a balmy -1c, the day before in Lapland it had been hitting -30c & I had 4 tops on.
Outside waiting for the tram all around me were brands lit in neon, Intersport, Vero Moda, H&M, Pizza Hut! Still dark, but not on the same scale as Lapland, & arriving from the overnight train, I decided to do the naughty thing. As soon as I got to my hostel I went to bed. In spite of having less than a day to explore this city.
I actually arrived in Helsinki knowing little to nothing about it. I had done no research (cheers WiFi in Lapland) & having got to my hostel at 8am, I just went to sleep. Luckily my hostel was awesome. I stayed in the awesome Stadion Hostel, yes it is a bit out of the way but what it lacks in proximity it makes up for in facilities. I was handed a real towel included in the 20€ I paid to stay. The ladies bathroom had a hairdryer! The beds had their own lights & not one but 2 sockets! All the things I need in a hostel & more! Plus when I had no idea what to do, the city map on the board made it easy for me to choose & write my own route.
I decided that I wouldn't go in any museums, I'd just wander around the city centre and take in the atmosphere. My first stop was in the Temppeliaukio, the rock church. With an admission fee of nothing, this church is worth seeing. Buried under a mound of snow the entrance is slightly disguised as you walk around. Inside the cold, almost damp feeling rock walls are like no other church you will visit (&, having travelled extensively thru Europe, I'm of the school that once you've seen one church you've seen them all). The massive organ on the left wall is pretty impressive, too.
Lunch was a decision made from the back of a pamphlet in the hostel. Fafa's, a falafel place not far from Temppeliaukio. After over a month of mystery meat appearing as a meal at least once a day, vegetarian food is high on my need list. A huge, packed delicious pitta stuffed with goats cheese, salad, pesto and falafel balls kept me full for the entire day. The tiny place was jam packed with people, even at 3pm when I got there.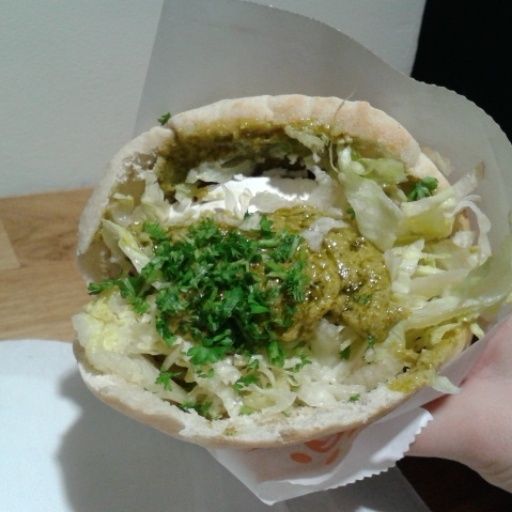 The best falafel
Daylight fades fast in this part of the world & I didn't make it to the other churches until after dusk. I walked all the way down to Helsinki cathedral (whilst discovering I can read a map beautifully, but can't follow directions to save my life). The gorgeous white wash building overlooks a town square and is utterly stunning. Built way back when theTzars were ruling. When I see places like that it makes me think that travelling these days is less about discovering new places, but seeing the beauty for yourself & letting it give you all The Feels. Almost nowhere is undiscovered these days.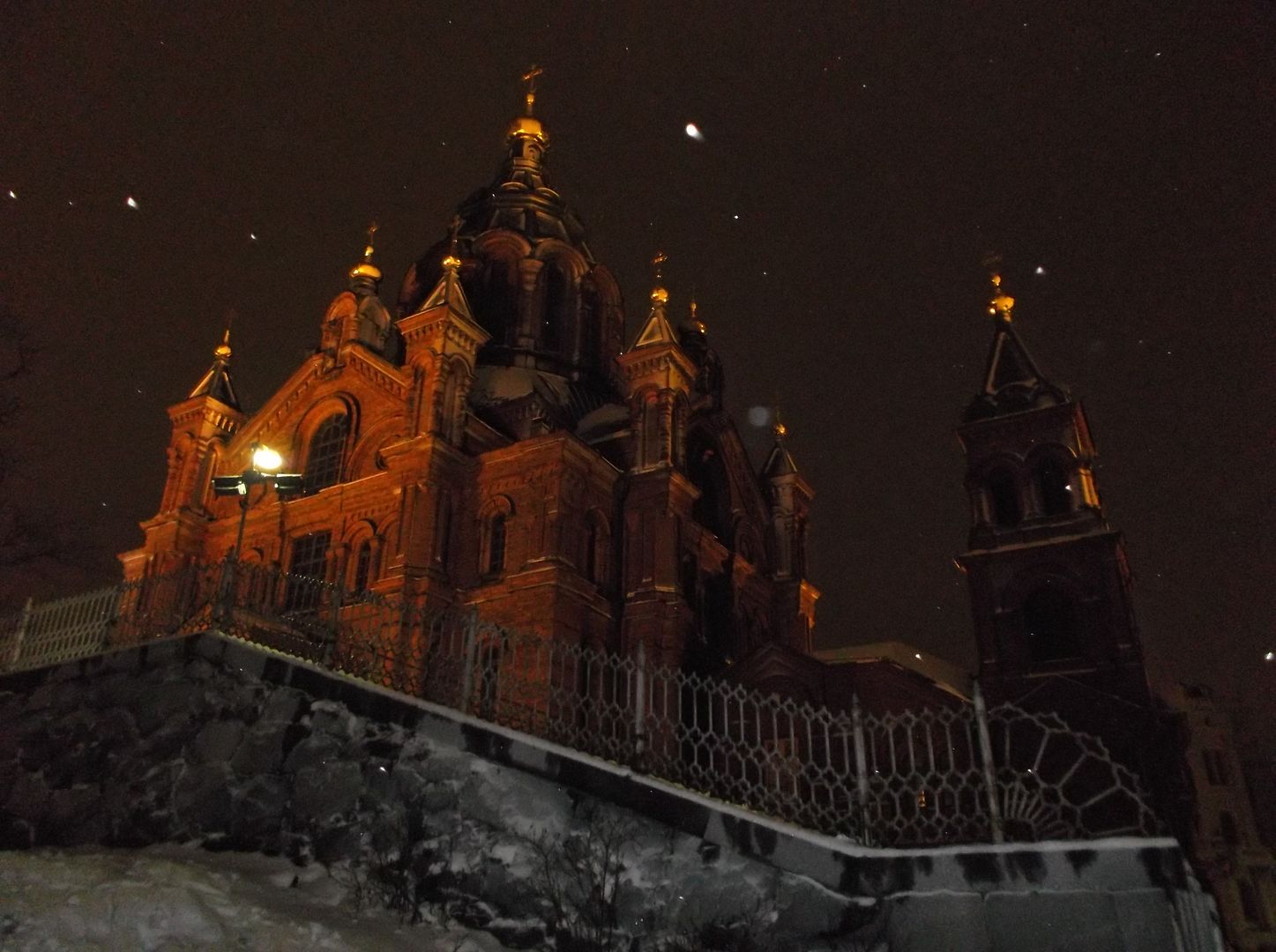 Uspenski Cathedral
My last stop was just a couple of blocks across, the beautiful old Uspenski church. This old Russian church is a fairytale. I have this huge obsession with Anastasia Tzar, not just the kids film, but the whole story and this church just reminded me of the red coloured buildings I assosciate with Russia so much. My first experience, of many to come, of the stunning Russian Orthodox churches. Like Anastasia's story, this church was shrouded in mystery. Even altho' it was dark, it was only 4, maybe 5pm when I was wandering around and there was no way in. Not at all. It was just this beautiful old red brick church stood on a hill, impenetrable. So I stood silently taking it all in on the snowy evening in Helsinki.
As a Scandinavian city goes, Helsinki is often overlooked in favour of Stockholm or Oslo, equally as expensive, yes (a pizza and a beer cost me just shy of 30€). There are museums to see, also, but with just a day I decided to soak up the atmosphere of the place rather than spend the day traipsing around museums. I really enjoyed my short stop on the way to the Baltics and would recommend visiting the city. Just don't expect it to be cheap.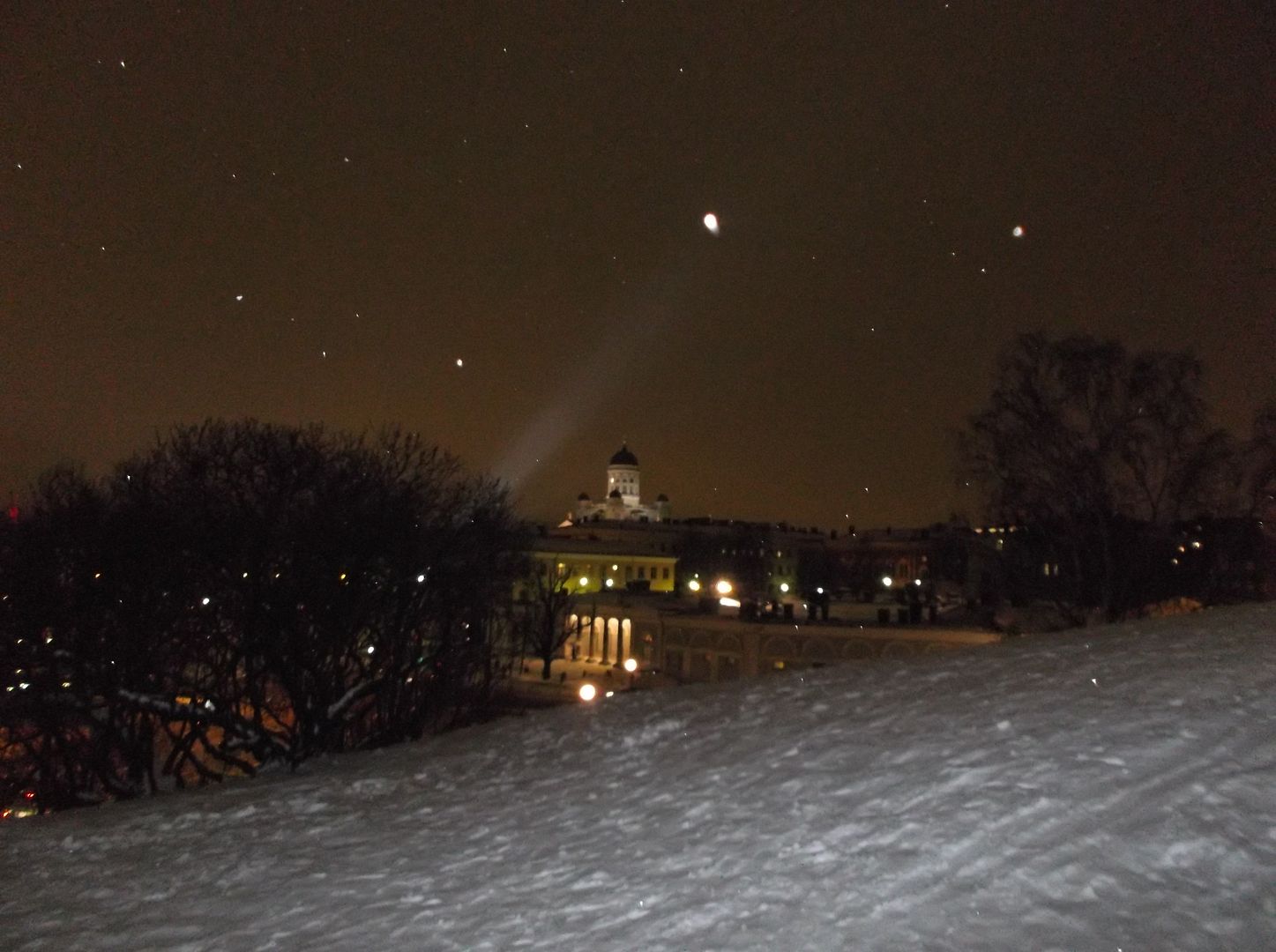 Looking over Helsinki Cathedral
Have you visited Helsinki? What were your impressions?