Riga's Really Cool, But...
The bus took just over 4hrs to get from Tallinn to Riga, and I was sad to be leaving Tallinn behind, even if the snow had turned to slush and the rain had joined us. My arrival in Riga didn't make it any better, either. It was dark already, and had been almost since I left Tallinn. The journey into the city passed by run down houses, smashed windows, tarpaulin draped across abandoned looking buildings. Places I didn't want to get out at, basically.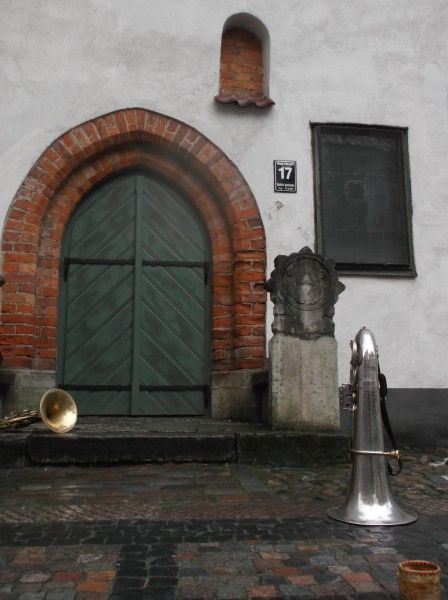 I was automatically on guard when I got off the bus, and asked directions out of the station. Google Maps had neglected to mention any underpasses, and when I walked through the dimly lit underpass I could see why it had neglected to mention it. I walked as quickly as I could through the underpass. When I came up I was greeted by more buildings covered in tarpaulin. Trying to read the street signs quickly, it took me maybe 8 minutes to get from the bus station to my hostel.
Security at the hostel was pretty immense, they had a camera with a speaker phone that you had to call to be let in. The key card didn't work after midnight, either, you had to be let in by showing your key card to the camera. The whole time I was being checked in, the girl was looking at said security camera's checking who was around, which added to my whole "not feeling safe" issue. I had considered going out on the pub crawl, but decided against it. Particularly after she stood crossing out area's on my map,
"This," she told me, looking at me for the first time since I arrived, "is a no- go zone. You go here, you come back without your kidney's, got it?"
I nodded.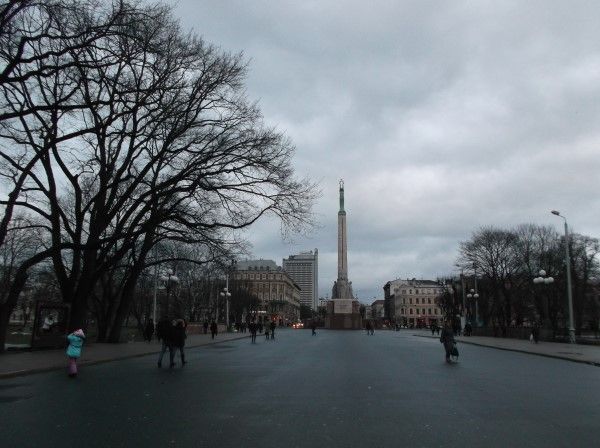 Walking along to Freedom Monument
The following morning, I decided daylight would be a better judge of things and headed out for some coffee, breakfast and a walking tour. This, it turned out, was the best idea I'd had in the last 20 hours or so. It turns out that in spite of that sinister feeling, there really is cool stuff to see in Riga.
Our guide was great on his history of Riga, telling us how the city had been Germanised during the occupation by the Nazi's, and explaining the names of street's to us. We also saw the Bremen Town's musician's monument, which was a gift from Riga's twin city (that'll be Bremen, then). He showed us awesome things like the Swedish gate. This is the last remaining gate of the city walls, which apparently got its name from the courage the Swedish soldiers who protected the city in 1710 during the siege of the Russian Empire.
My favourite cool- not- so- well- known- fact- about- Riga was that Richard Wagner had lived there when he was young, before he was an awesome composer. He spent really rather a chunk of time racking up some serious debt and ended up working in this now- abandoned- but- government- owned theatre. Apparently it's up for sale, and they want something cool to be done with it. The street is even named after him.
We also passed by this cool building with a cat on the roof. The cat is kind of awesome. The building built by an architect who had been refused to get into the guild (he was Latvian, and the guild was solely for architects of Germanic descent) across the road. The cat a-top of the roof used to face the other way, with it's ass pointing at the guild- tho' the architect was ordered to turn it on the building's completion.
After the tour, we went to The Museum of the Occupation. It's depressing, it really is, except the end where (SPOILERS) Latvia are free! Though it's definitely a great way to understand Latvian history, and how things have been for this country squashed between Russian and German occupation, for years. The museum has recently been moved, and if you turn up at the old one, the people in the shop across the road will be happy to point you in the right direction. Basically head towards Freedom Monument (yep, there's one here, too) & turn left. Entrance is FREE, but a donation is welcome.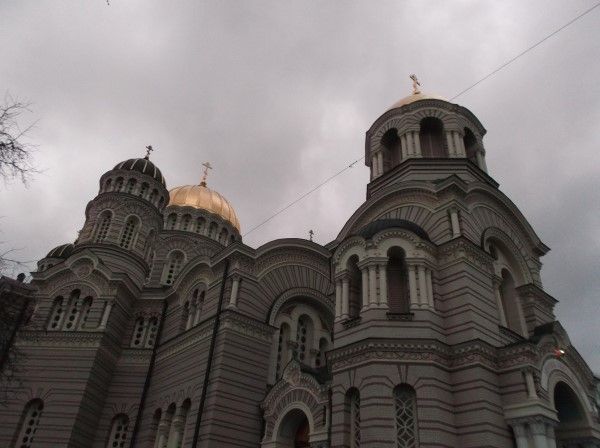 From there we went to another gorgeous orthodox cathedral. The Baltics are full of them, but they're so gorgeous I don't think I'll ever see enough of them. When the Soviet's ruled here the church was converted into a planetarium, cinema and cafeteria. It's since been renovated and is full of fancy golden hues. There is almost always a service going on, it's incredibly serene and silent inside. You should visit, just make sure to keep your head covered.
That night was spent with friends made on the walking tour consuming waayyy too much food in a renowned place called ALA. The place has the most amazing traditional Latvian menu, the portions are insane! Plus beer. In jugs. Massive 3l jugs. I mean we shared one between 5 of us, but it was great.
I'm really glad that I spent time in Riga, it was beautiful, the architecture was stunning. That said, I've never been somewhere I've felt uncomfortable being alone like I did in Riga, so it's not somewhere I'll be heading back to.
Have you visited Riga? Was it a city you enjoyed?