Finding the Real Broadchurch
Living where I do, we don't often expect to bump into celebrity's or see TV or film crew's taking up our parking spaces. In fact, we're often surprised, here in Dorset, when people know that we're here. In spite of the fact that the London 2012 Olympic Sailing was held just 26 miles from where I live, our area is not well known at all.
That is until David Tennant and Olivia Colman et al turned to up to film a Crime Drama, with incredibly bad Dorset accents (guys, what gives?) in what has now become known as Broadchurch. Broadchurch's real name is in fact West Bay, and I've been visiting those beaches since I was a child. My Mum and Nan regularly drive down there, and have seen the film crew's, and actors filming on several occasions on the beach in West Bay.
West Bay has two beaches (the West Beach of which is currently closed), and the East Beach is the famous one, the one where Danny Latimer's body was found in Broadchurch, with those high sandstone cliff's. In fact the Golden Gap cliff about 12km's east of West Bay is the highest cliff on the south coast standing at 191 metres. Be wary, though, the cliff's are known amongst locals for collapsing at a moment's notice, stick to the path at the top, and don't walk too close along the bottom!
As well as a holiday park, there are plenty of accommodation options around West Bay including various camp site's. If you're visiting Lyme Regis or another beach near by, be sure to pop into the tourist information to find out about the Jurassic Coast bus service so you can visit West Bay, too.
West Bay is a great beach for us to visit as it allows dogs to run around from the end of September to the beginning of May. Tiger being an island- born dog, adores the beach! Whilst he can't swim to save his life, there is nothing he loves more than chasing stones around and digging great holes in the sand.
Tiger is starting to look Nearly Nine
Things to do in West Bay
include the traditional eating of fish and chips at various cabins around the harbour area, just pick one that takes your fancy! Or you could visit
The Watch House Café
right there on the East Beach. Crabbing is always a popular past time, and usually fairly successful going on the amount of kids I see clutching buckets with crabs in! Or you could try and be a bit more hardcore with some sea-fishing. Often there are angler's on the East Beach, there's an angling shop just in town. The beaches are mostly shingle, so there isn't a lot of opportunity to build sand castles, but jumping the waves is always fun on the beach. There are boat trips out of West Bay, too, including a rib ride with the
Lyme Bay Rib Charter
.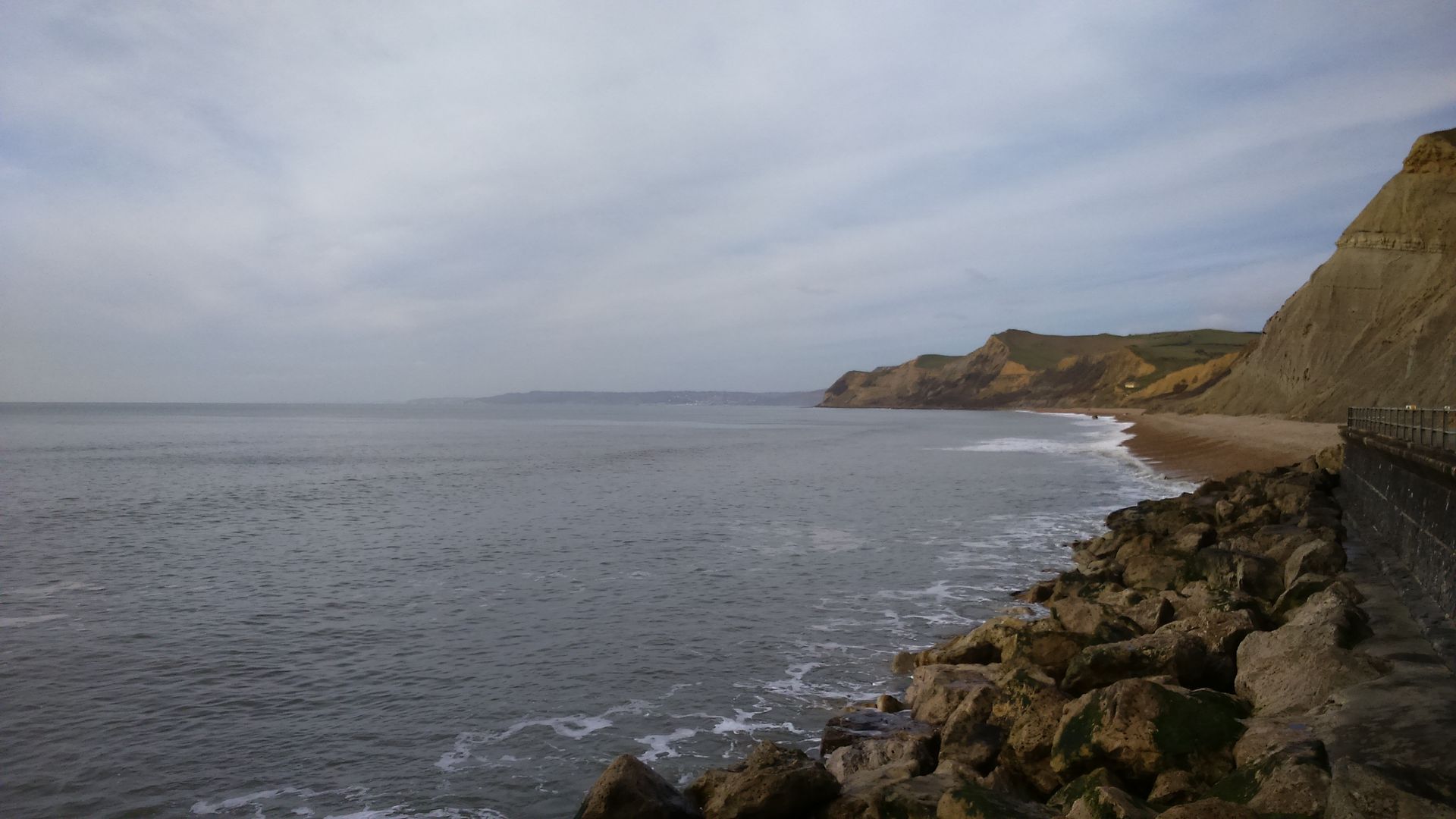 Looking out towards Lyme Regis
Or you could just wander around the town looking at famous locations from Broadchurch, not only are the cliff's real, but DI Hardy's home is real- you can see the blue hut overlooking the estuary from the harbour. The police station is, in fact, a block of flats- that were pretty controversial when they were built as they're entirely different from anything else in the area. They're right in front of the West Beach, you can see the steps and everything. In West Bay, nothing is more than 5 minutes away from anything else. Unless you plan on heading up either of the cliff's, where you can walk to Eype (pronounced Eeep) along the footpath from the West Beach, or head towards Golden Cap on the East Beach.
Just about since I can remember the Bay has been having work done on it, high tides washed away the chalet's walls last year, and they are constantly adjusting their sea defences around the beach area. As well as that, they've built a new pier, called the Jurrasic Pier, named after the fossils and stones found on this beach that are around 170 million years old! The Jurrasic Pier is the best place to get your Broadchurch selfie, too, with the cliff's behind you.
As you've probably guessed from that statement, West Bay forms part of the Jurrasic Coastline, which is a world heritage site. It extends from Old Harry's Rocks at Studland Bay all the way to Orcombe Point near Exmouth, East Devon. It's 95 miles long and West Bay is a pretty central. You can walk along the
South West Coast Path
which runs the entire stretch. Much of this area of the Dorset Coast has been designated as an Area of Outstanding Natural Beauty.
Have you visited West Bay, or any of the Jurassic Coastline?