How I Got from Rovaniemi to Berlin
My Lapland contract finished at the tail end of December and whilst, for many reasons, I was gutted to be moving on. I also knew I was about to embark on an awesome adventure. As you've seen in my last few posts, I had a great time visiting the Baltics, Poland and Germany, so here's my itinerary, and the one thing I would change.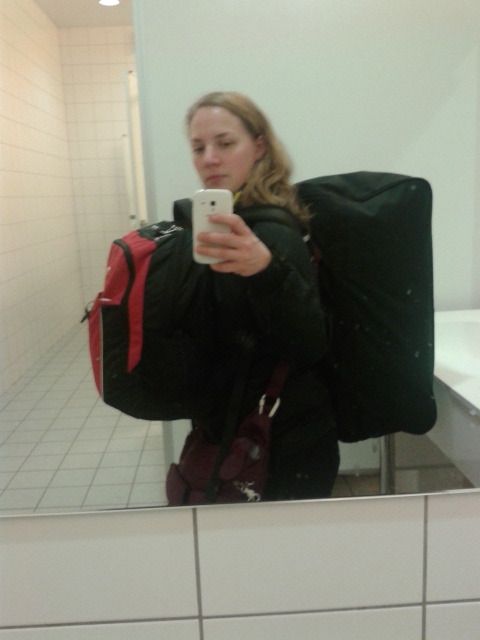 Too. Much. Stuff. Not enough backpack.
I actually started simply by looking at a map, and trying to decide between travelling through Scandinavia as far as Amsterdam (via Helsinki, Stockholm Malmo, Copenhagen, Bremen, and Amsterdam) or whether to head to the Baltics, and through Poland and Germany. So much was being said about Tallinn, and the place looks like a fairytale, that made my mind up to head that way.
The first part of my journey was the
train
from
Rovaniemi
to
Helsinki
, a 13hr Journey of Hell. If you make the same mistakes I did. One of my missions with this trip was to use transport overnight, I was going to be travelling across 6 countries in two weeks, and in order to maximise my time exploring, I decided to take transport over night where possible. I paid 40€ for my ticket, it was half price because of my advanced booking, but this got me a seat- which is a start! However the train stops all the way down through Finland and means that new passengers need to find their way around. So the carriage stays lit. All. Night. I implore you, unless you can sleep in bright strip-lit places well, pay the extra and get a cabin to sleep in. I ended up spending the first 5hrs in Helsinki sound asleep in my bed.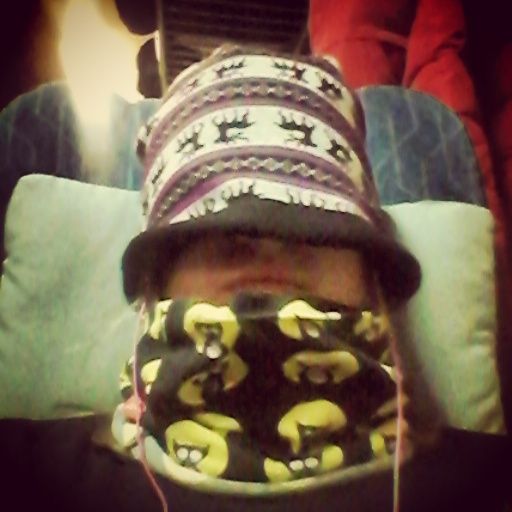 How to sleep on the night train from Rovaniemi to Helsinki
After just a day in the Finnish capital, I got the
ferry
from
Helsinki
to
Tallinn
, a mere couple of hours at sea with Tallink Silja, and I was in the fairytale capital of Estonia. The ferries go every couple of hours & the port is easily accessible by the trams across Helsinki which drops you right at the door.
From here on in I used buses to get from
Tallinn
as far as
Berlin
. The company I used was Lux Express. It came recommended to me by other traveller's, and was super cheap, and pretty reliable. They even have WiFi on the buses, tho' this can be spotty when you're travelling thru the countryside. Most of the driver's (or at least the ones I had) only speak Russian or Estonian, but they can still point you in the direction you need to go. The buses are usually marked clearly, and you only need to be at the station 5 minutes before the bus arrives- the chances are you'll still be there before it arrives. They tend to arrive exactly at the time on your ticket. The journey's across the Baltics are pretty short, around 4hrs from Tallinn to Riga and from Riga to Vilnius.
Christmas market in Tallinn
I took two overnight buses, they were from Vilnius to Warsaw, and Warsaw to Berlin. The first taking around 7hrs and the second taking around 9hrs. They were a whole ton more comfortable than the train from Rovaniemi to Helsinki! Honestly, the seats recline far enough to relax, you can buy blankets on the bus to cover yourself if you're cold. You can also make use of their entertainment system, which includes movies in English, Russian, Estonian, Latvian, Lithuanian and Polish. I watched X Men First Class on one and The Best Exotic Marigold Hotel on the other before going to sleep.
Where I Stayed (& For How Long)
Stadion Hostel, Helsinki
- 1 night
As with everything in Helsinki, this hostel was pretty pricey. It cost me 22€ for one night and that was in a 12 bed female dorm. However I was pleased to be somewhere warm, clean, and the fact they let me check in at 8am so I could sleep after my experience on The Night Train From Hell.
Tallinn Backpackers, Tallinn
- 2 nights
Loved this hostel, super chilled out. Awesome guys working there, and love the welcome where they circle the entire map and tell you how amazing Tallinn is. Definitely my favourite introduction to a place.
The Naughty Squirrel, Riga
- 2 nights
Party hostel, pretty close to the bus station and pretty close to the old town. The rooms were really nice, and they offer great excursions, just sign up early if you want to get on them. They also take security really seriously, with camera monitored doors and even with key cards, they have to let you in after midnight.
Jimmy Jumps House, Vilnius -
2 nights
A pretty small, awesome hostel. Again it was super comfy, I stayed right at the top in the attic room (and had the only single bed in the place, so pleased)! Super chilled hostel, and they serve waffle-pancakes for breakfast, deeelicious!
Oki Doki Hostel, Warsaw
- 1 night
I arrived at 6am and these guys were awesome! I was over tired, and super sick when I arrived. I must've looked a bit bedraggled and I was annoyed with myself for having lost my hat and gloves (& it being around -12c outside). I was supposed to stay in a dorm, but I couldn't check in because the room was still full, so they fetched me tea and a blanket whilst I waited. Then I heard the words "private room" being uttered, and they upgraded me to a private room-- it was probably for the greater good, with the state I was in. So I had a beautiful double bed overlooking the square we we were on, and I had my own private bathroom. I don't think I've ever been so happy as taking a shower and starfishing in that bed.