Life Without Sunlight in the Arctic.
Life in The North is something you cannot even begin to fathom until you live it. Work routines that mean some days you work barely four hours, some days almost 20, and almost constantly through the darkness. The constant sparkling white snow that looks like glitter has been sprinkled through it making the tiny split town look like a real Winter Wonderland.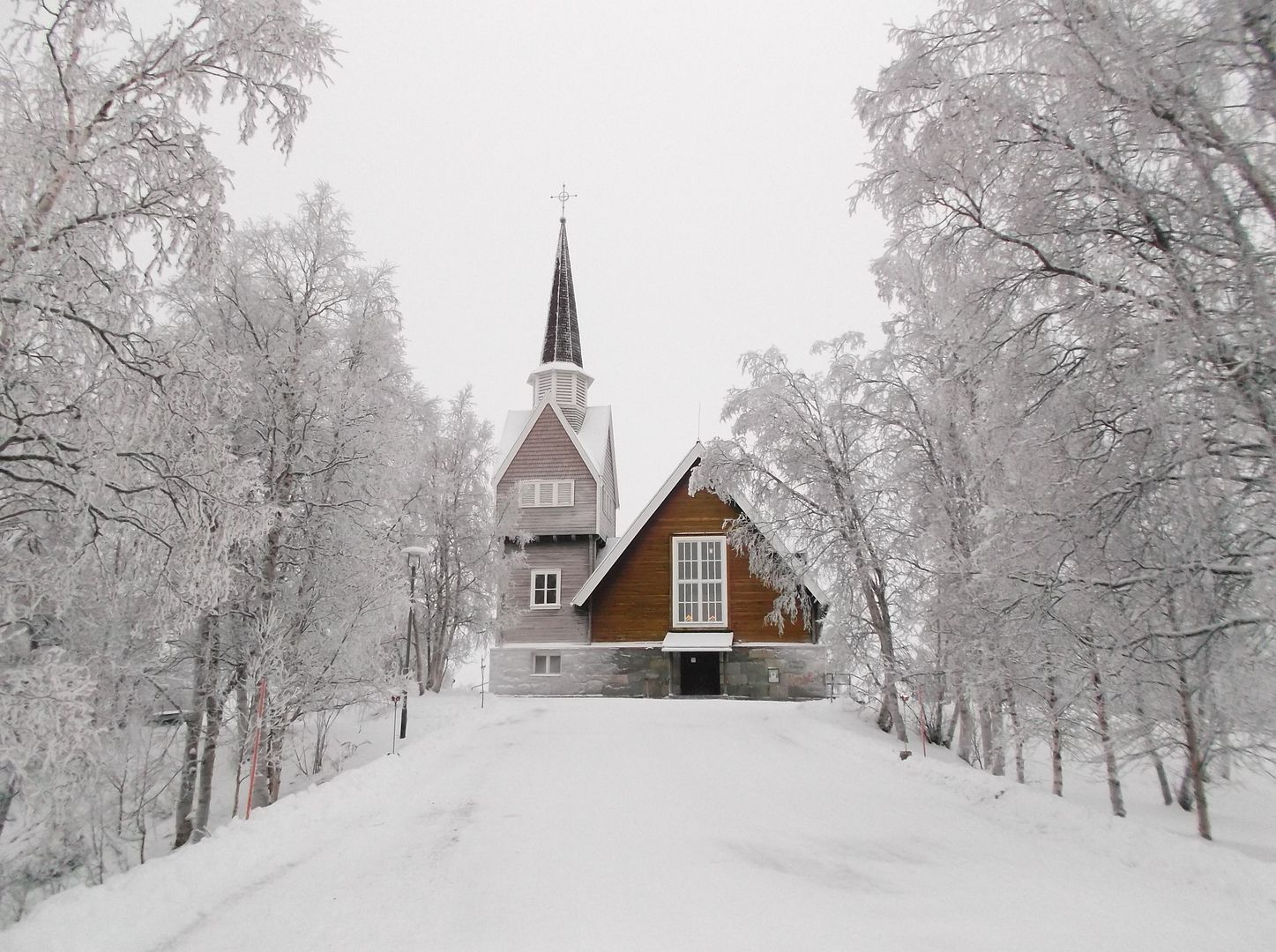 The sun stopped rising barely 10 days after we arrived. The sky spent a week being a sunset like pink from around 11am, and now is a dull grey constantly; the kind of grey that's become fashionable to paint living rooms at the moment. The white of the snow doesn't compliment it so well, but the red cabin we called home looked beautiful against the pure white snow and dull grey sky.
I didn't think I could live without sunlight the way we did there, seeing light for only a couple hours of the day- the sun's rays are barely making it this far north now. It even gets to be dark all day, and that will last until March when the sun will start to rise again. It made our days off odd; no matter how tired I was I was awake whilst the rays are in the sky. I can nap again once 3pm comes around and the sky is already pitch black.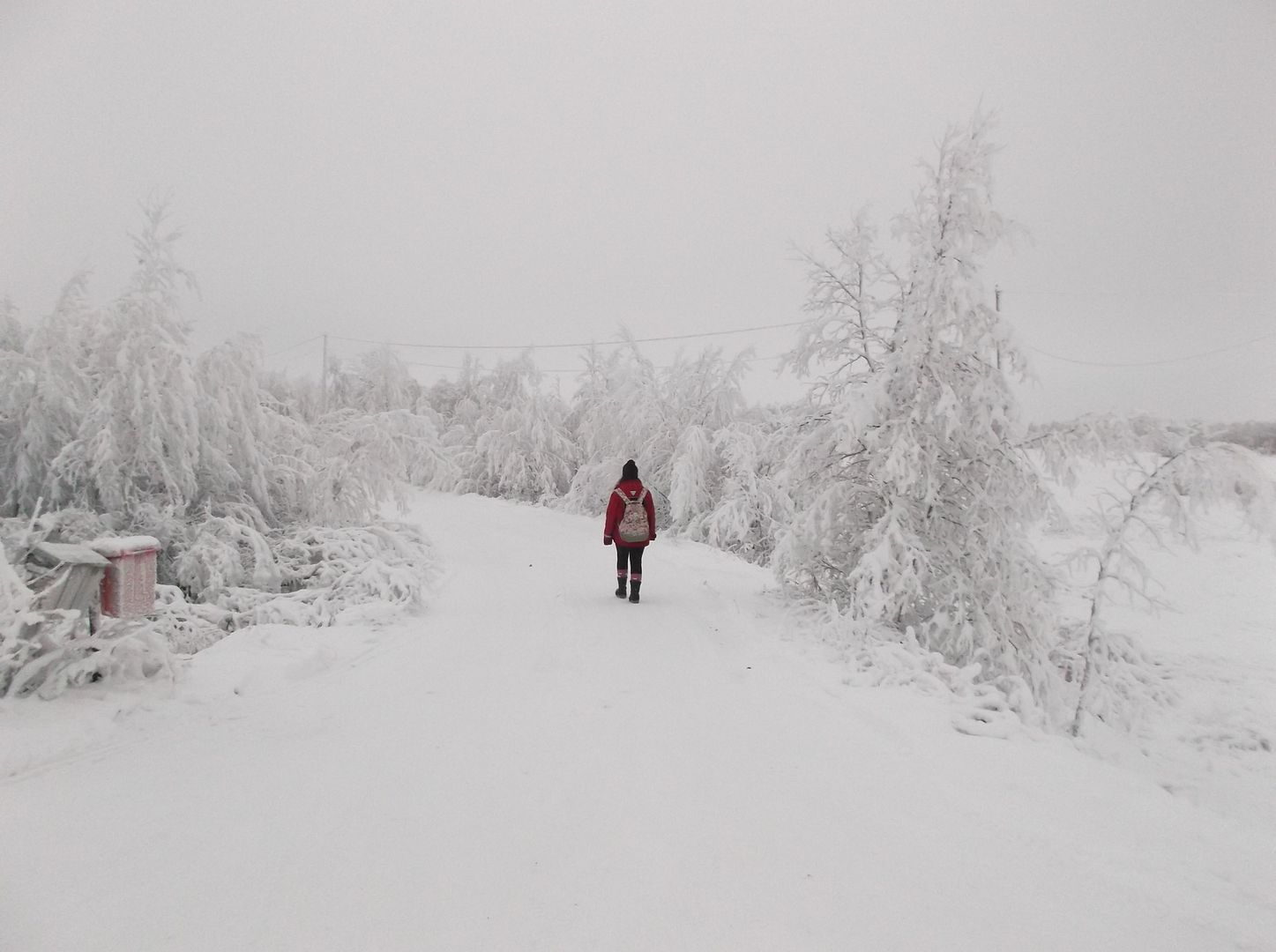 It's always said you don't appreciate where you live whilst you're there. You don't see the romanticism of the place, but I made the effort to see it whilst I was there. Karesuando, the village split by an international border being in both Finland and Sweden. The one town is essentially two separate villages, speaking Swedish and Finnish- the children from each side go to school on their side and learn their language. The village itself is split by a time difference, with the Finnish side an hour ahead of the Swedish side. The Finnish side is monopolised by a man named Marko, owner of the pub we all so loved as well as the gas station- come café- come restaurant- come gift shop- come convenience store- come pharmacy. The church on the Swedish side claims fame for two reasons, the first being the mostly northerly church in Sweden- as one of my colleagues commented, "If God won't go further North then why should I?" Secondly, it is said that the church was used in the original Christmas Coca Cola advert. When I work I can see the church across the river from Finland. It has become a welcome sight, knowing that no matter how hard my day has been its nice walk across the border home.
Work is something else I learnt to appreciate; there were, of course, a lot of days when we weren't doing our actual job. I was a day trip group guide, and spent some days in the office, and other days working as an activity guide. If I was out with customer's I truly enjoyed my job. I was so lucky to go to resorts where I've been allowed to join in with a snowmobile safari, as well as visit our husky farm. Easily the most therapeutic place I visit, it makes me wonder if I could live in the north raising husky's myself, who doesn't love those beautiful creatures?
The pub only opens on a Friday night for 5hrs! It's both a place to drink and dance, and shake away all the week's stresses. Often whilst wearing thermals and slipper socks. There's little expectation to dress up, just to have a good time. Each night we visited there had been a Sami man who is definitely the village character. The first time he was there he sang a traditional Sami song, and the second time he was first on the dance floor dancing with his own boot. Plus we all got photos with Santa on his night off; life is often surreal there.
I loved life in Karesuando, we all felt like we'd need to relearn stranger danger when we left. Especially since it was perfectly normal for a van to pull up next to you and announce, "Get in" and take you exactly where you need to go. Not just that, I felt I may need to relearn to walk, since it turns out that we all walk differently in the never ending supply of snow- which apparently wasn't enough to build ice hockey rinks.
Instead of having enough snow, we had some incredible displays of the Northern Lights, watching them dance through the sky every night for almost a week was absolutely incredible. The pinks dancing through the greens, the dust of meteor's dancing on solar winds will forever be the most beautiful sight in the world to me. Running into our garden, thigh deep in snow with nothing but a snowsuits, armed with camera's to photograph them. The ability to lie in my own bed facing North and watch them through my window will forever be a surreal, unforgettable experience.