Meet Mavis!
Waaaay back in November I told y'all that
I passed my driving test
. My aim being to pass it before I moved to the Arctic, and then giving me 4 months to buy the dream camper van and move to the continent with the dog working and driving around. As y'all all also already know I didn't quite manage that dream because I met a boy, and life has a funny way of throwing those sorts of things at you. When your plans get messed up it's because God's got something better for you, right? Sean's definitely better, haha, I need to stop getting soppy on the blog in case he reads it. I also mentioned, after mentioning all the above that I would probably be in the
market for buying a car
....
Georgia, my faithful 50cc Yamaha XF50 scooter, who is for sale (interested? contact me)
You see, I have this habit, and I'm really good at it. Leaving things til the last minute. Procrastinating until such time as I have zero time left to do anything about anything and then usually falling at that hurdle. It wasn't quite my intention to get myself into such a situation, but my financial situation wasn't the best because working in Lapland pays worse than.... well you can imagine. Let's just say there were days it worked out as a € an hour. On top of that, when I came back to the UK, as I wasn't planning on staying, I decided to get a job that would cover my bills, which meant I was only working part time. Lastly, I hadn't planned on staying past April, so when I realised I would be that meant looking for a car.
Buying a car is more easily said than done. Where do you even start? I spent every day for about 2 weeks pressing refresh on Auto Trader reading out the ones I liked the sound of to my Mum and Dad. I know absolutely zero about cars, all I knew was I didn't want a French one. Which limited my options again. We'd talked about getting finance, we'd talked about buying something not too old, but essentially it came down to me spending money, which I have, but didn't want to dig too deep into. Eventually, after spending two weeks getting nowhere, and a week until I really needed to get a car, I put my price limit up, and I found a car!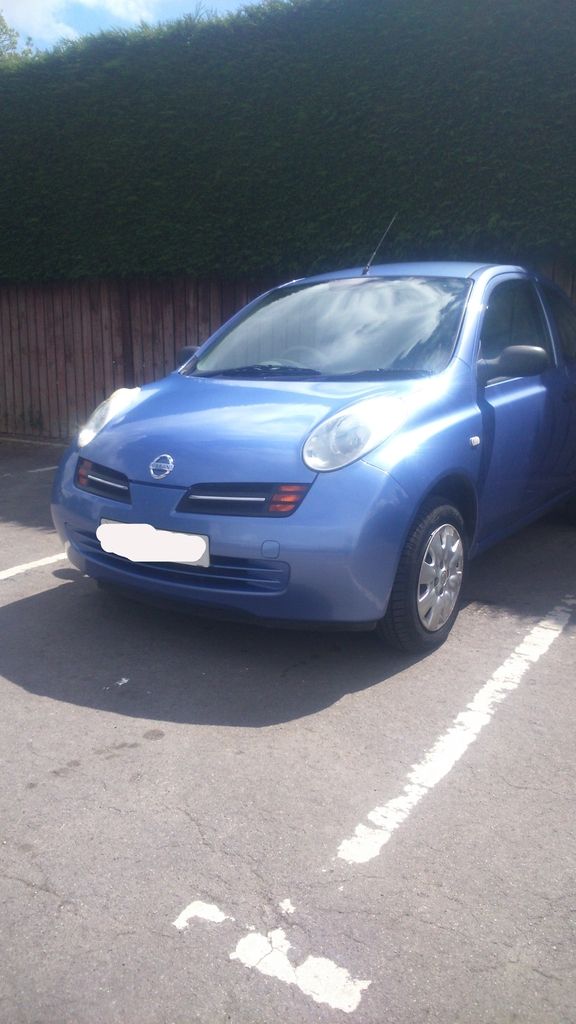 Mavis the Micra
So everybody meet Mavis. She's a 12 year old Nissan Micra, she was right at the top of my budget, and I'm really lucky that the garage I bought her from gave me a 3 month warranty, serviced & MOT'd her, sorted all the bits that needed sorting (cracked rear registration plate, windscreen wipers that had perished, those sorts of things). Things that would have cost me that sort of money to buy myself, if I'd bought the car somewhere else cheaper.
She has taken a bit of getting used to! I felt a total fraud climbing into the driver's seat from the garage to make the 19 mile trip to work from there, having not really got behind the wheel of a car since I passed my test. However, with just a couple of stalls on the way there, I didn't feel I did too badly. It also hit me that most of my friends had their first car 10 years ago! I even surprised Sean when I picked him up for his last weekend here before he flew back to Lapland, having not told him at all that I'd bought her. It was the hardest secret to keep!
Since getting her, I've driven myself and Sean to Lyme Regis, and West Bay and back. I've driven out to my old job twice to pick up wages, and my P45 (yay, unemployment)! Out to a friends birthday dinner and back. I'm getting more and more used to her, and even have trips planned for August when I'm home to visit friends. So far she's doing really well, and she'll be a God send whilst I'm at Worthy Farm, so I can sort my life out.
What do you think of Mavis?