Hellooo.... Is It Me You're Looking For?
Hey Guys!
I'm still Glastonbury obsessed, Lionel Ritchie was beyond incredible, and I was at the front of the Pyramid Stage for his performance (yes, yes, I am a sell out, I don't care, it was my first Glastonbury).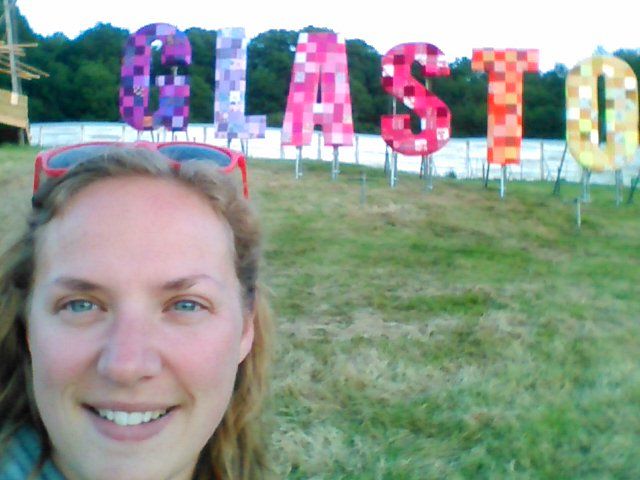 Well the last 6 and a half weeks have been the longest, and shortest of my life. So here's a quick recap for y'all about what's been going on....
Last time I wrote a post here I was telling you all about the newest addition to my life,
my car Mavis
! She has been a total God send! My first real trips in her were with Sean when we visited the coast, and I was terrified (if you've ever been to Lyme Regis all I need to say is, Charmouth Road is a total bitch to drive up)! Since then, Mavis has got me in and out of Worthy Farm on my days off- which were not all spent at home like I had planned, hence the lack of blog posts lately. I've also driven from home all the way to Bristol and back without dying. I've made a couple of other trips, too, but I hope to write about those for you soon... watch this space.
Best spot on site, love Pennard's Hill
I also mentioned in that post that I was unemployed, which I expected to last slightly longer than it did, two days after I got home from Glastonbury I started yet another new job! My employment record stands at 4 jobs this year, which does sound like I'm leaving a lot but life is for living and I have had such wonderful experiences this year. This is my first permanent full time job; I'd really like to do another seasonal contract, but I would be needing to take Tiger with me, so.... we shall see what happens.
It all looks so different in the summer
Currently I am back in Lapland, visiting Sean. A lack of WiFi and communication whilst I was at Glastonbury made me miss him more than I knew was possible... potential issues with me visiting him also caused us some issues. Distance is hard and sometimes, if I'm honest, I don't feel strong enough to deal with it. Luckily Sean has this superhuman strength, not just about the distance but in life in general and being here with him makes me realise exactly how lucky I am to be with him, and that it's me he picked to be with. We're trying a few different things when I go home to make living apart a bit easier, like getting Sean a smart phone so we can use Viber & WhatsApp, and setting him up on Skype so we can actually see each other. Not only that, hopefully the saving on my phone bill will mean I can start actually travelling again.
I am just starting to plan a trip over Hallowe'en to Romania with my friend, Mel. I met her tour guiding, and we travelled together for a week so I am hoping we travel okay together! Time shall tell... Any tips or places we should go would be greatly appreciated...
So folks tell me your stories, what have you been up to over this summer? What plans do you have for the rest of the year?
PS-
Don't forget to check out the Traveller Tuesday posts from the last few weeks, they'll all be shared on my facebook page this week!