Lessons Learnt from Camping at Glastonbury Festival
The morning of Friday May 29th looked like this:
And I had to pitch a tent.
That was the day that I was moving from my nice comfy, big new bedroom to a 3 man tent on Worthy Farm, Pilton. The home of Glastonbury Festival.
WHY
did I have to be at the farm a month before the festival started? Good question fellow traveller's. Well, you see, the festival doesn't put itself up or take itself down. The stages, stalls, food stalls, toilets (both long drops and compost) are all temporary features (with the exception of the Pyramid Stage). So a couple of thousand staff get on site to build the whole thing and take it down again, which is how I landed a 7 week full time job out of a 5 day festival. My job? To feed the crew. I chopped more salad than I can even begin to fathom, had more allergic reactions to onion than a person should ever have (it turns out that, like Gluten, if you avoid onion your body has almost no immunity to it, which left me in a blotchy, weeping mess twice a day for a month-- then the chef realised how bad my reactions were and I was allowed to do anything else). We fed the Stewards, the Office, Greenpeace, Oxfam, Infrastructure, Recycling, Bin Painters (yes, that is a real job). Up to 1,000 people, during the busiest period, 3 times a day. I never want to eat coleslaw again as long as I live. Anyway, there is plenty of time for the misadventures of Goose Hall.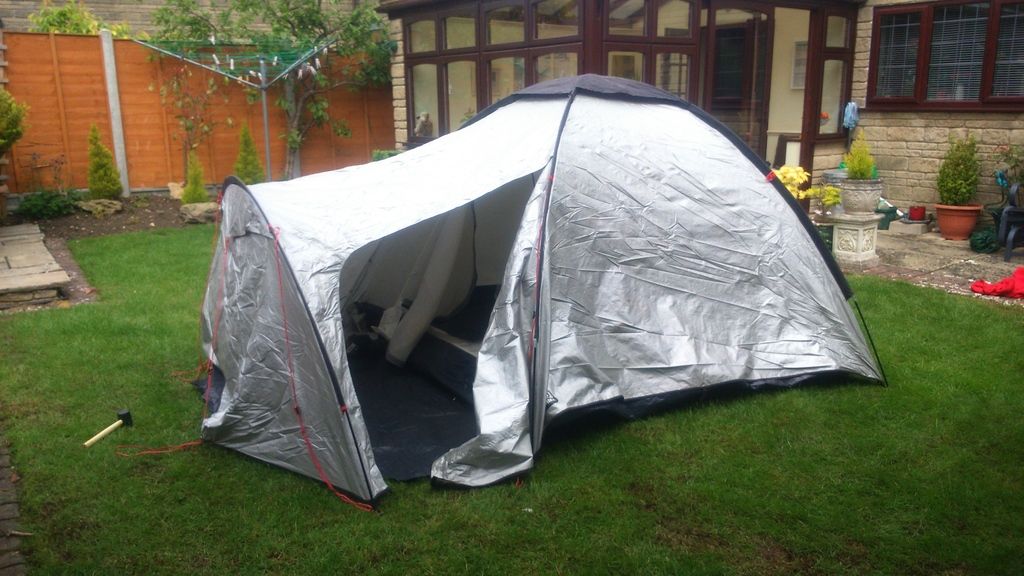 My first attempt at putting my tent, "the space station" up.
I spent the morning packing, unpacking, repacking, loading up my car, setting my stupid Sat Nav for the journey I had yet to take. And, honestly Sat Nav, you suck, but more of that later. I live about 45 minutes from Pilton, the village the festival takes place outside of. So I decided to leave in the afternoon, the rain was supposed to clear by midday, and we'd have a lovely sunny afternoon. Unfortunately, I was not the only one who was arriving that day to pitch up, and some folks were not so lucky to have the opportunity to arrive whenever they liked, travelling down from Manchester, Newcastle, and across from Ireland.
If the weather hadn't been an Omen of Things To Come, then the drive to Pilton should have been. I followed my Stupid Sat Nav all the way to Pilton, the 24 mile journey took me an hour and a half. Twice the time it should have. I swear I spiraled around and into Pilton, instead of driving straight to it. I kept my eyes peeled thru the dappled light by the tree's shadowing the track I was driving down for sight of the famous Pyramid Stage. I was flustered, and frustrated by the time I got there, the roads it had sent me down were barely roads, and I would never have been able to reverse my car up the hills if something had come the other way. Eventually I arrived at the right gate, had a vehicle pass pasted to my car, and was given directions to Goose Hall, my home and work place for the next seven weeks.
"Turn left when you get to the electricity pylons.... then you'll see the Pyramid Stage, head straight on and you'll see a sign for the Kidz Field, that's where you want to be," I was told.
So I did, and found myself here: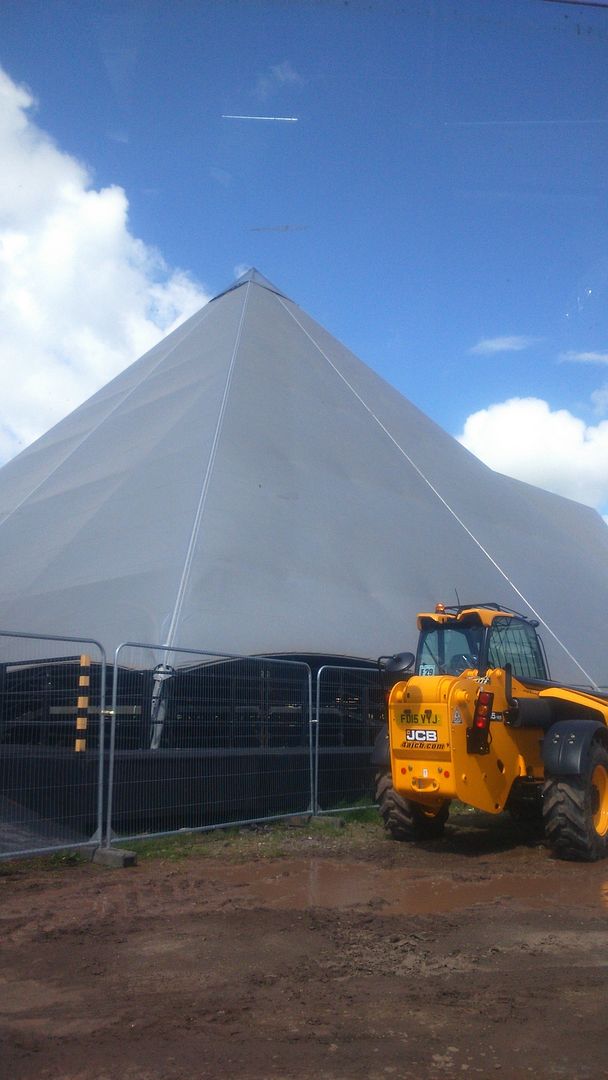 First view of the Pyramid Stage
Convinced I wasn't in the right place, I flagged down a tractor behind me, who pointed at a building a field or so away, telling me that was where I wanted to be. I let him pass me by whilst I stayed put and took a photo of the gorgeous and revered Pyramid Stage. I couldn't believe how close I was to it, and was utterly convinced that it was as close as I ever would be (oh, how wrong I was). Then I headed on my merry way to Goose Hall.
Not only was it my first time at Glastonbury Festival, it was my first time camping. I had no idea what I would need, in spite of checking packing lists. I had a warm sleeping bag, and sleeping bag liner, a self-inflating mattress, and a travel pillow to sleep in. For the inside of my tent I had two small camping lanterns, turns out one was better than the other, but both lit my tent fine. I had a backpack full of t-shirts and trousers, not really knowing what I'd need for work, and a carrier bag with my wellies in, and my tent that looked like a space station.
Having put it up just the once, all I knew about my tent was that I could get it to look like a tent. I didn't really know where, or how to use the guy ropes, and I didn't know which way to pitch my tent. Luckily the two girls next to me were not only experts, but like many others working at the festival, they were veterans. One of them put together my poles, and the other pointed out the direction my door should face.
Even with their excellent guidance by morning I knew I had to go home. My sleeping bag was not warm enough, for the cold nights, and I'd slept in all my clothes with pyjamas over the top. My nose was a blue ice block in the morning when I got up for work. I wasn't the only one who'd suffered, and there were trips organised off sight to collect things. I drove home, and my list looked like this
-- Thick jumpers
-- My big thick pink pyjama jumper which I used to wrap around my pillow (a la Lapland for any ex-housemates reading or, y'know, Sean).
-- Winter duvet to wrap around my mattress
-- Thermals, so many thermals
-- Arctic- thick socks for sleeping in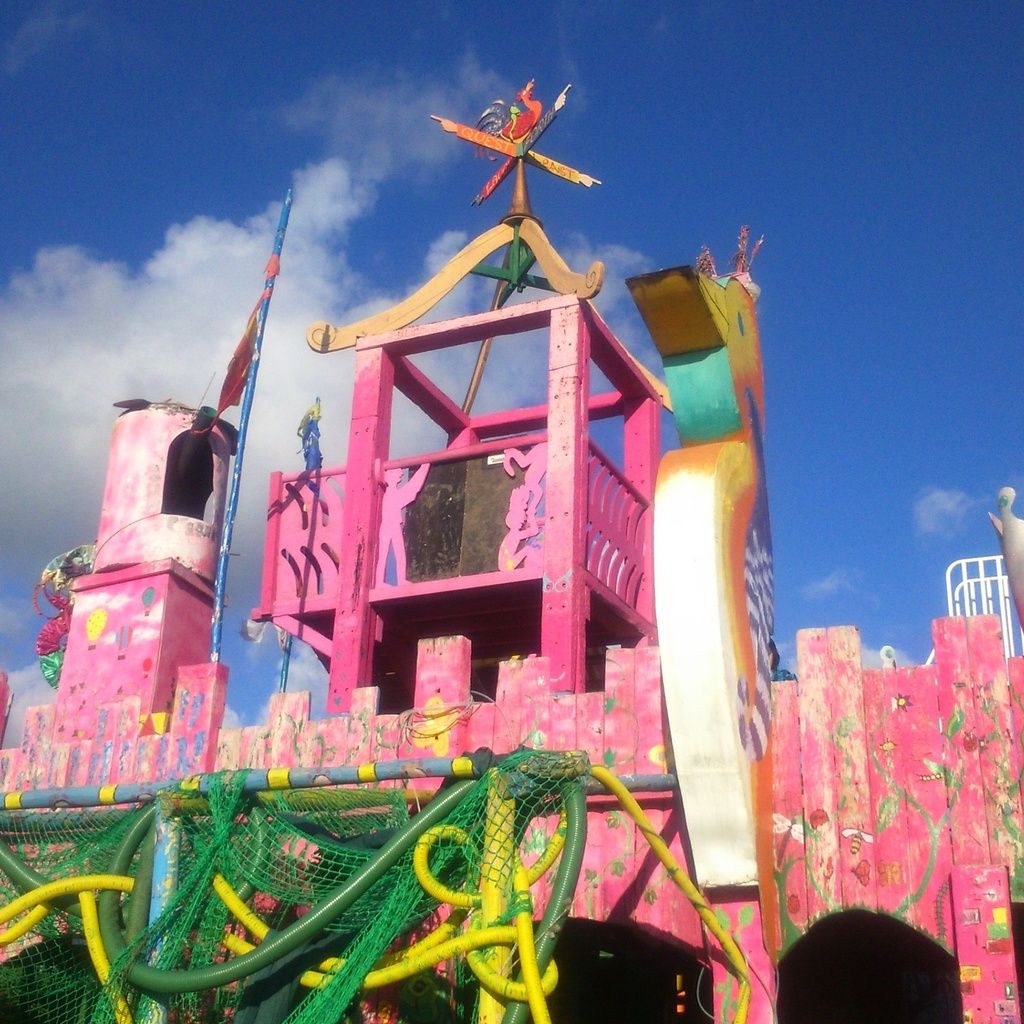 Might've played on this once or twice before the kids arrived
After that I adjusted to life in a tent pretty quickly. Living with outdoor showers (which were actually lush), and toilets that, first thing in the morning at least, were too far away for comfort! It turns out that, as long as you're comfy where you sleep, you don't really need a lot else in life...
And from here on in started The Adventures and Misadventures of what became known as the Goose Hall Hoose....