StruggleAbout Transylvania at Hallowe'en
Growing up in the UK, Hallowe'en has always been about kids knocking on old folks doors expecting sweets, but this Hallowe'en was different. I was going to celebrate it, and celebrate in style!
Romania
had been on my radar for a while and my friend, Mel, was up for a trip too. My Romanian friends were so excited I was going to Romania (I missed one of them by a day in Brasov, too). We thought about doing it independently, but eventually decided we could do the trip with Busabout for more or less the same cost.
The StruggleAbouters in Sighisoara- can you spot me?
Busabout's Hallowe'en Trek is most definitely and absolutely a party tour
If you're looking for an in depth history of the tale of Dracula, then you probably want to do your research before. I finished reading Bram Stoker's book the day before the tour (I like to live on the edge- ask anyone who has ever set me a deadline). You know you're on a party tour when you set off from Budapest at 6,45am and are welcomed on to the tour with a shot of palinka (also referred to as "the drink that makes you want to kill yourself instantly") before 8am. You'll get to know Palinka very, very well on this tour.
Day One Budapest- Cluj Napoca
Honestly, day one is a total anticlimax. You basically spend the entire day getting to Cluj, the reasons for this are mostly that it's an insanely long way (6 hrs, like 300 miles) and you honestly don't know how long you're going to sit at the border for. The views of the Carpathian Basin are to die for, and you drive through Gypsy Villages. Did you ever see My Big Fat Gypsy Wedding? Well the houses are the architectural equivalent to those wedding dresses, bling- bling- bling. The evening is spent dining with your new tour mates and getting to know each other (read: getting drunk) in the bar opposite the hostel.
Cluj Napoca is the unofficial capital of Transylvania and the second most populous city in Romania (after Bucharest), it's also got a university- age population, as the largest university in the country is based here. The most well known landmark in Cluj is St. Michael's Church, the Gothic church in Unirii Square, and it remains the tallest church in Romania to this day. In front of the church is the statue of Matthias Corvinus, the locally born Hungarian king- Transylvania was, of course, once part of Hungary.
Day Two Cluj Napoca- Turda Salt Mines- Sibiu- Sibiel
In the morning you set off fairly early to get into the
Turda Salt Mines
early, "What's with
Eastern Europe and salt mines
?", I hear you ask. Well, way back when salt was worth more than gold & this part of the world is particularly rich in salt, so they mined it, salt was used to preserve food in the days before refrigerators. Plus Turda has something pretty cool hidden at the bottom of it's bell shaped mine...
Before getting to our final destination, we stopped in the gorgeous little town of Sibiu, the village is part of the siebenbürgen, areas of Transylvania the German's are investing in to keep them up together and tourists visiting them as they were settled by the German's from the mid 12th century.
Sibiu's gorgeous streets
We ended our day in Sibiel, a tiny little eco village where we stayed in homestays. You guys may not be allowed back here after the damage we did to it (my diary reads, "Oh boy. Oh fuck. We destroyed a village last night & I don't remember any of it...") There is a party that night, where you're introduced to traditional Romanian food and dancing, and some homebrew Palinka that absolutely is as dangerous as it sounds. Thankfully I just had to crawl upstairs to my bed, but other people had to find their way back across the village. Well... we all kind of did... I don't remember much of this night except a vague recollection of being at... well, an After Party, shall we say.
Day Three Sibiel- Brasov
A late start (apparently-- I believe this depends on how much damage you did to the village the night before), before heading to Brasov where some guy will walk you around the town talking about the moon and stars and God only knows what else in a monotonous voice whilst 40+ of you are struggling with your horrific palinka hangover and all pining for Macca's. I actually felt sorry for the bloke, I've no fucking clue if he told us anything about Transylvania or Brasov, I was too busy squinting at the ground trying to focus on putting one foot in front of the other.
Day Four Brasov & Bran
In the morning you're driven out to the village of Bran where you'll visit Dracula's Castle. It is a really cool castle to visit, and will be absolutely nothing like your expectations of it. Just take your time walking around it, and read everything, particularly about the folklore.
The afternoon is yours to do with as you will, but my suggestion? Get the Cable Car up the mountain and check out this spectacular view.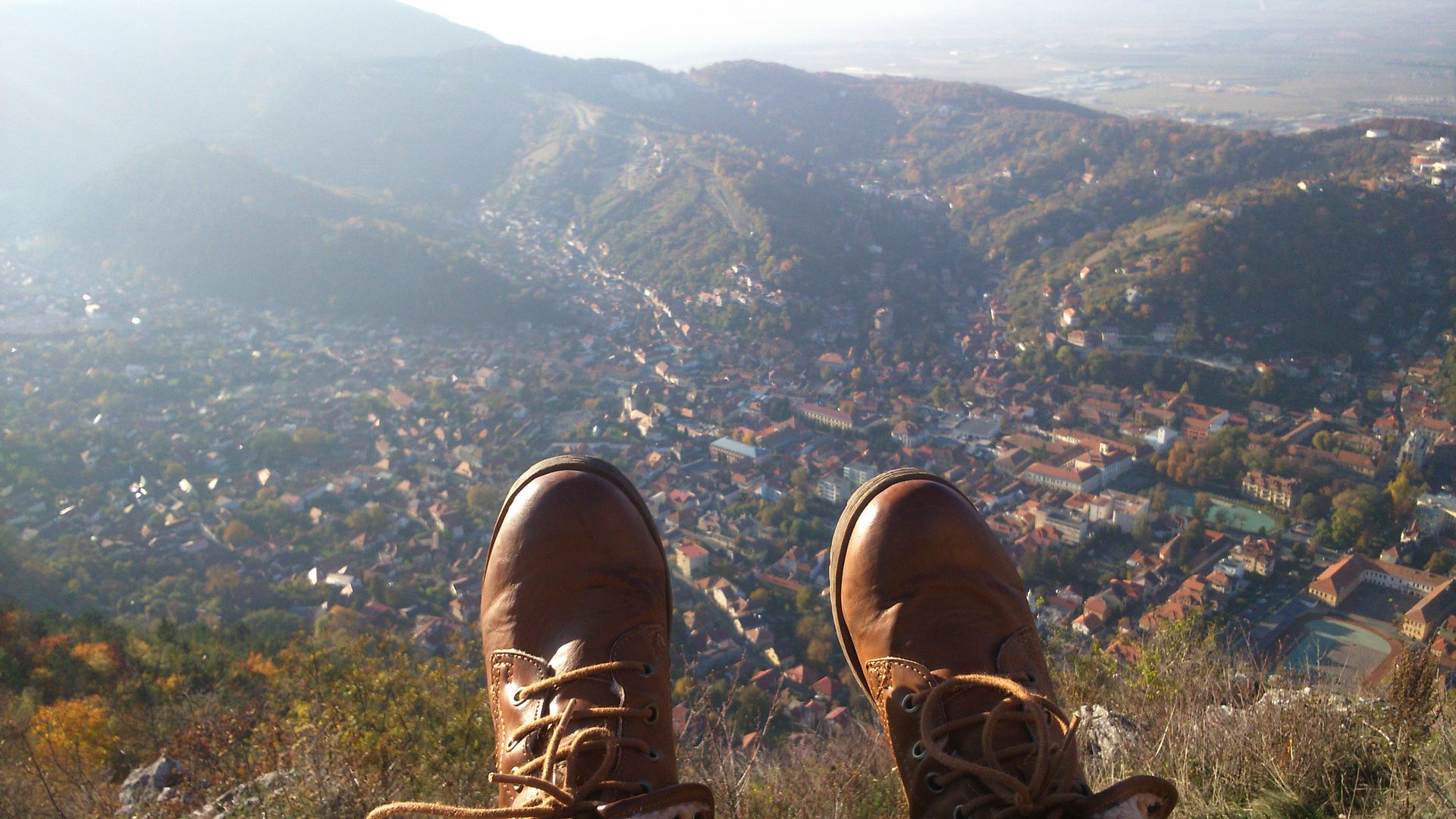 Oh Brasov
And why not join the rest of your group for "Pancakes" (code for alcohol in the StruggleAbout clan) in the evening?
Day Five Brasov- Sighisoara- Racatau Valley (HALLOWE'EN!)
Sighisoara rooftops
Sighisoara is the birthplace of Vlad the Impaler, the real life Dracula. You can even visit the house he was born in. I believe it to be done up in the tackiest way possible- so it sounds like GREAT FUN The gorgeous village has a fortified citadel which is so worth exploring and seeing those gorgeous red rooftops in the autumn sun. The steps that take you up to the citadel will make you want to die, but push through, it's worth it!
HALLOWE'EN PARTY in RACATUA literally the whole point of the trip. This valley is the middle of absolutely nowhere, with no mobile phone reception. It's cold & you're staying in these stunning wooden mountain cabins, there's the party inside and then there's a huuuge fire outside. I was running around in a short sleeved dress with my palinka jacket on, and felt nothing. I wish I had been less hungover and remembered to take a photo of that gorgeous place in the morning.
Hallowe'en Party!
Day Six Racatau- Budapest
A day to recover, gather your thoughts and put back together all your broken pieces, and hope to God there isn't a warrant out for you and your big Blue coach when you return to the Hungarian border. Your guide will, if you ask nicely, organise a river cruise along the Danube in Budapest for the evening & depending on how broken you StruggleAbouters are feeling, you can check out Szimpla Kert, too.
- Whilst the tour is primarily in Romania, it starts and ends in Hungary (you'll need forints in Hungary) & I highly recommend you spend some time in Budapest.
- Bus Days are Long and Boring (bring a book, I recommend Dracula, or enjoy the in coach entertainment- which, for us, was every Inbetweeners episode ever made as well as the films), but a great way to sleep off the inevitable hangover.
- Bring your Hallowe'en Costume with you! Whilst it says there are places to buy things, I'm sure there are, just keep in mind how close it is to Hallowe'en so a lot of thing will be sold out!
- Romanian Lei is a CLOSED currency, please change it BEFORE you leave Romania, it's closed because there is not a lot of it about.
- Service, particularly in restaurants, is always much slower in Eastern Europe than anywhere else. If you're at a lunch stop, food first, explore second.
- Palinka always seems like a good idea at the time...
- ... which brings me onto, ALWAYS Double Bag ;) (if you don't understand what I mean, you will if you do this tour)